Wonder Women of New York 2023: Industry Lights Shine in the Big City
Meet those set to be honored during luncheon gala at Manhattan's Zigefeld Ballroom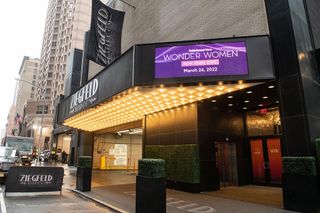 (Image credit: Mark Reinertson)
On March 23, Multichannel News will again honor an exceptional group of 15 women executives in Media and Entertainment at the annual Wonder Women of New York luncheon, set for the Ziegfeld Ballroom in New York City.
The Wonder Women awards, a key fixture on the media calendar since 1999, honor excellence among women leaders in media businesses including programming and operations, streaming, marketing, advertising and technology. Once again, MCN's partner for the luncheon event is the New York chapter of the WICT Network.
In addition to our 15 executive nominees, the luncheon will recognize Margaret Brennan, moderator of CBS's Face the Nation and chief foreign affairs correspondent for CBS News, as the 2023 Woman of Influence, honored both for her distinguished reporting career and her industry leadership.
Hosts for the event will be Kimberley A. Martin, NFL reporter for ESPN; Natasha Verma, co-anchor of The 5 O'Clock News and The 10'O Clock News for Fox station WNYW New York; and Cheryl Wills, anchor for Spectrum News NY1.
For more on the Wonder Women of New York event, visit mcnwonderwomen.com.
For more on this year's honorees, click through to the profiles linked below:
2023 Wonder Women of New York
2023 Woman of Influence
The smarter way to stay on top of the multichannel video marketplace. Sign up below.
Mike Demenchuk has served as content manager of Broadcasting+Cable and Multichannel News since 2016. After stints as reporter and editor at Adweek, The Bond Buyer and local papers in New Jersey, he joined the staff of Multichannel News in 1999 as assistant managing editor and has served as the cable trade publication's managing editor since 2005. He edits copy and writes headlines for both the print magazine and website, wrangles the occasional e-newsletter and reviews TV shows from time to time. He's also the guy to bother with your guest blog, Fates & Fortunes and Freeze Frame submissions.