Wonder Women of New York 2023: Karen Barroeta
Executive VP, Production and Development, Telemundo Global Studios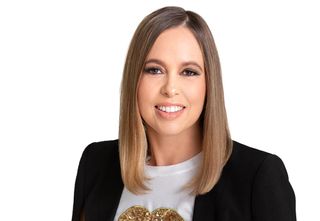 (Image credit: Telemundo)
Adapting to viewers' changing habits is crucial for a successful programmer, and colleagues say that vision helps define Karen Barroeta as she leads development and production at NBCUniversal's Telemundo Global Studios in Miami.
Barroeta joined Telemundo in 2002 as a marketer. She was general manager of Telemundo's pay TV channel in Latin America and held other roles as well before becoming a senior VP at Telemundo Network and Universo.
She was packing up her office in Miami on March 13, 2020, during the COVID-19 outbreak, when then-Telemundo chairman Cesar Conde came in and asked her to consider becoming the No. 2 executive at the studios.
"I knew my answer, but I said sure, I would think about it," the Caracas, Venezuela-born Barroeta recalled with a laugh. "It was like a dream come true."
About a year ago she was promoted again and reports directly to Beau Ferrari, the NBCU Telemundo Enterprises chairman.
She loves that her job embraces creative and business roles. "I'm very creative and I like to see something that is enticing," she said. "But I also love the business side of this whole industry."
Selling a 'Super Series'
Helping Telemundo's business now is the primetime action "super series" El Señor de los Cielos (The Lord of the Skies). The eighth season debuted in January and brought back the drug-lord hero, Aurelio Casillas, played by Rafael Amaya, after his apparent death in season seven.
"It was her team and her vision to kind of bring that property back and bring such an iconic character back to the network," Claudia Chagui, who has Barroeta's former job of senior VP of marketing and creative at Telemundo, said. "But how do we do that in 2023, right?"
One way is to acknowledge that everything happens earlier in the day now, so Telemundo moved El Señor from the former 10 p.m. slot to 9 o'clock.
"We want to make sure that our originals run in the times where there are more people available," Barroeta said. "The reality is that one-third of the people that are coming to watch us are coming from streaming platforms. They're not in linear during the day, and they're just coming in at 9 to watch the show and then go."
Another is to create extra content for those watching on-demand on NBCU's streaming outlet Peacock, bolstering both the linear and streaming platforms. "That's just one example, but it's a very clear example of how she understands the kind of priorities that we have," Chagui said.
So far, so good: El Señor de los Cielos was the top-ranked Spanish-language program in primetime, even growing in the 18-49 demographic in its second week after a hot start, according to Telemundo, citing Nielsen.
Data-Driven Visionary
Mónica Gil, executive VP, chief administrative and marketing officer at NBCU Telemundo Enterprises, called Barroeta a visionary thinker and praised her ability to "marry marketing with storytelling, with data."
"She's continued to make one of our largest [programs] relevant in a space where there's so much competition, and she's very competitive," Gil said. "She wants to win and she wants to make audiences love what we share with them on a daily basis."
Gil added: "She's taken it to the next level where sometimes, with repeated series, you don't know if they're going to do great or not."
As for other shows in the pipeline, Barroeta and Telemundo have high hopes for the newly launched (March 7) Juegos de Mentiras (Game of Lies), a drama about a man who is suspected of killing his wife; the return (for a fourth season) of popular series Sin Senos Si Hay Paraiso and El Conde: Amor y Honor, an adaptation of literary classic The Count of Monte Cristo.
Besides work, Barroeta loves being the mom of an 8-year-old son. And enjoys (truly) dressing up as Wonder Woman in seasonally appropriate fashion.
"That's my favorite costume in my life!" she said. "In Venezuela, we don't have that culture of dressing up for Halloween. So I felt kind of weird at the beginning when I moved here, and for many years I didn't do costumes. But when you become a mother, you need to." ▪️
The smarter way to stay on top of the multichannel video marketplace. Sign up below.
Kent has been a journalist, writer and editor at Multichannel News since 1994 and with Broadcasting+Cable since 2010. He is a good point of contact for anything editorial at the publications and for Nexttv.com. Before joining Multichannel News he had been a newspaper reporter with publications including The Washington Times, The Poughkeepsie (N.Y.) Journal and North County News.