Wonder Women of New York 2023: Michelle Strong
Senior VP of Distribution, A+E Networks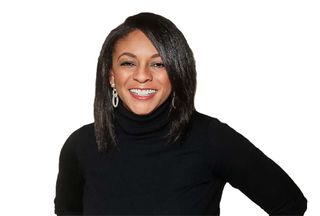 (Image credit: A+E Networks)
Some people talk about their dream career. Michelle Strong makes a plan and makes it happen.
That's exactly how Strong, senior VP of distribution at A+E Networks, has come to occupy the position she does today — leading a team responsible for securing distribution and revenue growth for the company's brands including A&E, History and Lifetime, and maximizing its marketing partnerships.
Her media origin story dates back to high school, when cable TV arrived on the Missouri base where this daughter of a military family who had moved across a patchwork of states and overseas was living. In BET, Strong found not only an entertaining pastime, but an affirming reflection.
"It was really the first time that I saw people that consistently looked like me, that enjoyed the same things in life that I enjoyed," she said. "It was so pointed for me that I not only wanted to work in television, but I absolutely wanted to work at BET. And so, going to college I majored in communications, with that goal always in the back of my head. It felt so lofty to me. I didn't know a kid like me could actually do anything like that."
Living the Dream
After a professor talked her out of pursuing an on-air role, she pivoted her focus to behind the scenes and landed a sales position at Comcast after graduation. It gave her access to executives at various networks, including one sales principal from BET with whom Strong maintained contact. One day the BET executive called to say there was an opening. Strong leapt at the opportunity.
"I stepped in the door and did exactly what I told her I would do. I showcased my passion, I showcased my work ethic and I got a job," she recalled. "And I thought my life couldn't get any better than that. I loved it — I was in my element and I was living a dream. Not in front of the camera, but behind the camera."
Strong's career quickly ascended. She became BET's VP of affiliate sales and then segued to Disney ESPN Media Networks, where she was senior director, national accounts before coming to A+E Networks. All along, she's been honing her skills and her keen sense of the best ways to navigate the changing winds of media distribution.
Those skills are golden at A+E Networks. David Zagin, president of distribution, called Strong "a dedicated leader in our company and a highly respected executive and colleague, both internally and externally."
Executive VP of distribution Jane Rice echoed the sentiment. "Wonder Woman has long been the symbol for truth, justice and equality and Michelle embodies those values every single day," she said. "She's a strategic leader that truly cares about her role, her clients and her team, along with being a passionate champion for DEI and mentoring."
On the DEI and mentoring front, Strong was founder and former co-chair of the A+E Multicultural Advisory Committee (MAC), a group that gives feedback and guidance on multicultural content development and intentional and inclusive representation.
For Strong, it's a matter of remaining both agile and grounded in key priorities. "I grew up in the height of the industry before there was a lot of consolidation, when you could go to a system and negotiate a deal at that level," she said. "Obviously things have changed so much. There is so much fragmentation in the way people consume content.
"For me, what has been a consistent factor is that good content is good content regardless of what's happening in the industry. We are trying to make sure our content is available through every vehicle where people want to see it."
There for the Team
With her team, Strong is a stalwart manager who rolls her sleeves up without getting too in the weeds of their work. "I want them to know I'm in it with them and they can come to me for guidance and feedback and advice, and that it's not foreign to me," she said.
Never forgetting the experience with her professor, she's also quick to champion them, channeling former A+E Networks president and CEO Abbe Raven, whom she cites as a pivotal mentor.
"I wish I knew then all the wonderful things I know now about perseverance and not listening to people that crush your dreams and how you should keep going on with that passion," Strong said. "If there are opportunities, whether it be internal opportunities or within the business I think would be good for them to broaden their careers, I really try to push them forward in those areas and be a champion for them when they're not in the room." ▪️
The smarter way to stay on top of the multichannel video marketplace. Sign up below.
Cathy Applefeld Olson is a seasoned entertainment, media and culture journalist, and producer of video content and events. Through her continuing coverage in publications including Forbes, Billboard, XLive, Cynopsis, Broadcasting+Cable and Multichannel News, Cathy reports on evolving industry trends and personalities in business, branding, talent and technology. A passionate believer in the power of culture influencers to elevate well-being, Cathy recently launched the Forbes column Hollywood & Mind, which features interviews with entertainers, sports figures, executives and others who are boosting the conversation around mental health. She also works with music and wellness community Myndstream, for which she writes the monthly State of Mynd blog.