Wonder Women of New York 2023: Rori Peters
Senior VP, Content Distribution & Sales Strategy, TV One and Cleo TV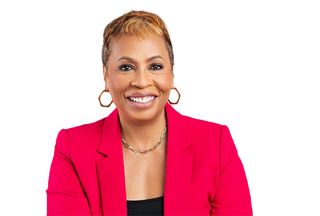 (Image credit: TV One)
Rori Peters has been a major player in content distribution for three decades, but — as hard as it might be to imagine — she had a career before television.
Now senior VP of content distribution and sales for the content distribution and marketing department at TV One and Cleo TV, Peters studied economics in college and then worked in banking for 10 years. Even then, though, Peters was making connections in this industry by working on media mergers and acquisitions, although most of her clients were in radio and broadcast. When her bank was folding its media division, it offered Peters another spot internally.
"I couldn't see myself doing oil and gas, so I started talking to my media clients — I was dealing at the CEO level," Peters said, crediting Emmis Communications founder and CEO Jeff Smulyan with encouraging her to explore this "new and interesting" thing called cable that was taking off as a serious business. "He said, 'You give me ideas and keep me from making mistakes and you're great at building relationships, and they'll need people like you.'  "
Making Connections
Smulyan introduced Peters to his cable friends, including entrepreneur Steve Brill, who hired Peters to help build Court TV. She immediately plunged into meeting all the cable operators and content-acquisition players, quickly establishing solid relationships. In the first six months, it became a running joke that people were convinced she'd been in cable forever.
Michelle Rice, president of TV One and Cleo TV, said that's typical of Peters, a friend of hers for a quarter-century.
"Rori scores off the charts on likability," Rice said. "There's a Southern saying, 'She knows no strangers.' That fits her. She'll go to the bathroom and come back with three new friends. And she builds and keeps relationships."
After seven years learning from the distribution team at Court TV, Peters moved on to boost growth at Comedy Central, AMC Networks, NUVOtv and Scripps Networks Interactive. Rice said Peters's "deal savvy" has proved invaluable for companies in growth mode, especially because distribution partners are trying to cut budgets and increase margins — goals that don't always sync with a network's aspirations.
"She understands business models because of her finance background and can get down to business with a win-win value proposition," Rice said.
"I don't waste people's time," said Peters, who in conversation is blunt but charming. "I understood the business and could speak in broader numbers, not just talking about my network. I also start with solutions as opposed to, 'You've gotta do this' or just wining and dining boondoggles, which I never had much patience for. I'm stubborn. I say, I know I can do this, fix a problem, change someone's mind."
In 2012, Rice asked Peters to come aboard at TV One for just a couple of years. "They were still trying to get distribution with a lot of companies I had done deals with, and they'd never done renewals before and had those coming," said Peters, who is still there a decade later as a key member of the executive leadership team. She's responsible for developing strategy and negotiating the carriage of the networks and their programming across all video platforms.
As a leader, Peters said she has learned not to get complacent, citing a recent interview with The Walt Disney Co. CEO Bob Iger, where he talked about trusting his own instincts so much he had become dismissive of his team's ideas. "So I asked myself if I'm doing that, because nobody has all the answers," she said.
Committed to Mentoring
She is also committed to nurturing future generations of women. She was chair of then-Women in Cable Telecommunications (now The WICT Network) in 2002-03 and helped implement the PAR Initiative, the comprehensive advocacy program (done with NAMIC) helping companies improve diversity metrics for women and minorities with respect to Pay Equity, Advancement Opportunities, and Resources for Work/Life Integration.
Peters has also been an active member of NAMIC but said she focused more on furthering the cause for women because she historically saw gender issues as the bigger obstacle in building relationships. Lately, progress for women in the field has stalled out, in her view.
"So I spend a lot of time responding to women who reach out on LinkedIn or with the younger members of our company. It's critically important for the future." ▪️
The smarter way to stay on top of the multichannel video marketplace. Sign up below.
Stuart Miller has been writing about television for 30 years since he first joined Variety as a staff writer. He has written about television for The New York Times, The Washington Post, the Los Angeles Times, The Guardian, The Boston Globe, Newsweek, Vulture and numerous other publications.