Future Names 2023 '40 Under 40' for L.A. TV Week
Execs on the rise will be celebrated on June 21 at Sofitel Los Angeles in Beverly Hills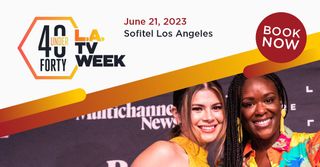 (Image credit: Future)
Future's B+C, Multichannel News and Next TV, producers of the upcoming L.A. TV Week events (opens in new tab) June 20-21 at the Sofitel Los Angeles, have named the 2023 "40 Under 40" class to be celebrated the evening of Wednesday, June 21.
Representing a range of companies and responsibilities, these men and women below a certain age are helping to lead media in new directions, wherever the viewers are.
For more than a decade, Multichannel News has been helping to shine a light on rising executives under age 40, and along with B+C and Next TV, expanded the search last year to the West Coast and L.A. TV Week.
Also: Meet the 2023 Wonder Women of Los Angeles
For more information about the 2023 honorees and the event on June 21, please visit https://www.latvweekevents.com/. Honorees were chosen after a nomination and internal judging process.
Meet the 2023 "40 Under 40" in Los Angeles.
Fanny Baudry, Managing Director, Wheelhouse DNA (a Wheelhouse Company).
Adam Bergman, Group Vice President, Advertising & Data Sales, Vizio.
Evan Bregman, General Manager, Streaming, Tastemade.
Michelle Byars, Senior Vice President, Development, ITV Entertainment.
Kimberly Caraig, Account Executive, Fox Corporation.
Colin Davis, Head of Scripted Originals, The Roku Channel, Roku.
Alessandra Donadelli, Vice President, Business Development, Warner Bros. Discovery.
Rebecca Evans, Executive Vice President, Nonfiction Content, Campfire Studios.
Daniel Farkas, Vice President, Distribution Strategy and Content Planning, Sony Pictures Television.
Falon Fatemi, CEO and Co-Founder, Fireside.
Mike Fazzino, Principal, Content Acquisition - WW Major Studio Licensing Strategy, Amazon.
Laura Foster, Vice President, Product Marketing, Innovid.
Katherine Gallagher, Programming Manager, Sinclair Broadcast Group.
Nick Garvin, Chief Operating Officer & Managing Partner, Mobile TV Group.
Samuel Harowitz, Vice President, Content Acquisitions & Partnerships, Tubi.
Stephen Hodge, CEO, OTTera.
Kate Hoenigsberg, Senior Vice President, Drama Development, Universal Television.
Fernando Hurtado, Manager, Digital Video, NBCUniversal Local.
RJ Larese, Vice President of Talent and Development + Brand Partnerships, Paramount.
Christian Linke, Co-Creator, Showrunner and Executive Producer, Arcane, Riot Games.
Betsy Lippitt, Vice President, U.S. TV Distribution, Sony Pictures Television.
Teresa Lopez, Vice President Content Partnerships, rlaxx TV GmbH.
Helen Lum, Executive Vice President, App Science, A Sabio Holdings Company.
Ronny Lutzi, CEO, Foxxum.
Andrew Matero, Vice President, Platform, Ampersand.
Kelly Miller, Senior Vice President, Global Partnerships, BBC Studios.
Paul O'Malley, Executive Producer, Independent, Formerly of 3 Ball Media.
Trixie Pacis, Director of Acquisitions & Original Programming Development, ChimeTV.
Joy Phillips, Senior Vice President, Publicity, AMC Networks.
Michael Rycyzyn, Director, Digital Licensing, A+E Networks.
Shaheen Sayani, Head of Content Partnerships, Samsung TV Plus, Samsung Electronics America.
Ahmadou Seck, Vice President, Scripted TV, MACRO.
Matt Shanfield, Executive Vice President, Development, The Intellectual Property Corporation (IPC), a part of Sony Pictures Television.
Kyle Simon, Partner, Perkins Coie LLP.
Evan Statton, Senior Principal Architect, Media and Entertainment, Amazon Web Services.
Adam Sussman, Vice President of Development, Furry Prawn Productions (NBCU).
Brian Tannenbaum, Head of Alternative Originals, The Roku Channel, Roku.
Brendon Thomas, Senior Vice President, Distribution and Business Development, Paramount Streaming.
Kim Wendt, Senior Solutions Architect, Amazon Web Services (AWS).
Alex Yee, Co-Creator, Writer and Executive Producer, Arcane, Riot Games. ■
Broadcasting & Cable Newsletter
The smarter way to stay on top of broadcasting and cable industry. Sign up below.
Kent has been a journalist, writer and editor at Multichannel News since 1994 and with Broadcasting+Cable since 2010. He is a good point of contact for anything editorial at the publications and for Nexttv.com. Before joining Multichannel News he had been a newspaper reporter with publications including The Washington Times, The Poughkeepsie (N.Y.) Journal and North County News.