Meet the Wonder Women of Los Angeles
'MCN' announces honorees for June 20 gala event that leads off L.A. TV Week at the Sofitel Los Angeles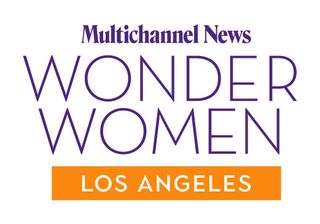 (Image credit: Future)
B+C Multichannel News is pleased to announce the 2023 Wonder Women of Los Angeles, set to be celebrated at the start of L.A. TV Week on June 20 at the Sofitel Los Angeles in Beverly Hills. For more about the event, see https://www.mcnwonderwomen.com/LA.
Also: Future Names 2023 "40 Under 40" For L.A. TV Week
For more than two decades, Wonder Women has celebrated female leaders in media, entertainment and technology making a lasting impact on their businesses and the industry. Read about the honorees on the event website. While there, find out more about our Wonder Women of New York celebration happening at the Ziegfeld Ballroom on March 23.
Meet the 2023 Wonder Women of Los Angeles:
Michele Barney, President of Affiliate Distribution, Warner Bros. Discovery.
Carrie Brzezinski-Hsu, Vice President, ESPN Creative Studio, ESPN.
Valerie Bruce, General Manager, BBC Studios Los Angeles Productions.
Shalini GovilPai, Vice President, TV, Google.
Terri Hines, Executive Vice President, Communications, Fox Sports.
Amina Hussein, Head of Talent, U.S. Sports, Amazon Prime Video.
Holly Leff-Pressman, Chief Client Engagement Officer, Screen Engine/ASI.
Sharon Levy, CEO, Endemol Shine North America.
Ramsey Naito, President, Paramount Animation and Nickelodeon Animation, Nickelodeon and Paramount.
Kirsten Polley, Senior Vice President, Operations, WWE.
Lisa Richardson, Executive Vice President, Business & Legal Affairs and Associate General Counsel, Fox.
Jennifer Rogers, Executive Vice President for Consumer and Corporate Marketing of U.S. Networks, TelevisaUnivision.
Robin Thomas, Executive Vice President, Consumer Insights, Strategy and Analytics, Hallmark Media.
Donna Thomas, Senior Vice President, Studios, Vubiquity.
Erin Underhill, President, Universal Television.
The smarter way to stay on top of the streaming and OTT industry. Sign up below.
Kent has been a journalist, writer and editor at Multichannel News since 1994 and with Broadcasting+Cable since 2010. He is a good point of contact for anything editorial at the publications and for Nexttv.com. Before joining Multichannel News he had been a newspaper reporter with publications including The Washington Times, The Poughkeepsie (N.Y.) Journal and North County News.