Wonder Women of New York 2023: Marnie Black
Executive VP, Public Relations, AMC Networks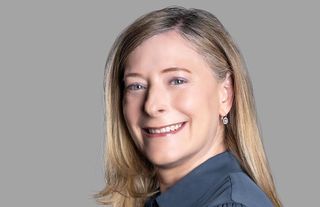 (Image credit: AMC Networks)
A Black & Red Ball at the Dorothy Chandler Pavilion to mark the series finale of Mad Men. An exhibit at the Museum of the Moving Image on the impact of The Walking Dead. A collaboration with the Smithsonian for the conclusion of Breaking Bad that saw the donation of iconic costumes and props to the National Museum of American History.
These are just a few of the cultural impact moments masterminded by Marnie Black, executive VP of public relations at AMC Networks. And although her fingerprints are all over other AMC successes, including the series finale of Better Call Saul hitting a record 2.7 million viewers and, earlier during her 25-year career, on a legacy of activations at MTV, Black is characteristically looking ahead to the next storytelling opportunities.
"The most exciting thing is that AMC Networks now has a portfolio of brands, and we are really beginning to look at how our shows can live and be exposed to the audiences on all those networks and streaming services, beyond just on-air promos," she said of the family that includes BBC America, IFC, Sundance TV, WE tv, AMC Plus, Acorn TV, ALLBLK and Shudder. "And the amount of data and information we can get and how we can reach potential people that are interested in that show or are interested in like shows is fascinating to me."
Black's work directly impacts the entire AMC team. "Her understanding of the business and excellent strategic judgment have been invaluable to our company and its ability to have an out-sized impact on viewers and popular culture in a very dynamic and evolving environment," Dan McDermott, AMC Networks president of entertainment and AMC Studios, noted.
Indeed, part of Black's magic is her sense of knowing which tools in the expanding PR kit will drive momentum — and customizing some of her own.
Keeping Up With Trends
"Things like influencer engagement and custom content creation didn't exist 20 years ago when I was at MTV, and they are now a huge part of our campaigns," she said. "In the earlier part of my career at AMC, we did a lot of media partnerships and we aren't doing a huge amount of media partnerships anymore. Large-scale events, festivals, things like that, have become a very key part of our campaigns."
As well as leading media and consumer-facing campaigns, Black continues to raise the bar on the content those campaigns serve. Since 2020, she's been a key driver of AMC's diversity, equity and inclusion (DEI) strategy, partnering with groups like Color of Change and establishing an on-set Self-ID campaign through which cast and crew could anonymously disclose identity information to establish a baseline of what representation looks like for them.
"Diversity, equity and inclusion fell under my purview, initially, because it was a crisis," she said. "Many in the industry were asking us questions and holding us accountable, as they should have." After leading the initial response, Black approached then-AMC Networks president Sarah Barnett and chief operating officer Ed Carroll to see if she could lead a more proactive DEI initiative.
"I wanted try to meaningfully impact the diversity both in front of and behind the camera on our shows," she said. "I think the feeling at the time, and it certainly proved to be the case, was that if we could impact the people who were making and telling our stories, that the kind of stories we were telling would also change."
Doing Good Is Good Business
Her pro-social inclinations date back to her days at MTV, where she worked on everything from an Emmy-winning, wide-reaching campaign about sexual health to a civil-rights campaign to the launch of video game Rock Band and countless Video Music Awards.
"Judy McGrath, who was chairman of MTV, used to say we had an obligation to use our superpowers for good," said Black. "Obviously, we are here to entertain people, but I believe that if shows can change hearts and minds that's incredibly important."
AMC's Dark Winds, which follows two Navajo Police Officers in the Southwest in the 1970s and is the No. 1 new series launch in AMC Plus history in both viewership and subscriber acquisition, is a salient example of the impact Black has spurred. The show was created by a Native American writer, is written primarily by Native American writers with the writers' room comprising more than 50% writers from underrepresented groups and stars a Native American cast. ■
The smarter way to stay on top of the multichannel video marketplace. Sign up below.
Cathy Applefeld Olson is a seasoned entertainment, media and culture journalist, and producer of video content and events. Through her continuing coverage in publications including Forbes, Billboard, XLive, Cynopsis, Broadcasting+Cable and Multichannel News, Cathy reports on evolving industry trends and personalities in business, branding, talent and technology. A passionate believer in the power of culture influencers to elevate well-being, Cathy recently launched the Forbes column Hollywood & Mind, which features interviews with entertainers, sports figures, executives and others who are boosting the conversation around mental health. She also works with music and wellness community Myndstream, for which she writes the monthly State of Mynd blog.