Wonder Women of New York 2023: Melody Smalls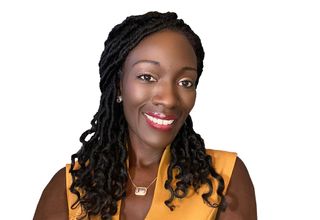 (Image credit: Allen Media Group)
Even as a young adult, Melody Smalls knew exactly what her life's ambition would entail.
"I was always focused on bringing out the best in others — being a strategic servant leader while moving meaningful businesses forward," said Smalls, who today serves as executive VP of global human resources for Allen Media Group. That means she is responsible for providing global human resources strategy for all the divisions in the Allen Media Group — which totals 10 television networks, including The Weather Channel, Allen Media Broadcasting and Entertainment Studios Networks. She also spearheads security and oversees facilities operations teams across the company.
After earning her undergraduate degree in human resources and marketing from the Temple University Fox School of Business, Smalls earned a master's in organizational psychology from Columbia University. That educational background helped her see that the key to managing hundreds of employees located at several major media companies begins by recognizing that the safety and well-being of every single employee is a paramount priority.
Structured for Success
To do that, Smalls puts a premium on being organized, declarative and pragmatic. She makes sure her HR teams are part of a smooth-running machine that is appropriately staffed and structured. "[It's important to] harmonize strategy and processes for efficiency and effectiveness," she said.
Colleagues have noticed. "As head of Global Human Resources for Allen Media Group, Melody Smalls is a phenomenal executive," Allen Media Group founder, chairman and CEO Byron Allen said.
Recognition is also due to her philosophy when it comes to managing the business
of managing people. "Structure follows strategy," she said. "In that order. This is the question I ask in all that I do. Human resource professionals must understand and align with the business strategy first in order to build systems, initiatives, processes, etc."
Even as the media and entertainment industry flexed and changed through the COVID pandemic, Smalls managed to keep the human resources quadrant of the Allen Media ship upright and functioning effectively. "Like many companies returning back to a 'new normal' post COVID, [the priority was] reestablishing culture amidst a new work environment," she said.
She achieved that in part by relying on her educational background in organizational psychology, a skill that has proven invaluable to the day-to-day demands of managing human resources for several hundred employees. Relationships and trust matter. And in a thriving, growing company like Allen Media Group, it's the successful human resources leader who helps employees navigate the challenges and dynamics that exist when striving to achieve certain goals.
Managing for Change
Smalls is also a proponent of change management, a philosophy that can be very deliberate or very organic — it depends on the "change" that needs to happen, she said. "Change management is the process by which an organization, department or group moves through change from the initial concept of change through resolution," which can mean anything from simple steps (like showing employees how to update their benefits on their own) to more complex situations like implementing an entire organizational redesign.
One of Smalls's best skills? She is an adept listener. That's proven out by the honors she's received from organizations like the National Diversity Council (which named her one of the Most Powerful & Influential Women in 2016), Savoy Magazine (which named her one of the Most Influential Blacks in Corporate America in 2018) and her status as a mentor for organizations like the Pathbuilders business management consultancy and The Cool Girls, a young female empowerment organization.
"I approach delicate matters in a calm, firm but empathetic manner," she said. "I listen to understand and to 'hear' you. This type of approach ensures trust, which is critical when dealing with sensitive or vulnerable topics."
Above all, Smalls emphasizes acting with integrity — a priority that applies to every conversation she has and every decision she makes, from her early days as a human resources adviser at First Chicago Trust Co., JP Morgan and Chase Manhattan Bank to her leap into human resources in the media industry at MTV Networks, TNT, TBS, TCM and Cartoon Network.
"Priority one for me is integrity," she said. "I always want my team to be able to share any and everything, from major successes to teachable moments." ▪️
The smarter way to stay on top of the multichannel video marketplace. Sign up below.
Susan Ashworth is the former editor of TV Technology and a longtime contributor to Radio World. In addition to her work covering the broadcast television industry, she has served as editor-in-chief of two housing finance magazines and written about topics as varied as education, chess, music, sports and the connected home environment. She lives in the Bay Area to be close to the San Francisco 49ers and the fog.