Wonder Women of New York 2023: Sonia Coleman
Senior VP, Human Resources, Disney General Entertainment Content and ESPN/The Walt Disney Co.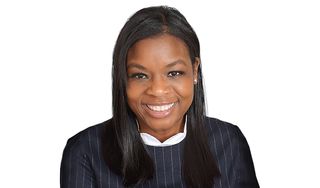 (Image credit: Disney)
Soon after Sonia Coleman expanded her purview to include HR oversight at ESPN in 2021, she attended a Las Vegas Raiders Monday Night Football game with her ESPN colleagues.
"Seeing the passion and heart of a number of teams coming together from many different leaders was an 'aha moment' and I've experienced that over and over again with the ESPN team," Coleman said. "Everybody is clear about their purpose and that they are all there to serve ESPN fans."
Coleman's bar for what successful teamwork looks like was already high. After achieving early career momentum in The Walt Disney Co.'s consumer products division, she was handpicked by former Disney senior VP and chief human resources officer Jayne Parker to join the corporate team, where she continues to flourish. Today, Coleman manages two bicoastal jobs supporting two major segments of the organization. She also serves as an active mentor within the company. (After this story was published, Coleman was promoted again, to senior executive vice president and chief human resources officer at Disney.)
From Mentee to Mentor
"I had someone that was a really incredible sponsor early in my career and if it weren't for her, I believe my career could've gone in a really different direction," she said. "Since that moment I've thought a lot about sponsorship.
"Jayne Parker taking an interest in me and seeing something I didn't see in myself really changed how I work and where I work, essentially," she continued. "For me, that was a career highlight because it's about always being open to what the opportunities are, even if you can't see it for yourself. With the right level of investment from others, they see it for you. I've been in three or four industries, and I've been at The Walt Disney Company for 17 years. There's not many people that can say that; I feel very fortunate."
The feeling is mutual. Coleman is "an exceptional leader" who "leads with optimism and cares deeply about our teams," Disney Entertainment co-chair Dana Walden said. "As a most formidable ally who has been central to our success, we are very lucky to have her at Disney."
ESPN chairman Jimmy Pitaro said Coleman is "precisely the right leader to both honor and reimagine our culture as we continue to evolve."
Coleman is also evolving the HR function after the past several years have ushered in an entirely new workforce paradigm and deep reexamining of the meaning of diversity, equity and inclusion (DEI).
"Over the past few years with COVID and the racial reckoning and so many other things, we have become better at truly understanding what people need and creating a culture around that rather than a culture around what the outputs are," she said.
When the company in January announced the return to work four days a week, Coleman made sure employees understood there would still be some flexibility as needed. She also oversaw the acceleration of an internal program that enables the team to get feedback on the employee experience on a quarterly basis.
"Based off of that feedback we are making decisions about things like, how do we provide the right level of wellness care?" she said.
Making Inclusion a Mindset
Regarding DEI at Disney, Coleman said, "The first and most important thing is for people to know we value everyone. And that value has to be demonstrated through representation, through our leaders and also through the content we create for our audiences. We are focused on creating representation for women and people of color at all levels of our companies and zeroing in on doing it at the highest levels. It's about the investment we make from early career to leadership roles."
Coleman said the task extends well beyond attracting talent and working to elevate internal incubator, accelerator and talent programs — all key services in their own right. "Those are all great resources in accelerating paths for growth, but I also think it's about the environment, the culture and the mindset of every single individual who works with us," she noted.
"We've gotten better at attraction," Coleman said. "Where I'm focused is on, how do we retain individuals? And I think that's about the environment." ■
The smarter way to stay on top of the multichannel video marketplace. Sign up below.
Cathy Applefeld Olson is a seasoned entertainment, media and culture journalist, and producer of video content and events. Through her continuing coverage in publications including Forbes, Billboard, XLive, Cynopsis, Broadcasting+Cable and Multichannel News, Cathy reports on evolving industry trends and personalities in business, branding, talent and technology. A passionate believer in the power of culture influencers to elevate well-being, Cathy recently launched the Forbes column Hollywood & Mind, which features interviews with entertainers, sports figures, executives and others who are boosting the conversation around mental health. She also works with music and wellness community Myndstream, for which she writes the monthly State of Mynd blog.