Wonder Women of New York 2023: Pola Changnon
General Manager, Turner Classic Movies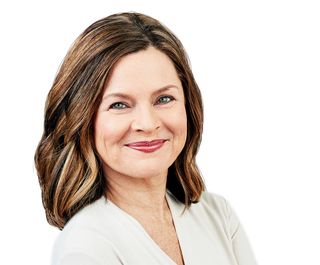 (Image credit: TCM)
Pola Changnon is an Atlanta native who made it to Tinseltown after film school and thought she'd never look back, but ended up having a Wonder Woman-level career back in Atlanta at Turner Classic Movies.
By returning to Atlanta, first to work at Cartoon Network in 1998 before moving to Turner Entertainment Networks and finally TCM, Changnon was able to help her parents (still living there) get to know their grandchildren (two daughters, now grown).
"I thought, well, you know what, if I'm here for a couple of years, then great," Changnon said. "But here I am 25 years later and have had the most amazing opportunity."
Being at TCM also means she gets back to L.A. every April for the TCM Classic Film Festival, four days when thousands of movie fans gather to watch beloved films on big screens in Hollywood, meet TCM personalities and hear from people who made the movies they're seeing. This year's edition happens April 13-16 and is tied in with the 100-year anniversary of the Warner Bros. studio. Last year, it drew more than 20,000 attendees.
A Joyous Ride
"As the company has evolved — you know, Turner, AOL Time Warner, Warner Media and now Warner Bros. Discovery — I've been really fortunate in that the things that I find joyous are also the things that seem to be propelling me forward," she said. "So it's been a good ride."
Every good career-girl movie sees the hero overcome obstacles, and Changnon faced a very big one — the global pandemic — when she took charge of TCM as general manager in January 2020. She was promoted from senior VP of marketing, studio production and talent, replacing Jennifer Dorian, who left after 20 years at TCM.
"I really figured it would be a seamless transition since I'd been with the network for a long time, but nobody anticipated what was coming around the corner in March," Changnon said.
Clearly, the festival couldn't have been held in April, so one of her first big decisions as GM was to cancel the in-person event. But something good came out of it, in 2020 and then again in 2021, before the comeback last year.
"The team pivoted and we ended up putting on a version of the festival on the network, at the time we would've had the in-real-life version, and everyone pulled together in the most amazing way," she said. "It felt very, you know, Judy and Mickey [Garland and Rooney] — 'let's put on a show. My mom will make the curtains, you guys figure out what the songs are.' A really all-hands collaborative effort to pull together something that could represent what we had wanted to do."
In 2021, with more time to plan, the virtual festival grew to include streaming service HBO Max, "which of course is such a big priority for the company then and now," she said. The results "validated the idea that the context and curation we bring to linear are just as valuable in the streaming environment, in some cases more. When you have so much to choose from, where do you start?"
Charles Tabesh, senior VP of programming and content strategy at TCM, praised Changnon's leadership through so much change. "Going through these corporate mergers and just being somebody who has taken a really active and important role in making sure that TCM is well-represented with new management and that TCM is guiding us through the choppy waters has been really impressive and special," Tabesh said. "And I've certainly, through that process, grown closer to her as a boss and as a friend, too."
Blending Business, Creativity
Changnon's predecessor, Dorian, now CEO of Public Broadcasting Atlanta, said her friend is truly a Wonder Woman. "I think what makes her different or unique from a lot of other leaders is she's so left brain and right brain," Dorian said. "Her blend of creative aesthetic design blended with strategy and good management makes her a great leader.
"She started her career with a master's in film and doing creative work and became a general manager," Dorian noted. "And that's not something you see a lot in business or even media and entertainment. So yay for team creative when it comes to Pola." ▪️
The smarter way to stay on top of the multichannel video marketplace. Sign up below.
Kent has been a journalist, writer and editor at Multichannel News since 1994 and with Broadcasting+Cable since 2010. He is a good point of contact for anything editorial at the publications and for Nexttv.com. Before joining Multichannel News he had been a newspaper reporter with publications including The Washington Times, The Poughkeepsie (N.Y.) Journal and North County News.