Cover Story: Eric Shanks, Fox Sports Find Success With a Time-Tested Playbook
Putting the biggest live events on the big broadcast platform is the Sports Executive of the Year's winning strategy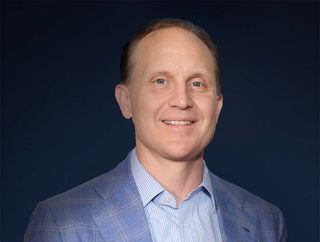 (Image credit: Fox Sports)
In the aftermath of Lionel Messi and Argentina's thrilling FIFA World Cup win over France this past December — ending arguably the greatest tournament in the history of the sport — no one would have begrudged Fox Sports from taking its own victory lap. Fox Sports's successful coverage of the international soccer tournament wrapped up one of the most successful performances in the 28-year history of the organization.
In a year in which live sports programming firmly secured its position as the foundation for the struggling linear television universe, Fox Sports was the category's North Star, led by its CEO and executive producer Eric Shanks. In 2022, the company's live sports programming — which ranged from the World Cup and Major League Baseball's World Series to Big Noon Saturday college football games, Fox NFL Sunday "America's Game of the Week" coverage and NASCAR races — aggregated an industry-high 265.3 billion minutes of live event consumption this year. It's the fourth straight year Fox Sports has led all sports distributors in minutes viewed while continuing to embrace the traditional TV bundle for distribution of the majority of its marquee events.
"The thing that's worked very well for Fox Sports and for Fox is their increased emphasis on broadcast," TV sports consultant Lee Berke said. "They've placed most of their major events on broadcast, buttressed by [cable networks] FS1 and FS2. Sports is a growing percentage of primetime programming on broadcast in general and Fox early on has taken a leadership position on that."
Fox Sports programming was so prevalent on the Fox network, particularly in the fall, that more than 90% of all the broadcaster's viewing from Labor Day to New Year's Eve was attributed to sports. The remarkable amount of consumption was bolstered by Fox Sports's World Cup coverage. The morning and afternoon telecasts — which aired in November and December, instead of the typical summer, due to host country Qatar's desert heat — averaged 3.6 million viewers across Fox and FS1, up 30% over Fox's 2018 World Cup coverage from Russia.
Shanks, the former DirecTV programming executive who joined Fox Sports as CEO in 2010, continued to fortify the division's portfolio in 2022 by reaching long-term TV rights deals with several important properties. Under Shanks's tutelage, Fox Sports worked alongside the Big Ten college conference to negotiate a new, seven-year rights deal with Fox, NBC and CBS worth a reported $7 billion.
Fox Sports in October renewed its Big 12 TV rights as part of a reported $2-billion deal that also includes ESPN and keeps the conference on Fox through the 2030 season. Fox also renewed Major League Soccer in a four-year deal (opens in new tab), shutting out ESPN and ABC, which had aired MLS games since the U.S. league's inception in 1996.
Fox Sports also forged a league of its own with the April 2022 launch of the United States Football League (USFL), the spring league it owns and manages.
Industry executives said Shanks's ability to build strong relationships with content partners has helped Fox Sports lock down most of its high-profile sports properties through the latter part of the decade.
'A Moving Force'
"Eric is a moving force," MLB commissioner Rob Manfred said. "He's always coming to us with ideas about things that we might consider rather than him just being receptive to ideas that we have. That's what makes for a good partnership."
NFL commissioner Roger Goodell commended Shanks for being a key member of the team that has helped foster the three-decade relationship between Fox and the league. "Quite simply, Eric has made the NFL better," he said. "He's been an incredible partner who's never afraid to challenge us, which is something I really appreciate."
Under Shanks, Fox Sports has also helped evolve the way viewers watch live sports content through technological innovations that have added to the enjoyment of fans rooting for their favorite teams. Whether it's aerial drone usage and virtual production technology in its NASCAR productions to the introduction of a helmet cam for its USFL telecasts, sports executives said the company's on-air technical innovations are second to none.
"Working with Eric Shanks and Fox Sports has been nothing short of phenomenal," NASCAR president Steve Phelps said. "We love how Fox Sports is willing to push the envelope from a technology and production perspective when it comes to covering NASCAR."
Not one to rest on laurels, Fox Sports in 2023 will air a second season of the USFL, new baseball and NASCAR campaigns and the FIFA Women's World Cup. First up this month is Super Bowl LVII, the network's first telecast of the Big Game since the pre-pandemic 2020 contest.
"Eric thrives in constantly innovating while consistently executing at the highest levels,' News Corp. executive chairman and CEO Lachlan Murdoch said. "From launching the new USFL this past spring to the epic fall calendar consisting of the best coverage of college and NFL football, the World Series, World Cup and preparing for the Super Bowl, Eric and his team have performed masterfully in bringing our audience the best in sports."
Fox Sports on-air veteran Kevin Burkhardt will call his first Super Bowl after succeeding the ESPN-bound Joe Buck as Fox's top NFL play-by-play announcer. Burkhardt said the Fox culture under Shanks's direction is to remain aggressive and innovative in its approach to working marquee events.
"We go after things that we want and get big properties and hire good people to work on those properties," he said. "It's a message and attitude of being loose, having fun and embracing being on the big stage."
Shanks, who is the B+C Multichannel News Sports Executive of the Year for 2023, spoke about Fox Sports's phenomenal 2022 performance and discussed the future of the sports TV in a wide-ranging interview, presented here with edits for clarity and space.
B+C: Put Fox Sports's 2022 campaign into perspective. Did it meet your
expectations?
Eric Shanks: Clearly, we couldn't have predicted such an unprecedented year. When we set our budget in 2021, we couldn't have predicted that we were going to have probably the greatest sporting event of all time in the World Cup final. The performance of everything that we've put on the network just validated the strategy that Lachlan Murdoch and [Fox chairman] Rupert Murdoch put in place, which is to be very focused on being the leader in live television, whether it's sports or news. It feels to me like we're unique in that there's no doubt that we know who we are, and we aim to be the leader in live sports and news every day. By any metric, whether it's total consumption or whether it's the individual performance of our events or our leagues, that's the case. And in the areas where we're not quite No. 1, I mean, that's the challenge that we have going forward.
B+C: You mentioned the World Cup. Fox Sports had some daunting challenges going into the tournament, including an unprecedented fall start plus unfriendly time differences with Qatar. How was Fox Sports able to overcome those challenges?
ES: It really is all about planning. We were in Qatar two and a half years before the World Cup to start setting all of the pieces in place for the planning. So when that month [of the tournament] comes on the air, it's the result of this amazing team that we have here to put a plan in place and to execute it. Of course, we can't predict that an event will unfurl where the biggest stars in the sport actually show up and are the key components of the event at the end. So that's what kind of paid off: the planning was there and then the stars showed up.
B+C: Fox Sports continues to offer all of its marquee sports events, whether it's all 64 World Cup games, the Super Bowl, or even USFL games, on linear television. In a TV environment when more content distributors are moving to streaming, why is Fox Sports so invested in the traditional television platform?
ES: I actually look at it a little bit differently. If you look at the big rights deals that have been done, there might be media companies that are trying to move things into their streaming services. But if you look at what the professional leagues are doing, the NFL deal had clear priority on broadcast. There are more games on broadcast now for the NFL than ever before. If you look at the Big Ten deal, it's a move away from cable to three broadcast entities. You look at the MLS deal that we just did. While they did a streaming deal [with Apple TV Plus], they really wanted to have games on broadcast every week. The biggest events from the biggest leagues are still on broadcast television. So our focus is there because we know that being a leader in news and sports is the driver of value in the bundle.
B+C: So what is Fox Sports's streaming strategy going forward?
ES: A big chunk of our consumption comes from streaming — it's just not direct-to-consumer streaming. We still have great products and availability for people to watch on any device, anytime. So we're not against streaming; we just aren't in the business model of direct-to-consumer. For the World Cup, we did a unique deal with Twitter, where we showed the first few minutes of every game live, which set social records for us. We used [Fox Corp.-owned streaming service] Tubi for highlights and on-demand replays which help set streaming records. When the games ended there was a message to go to the Fox Sports App, so the conversion of those fans was tremendous for us.
B+C: Having said that, could we see a Fox Sports direct-to-consumer streaming service in the next five years?
ES: We have the rights and the flexibility if we ever wanted to jump in and go DTC. Whether it's the NFL or Major League Baseball, we have the same rights as everybody, so it's our choice what to do with them. We can look at our crystal ball and know some of the things that will happen in five years. We know in five years that Fox's [NFL] 'America's Game of the Week' is still going to be the No. 1 one show on television. We're still going to have the NFC package and the Super Bowl. We're still going to have the World Series. Those are the core properties that drive our business. There are a lot of things outside of our strategy that can't be predicted, such as how many streamers will be around in five years and how many direct-to-consumer offerings there will be in five years. There are things that we have already solidified while letting others help us make future decisions without us having to make the investments.
B+C: In an era where sports rights are seemingly moving from network to network or to streaming services, Fox Sports last year was able to secure TV rights to such marquee properties as the Big 12, Big Ten and Major League Soccer. How have you been so successful in securing rights deals in such a competitive marketplace?
ES: From a non-business standpoint, we pride ourselves on being a good partner in terms of promoting, cross-promoting and producing content. If you look at our core rights for football, including the NFL, Big Ten, USFL, Pac-12, and also the core rights of NASCAR, Major League Baseball and FIFA international soccer, we really focus on promoting them on-air and being good partners which drives value for us and for them. Our core partners are not commodities; they're not interchangeable. So I think we're good partners and because we have identified our core rights, we know that they're a part of our value equation. I also think one of our success stories was getting more upstream in the rights process, whether by starting our own league or acting as a true partner to the Big Ten as a media rights consultant and playing that role that we did with securing the rights. That's another thing that we feel sets us apart this year, other than our distribution strategy.
B+C: Do you see a more competitive marketplace over the next few years as Google, Apple, Amazon and other digital/streaming companies negotiate for sports rights?
ES: Every time you think that it's going to be less competitive, it's always more competitive and a competitive marketplace doesn't drive prices or costs down. That's a good thing: You want your partners to be successful if they're driving value for you. Just like earlier when we talked about our crystal ball, I don't know in five years if there's going to be more people bidding for rights or less, but I think they're in that mode right now. You have companies that aren't in the sports business now looking to be in the sports business. We've always been used to competition, but this is the first time that we've competed against $2 trillion companies that aren't even in our business for rights. So it's yet to be seen in this competitive environment what will be a success for them and whether they'll keep going or revert back to their traditional business.
For us, we're in the sports business. It's existential to us. To our newest competitors, it's not existential; it's kind of a toe dip in the water to see where it goes. That's why I'm not sure if there will be more competition or less. History says there's never less. Even with that, they really can't impact our business in the next six years because we've wrapped up about 80% of our core rights deals, and I think we're in a really good position to renew those other contracts like NASCAR when it comes up. So at least from our position, the window for them to really impact us has closed.
B+C: One way to protect rights fees is to create your own league, which Fox Sports did with the USFL last April. Given spring football's failed history, what made you confident that you could pull this off?
ES: Well, it was a big jump into the deep end, and I credit my bosses here who believed in the vision. We were born to do football and we believe that in America there is demand out there for more high-quality football across more parts of the year, and we knew that we could make the media part of it a success. In year one, it performed as well as any longstanding sports event in that second and early third quarter. We have a long-term plan for growth. We took our media expertise and put a group together that actually was able to do the football operations, health and safety protocols for the players, ticket sales and marketing for the whole league. We even sold rights to another media partner at NBC. One of the most unique things we did in 2022 was having a media company actually run a league. The crowning of a champion, for the first time since the '80s, of a spring football league was definitely a unique moment for Fox Sports.
B+C: Fox Sports is televising Super Bowl LVII. The last time Fox had the big game was in February 2020, just a month before the pandemic. Are you approaching post-pandemic Super Bowl coverage differently than in 2020?
ES: The other thing that was interesting for our last Super Bowl was that it was the NFL's 100th anniversary, so the content, pregame and everything that the NFL wanted to accomplish along with us was totally different than this year's event. That being said, every year the network is really responsible for making the Super Bowl bigger than the one before, so we work hand in hand with the NFL on what moments to discuss, what we want America to remember from the event and making the event as big as possible.
B+C: Will we see any new technological innovations during the game?
ES: We're trying to do some things to get fans closer to the game, whether it's with audio or new cameras. We usually end up doing some really interesting things from a graphics perspective or data perspective. I think this year, obviously, the thing that's on top of everybody's mind is the continued improvement of Damar Hamlin, so we'll be figuring out how we could celebrate his recovery or improvement. Whatever that ends up being is going to be a great moment.
B+C: Fox Sports has been aggressive in creating content around sports wagering. Do you believe that such content will inevitably have a major influence on the overall sports television marketplace?
MS: I think we were really aggressive moving into the wagering space, not just as a vehicle for advertising or taking advertising dollars. I'm pretty sure we're the only media company that has an investment in horse racing wagering, with our 40% ownership in [the New York Racing Association]. We have Fox Bet, and we have our 18.66% [purchase] option in FanDuel. We're in poker and iGaming and we're the leading free-to-play app. We're the only media company that is really invested from an ownership standpoint. So yes, wagering is having an impact and will have an even bigger impact as more states roll out [legalized sports betting].
I would say that specific wagering-only content is probably less important because that's speaking to a niche of a niche. Rather, what's happening is, in every NFL pregame show and college pregame show, someone is talking about odds, spreads, odds to win a championship or even prop bets. It really has become integrated into the mainstream. I think that's the biggest impact — everybody feels more free to talk about and use wagering in an event. People now understand odds, so I think those things have the biggest impact today, but we haven't been able to figure out yet whether wagering is having an impact on viewership.
I think that the amount of sports on television clearly impacts wagering, because the more sports that you have and the bigger that you make those events, the more [bets] there are. But we don't really see any evidence yet of wagers impacting viewership.
B+C: In 2019 Fox Sports exited the regional sports business. Given the recent upheaval and evolution within the category, do you see any value in potentially getting back into the regional sports business?
ES: I think there's a lot of forces that will cause it to evolve, whether it's a new business model for consumers, whether it's technology, whether it's owners and leagues having an expectation of economics that they eventually use to pay players and to put a product on the field. So there's no question that it's going to evolve.
I feel like it will create opportunities for us at Fox, because I'm not sure that the … volume of games will still be played on what we consider to be an RSN. There still may be some, but there may also be the ability to put more games on broadcast television that used to be on an RSN. Look at what [Los Angeles Clippers owner] Steve Ballmer did out here with the Clippers — he just took more games off of his RSN to put them on a broadcast platform. When you're in 210 markets around the country with a broadcast station, that gives you the opportunity to do a few local over-the-air pro game telecasts and take advantage of our structure, our broadcast nature and our broadcast reach. That might be the evolution of some of that RSN product.
B+C: What's on your wish list for Fox Sports in 2023?
ES: As we look at 2023, we have another really unique event in the Women's World Cup, which is something that we've been planning for for years. It's an event where you really root for the U.S. women's national team to bring home another World Cup. It's exciting for us to be able to serve as the flagbearer for women's sports in this country at the highest level. I don't think there's anybody that invests more in the success of women's sports. Also for us, it's the beginning of the new NFL contract next year, so working with the NFL on some of the new rules around scheduling and what games we get.
I also want to continue to be the leader in holiday sports fare. It used to be that the holidays were not a great time to put sports on television, but now it's the best time. Owning Thanksgiving, Christmas, and being around with sports content on New Year's and Thanksgiving Friday and Saturday is really exciting for us, and that's only really come around in the last three years for the most part. ■
Broadcasting & Cable Newsletter
The smarter way to stay on top of broadcasting and cable industry. Sign up below.
R. Thomas Umstead serves as senior content producer, programming for Multichannel News, Broadcasting + Cable and Next TV. During his more than 30-year career as a print and online journalist, Umstead has written articles on a variety of subjects ranging from TV technology, marketing and sports production to content distribution and development. He has provided expert commentary on television issues and trends for such TV, print, radio and streaming outlets as Fox News, CNBC, the Today show, USA Today, The New York Times and National Public Radio. Umstead has also filmed, produced and edited more than 100 original video interviews, profiles and news reports featuring key cable television executives as well as entertainers and celebrity personalities.