Delta's NBCU Olympic Sponsorship Takes Off With 'Top Chef' Paris Integration
Viewers get to see chefs cooking with Olympic, Paralympic athletes under the Eiffel Tower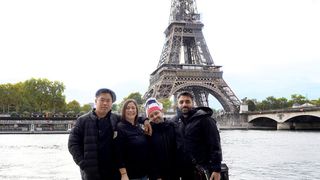 (Image credit: Fred Jagueneau/Bravo)
NOTE: Contains details about the Top Chef Season 20 finale (airing on June 1), so if you want to avoid spoilers, read this after watching the episode.
In the shadow of the Eiffel Tower, the four remaining competitors in season 20 of Top Chef prepared to guide unseen partners through a Quickfire cooking challenge.
Top Chef, the long-running Bravo series, went abroad for the first time, shooting episodes in London with All-Star chef/contestants from around the world. For a surprise season finale [airing on June 1], the finalists were taken to Paris, the capital of cuisine. The weather wasn't cooperating. The skies were gray. It was a chilly 56 degrees at about 10:30 a.m., and then it started to rain. But the show went on.
Each of the Top Chef finalists was led to a stall. They were on one side of a wall. Their unseen partners were on the other side of the wall. The chefs had 30 minutes to coach their partners to make a dish using ingredients provided while they prepared the same dish.
It wasn't easy. As it turned out, few of the partners were very good cooks. They had other talents. Each of the partners was a Team USA Olympic or Paralympic athlete, quietly flown into Paris by Delta Air Lines, the official airline of Team USA and a major Olympics sponsor for NBCUniversal, which is gearing up for the 2024 Summer Games in Paris.
Host Padma Lakshmi emerged from a tent that served as a dressing room as production staffers tried to keep her and her fabulous outfit from getting wet as she walked to where the challenge was being filmed.
Lakshmi set the stage, noting that the chefs were in "one of the most-visited locations in the world." She thanked Delta for bringing them there and asked the contestants if they "were ready to get on board." They raised their hands.
She introduced the Quickfire challenge.
"In just over a year's time, the world's greatest athletes will be coming together here in Paris for the 2024 Olympic and Paralympic Games, where they will be competing in the ultimate test of their endurance and skills. Sound familiar? Thanks to Delta Air Lines, the official airline of Team USA, the four of you will be doing the same here in Paris over the next two weeks and it all starts right now," Lakshmi said. "Our friends at Delta have flown in some very special teammates for you today. But, you won't know who they are until you are done cooking."
Slaving over hot stoves would be Suni Lee, all-around gymnastics gold medalist from the 2020 Tokyo Summer Olympics; two-time Olympic gold-medal hurdler Sydney McLaughlin-Levrone; Mallory Weggemann, a three-time Paralympic swimming medalist; and Hunter Woodhall, a three-time Paralympic track medalist.
With the weather, some Delta and NBC executives watched from their hotel in Paris via closed circuit.
A half-hour later, the winning chef was Ali Ghzawi, who was paired with Weggemann and managed to whip up potato leek soup with créme fraîche. As the winner, Ghzawi received a Delta Gift Card valued at $10,000 to take a trip anywhere Delta flies worldwide.
"It definitely was challenging, but it was a lot of fun," Wegemann said.
"I've never cooked with leeks before and I had a moment where I wondered, 'Are we going to have a dish when the timer's up? There's just going to be water in the bowl,'" she continued. "I think it's neat to get out of your element and try something new I would sway we all probably thoroughly enjoyed it."
The integration into Top Chef was part of Delta's Olympics sponsorship deal with NBCU, worth a reported $400 million. NBCU and Delta gave Broadcasting+Cable access while the episode was being shot in Paris last October.
Airing now, about a year before the start of the Paris Olympics, the integration promotes the upcoming games for NBCU and Delta's support of Team USA.
"With Delta being such a supporter of Team USA, it was exciting to watch the athletes extend their competitive spirit into the Top Chef environment," Emmakate Young, managing director, brand marketing and sponsorships at Delta, said.
"The Quickfire challenge demonstrated how much connection can happen over food, travel and cultures," Young said. "It was great to see the participants from all over the world connecting over food in this amazing destination. We are looking forward to seeing how the episode plays out and consumer reaction to the challenge. Additionally, having the backdrop of this challenge be an iconic Parisian landmark will make Paris 2024 feel even closer."
NBCUniversal has been televising the Summer Olympics since 1988 and the Winter Olympics since 2002. A new cycle for U.S. sponsors started in 2020, and Delta was the first to sign up with NBCU. The sponsorship runs through the Los Angeles games in 2028.
"Delta has been a fantastic Olympic sponsor," said Dan Lovinger, president, Olympics and LA2028 advertising sales and partnerships at NBCU. "They are enthusiastic. Their entire organization is locked in and taking advantage of the Olympic spirit."
The International Olympic Committee has its own roster of global top sponsors — including Visa, Procter & Gamble, Toyota and Samsung — that have international rights to use the Olympic rings in their marketing. Those companies support their sponsorships by spending ad dollars during NBCU's Olympic coverage in the U.S.
For the U.S. market, NBCU recruits sponsors of the U.S. Olympic and Paralympic teams. In addition to Delta, NBCU's Olympic sponsors include parent company Comcast, Salesforce, Deloitte and Hershey.
Delta's first experiences as an Olympic sponsor were impacted by the COVID pandemic, yet the airline powered through the turbulence, helping to move athletes to Beijing, Lovinger said.
"It was a very tricky time period," Lovinger said. "We couldn't have done it without Delta.
Going for the Gold
For Delta, sponsoring the Olympics was a big commitment. "We are a global brand and we wanted to align with a global property like the Olympics," Young said. "Their tenets of faster, higher, stronger align perfectly with our tagline, 'Keep climbing.' So it was really a natural fit."
Delta's goal in advertising starts with awareness. Equally as important is creating the perception that the airline is a premium global brand — both with consumers and within its own staff.
"We want our Olympic sponsorship to permeate the entire organization," Young said. "Our employees are a huge part of our audience and a massive constituency for us. We've got 80,000 and climbing employees. We want to make sure that everybody in the company knows about it."
Delta has been a longstanding advertiser on NBCU and was a powerful media partner for the airline.
"They have so many different properties that hit our target audience, so we're able to really laser-focus on who we want to target, and NBC has a lot of those capabilities," Young said.
Lovinger said NBCU aims to find opportunities for Olympic sponsors across the entirety of its portfolio for ways to connect with their target audience.
The Top Chef integration in Paris was "a natural synthesis of our needs to grow the awareness that the games are coming with Delta's needs to connect people and Paris," he said.
Finding the right recipe for a tasty integration can be a tricky thing.
Sponsors like Delta prefer to sponsor Quickfire challenges because they don't want to be responsible for a contestant being eliminated, Jamie Cutburth, executive VP, Creative Partnerships, Advertising and Partnerships, NBCUniversal, said.
But taking chefs and Olympians to Paris was on brand for Delta, according to Young, who said she watches the show.
"We obviously bring people to places. get them from A to B," Young said. "But we believe our ultimate purpose is to get people to their potential and to help them achieve their potential. That was another reason why it was really a bull's eye for us to be a part of this partnership."
Delta wasn't looking to overpower the segment with branding and doesn't settle for cookie-cutter solutions.
"We never want to in any of our relationships just slap a logo on something," she said. "We really want a natural fit and a partnership. It would require a lot of things coming together and really be a bull's eye for us. And this one provided that."
The only thing that would have made the segment better would have been to have had a Delta jet fly over the contestant behind the Eiffel Tower. "Maybe we could do it in post," Young joked.
Weggemann, the athlete who won the Quickfire challenge, worked with Delta since 2019 as a member of Delta's advisory board on disability. "When they became a Team USA partner, I was ecstatic because I'm very biased in my enthusiasm for Delta," she said. "They're a remarkable brand because when you're with them, it truly is a family."
Weggeman also worked with NBCU as an on-field reporter during the 2018 Pyeongchang Paralympic Games in South Korea and worked in the studio during the 2022 Paralympics in Beijing.
Weggemann is one of six Olympians and Paralympians Delta works with. They have been featured in the airline's ad campaign. The athletes also work with Delta employees. They worked with different departments. Some reviewed safety protocols, others went through flight attendant training
"The airline industry is hard and we do have to overcome a lot of adversity and be very resilient," Young said. "Those were themes that really resonated with our employee base."
City of Light
While being in France was new to Top Chef, sponsors being stirred into episodes wasn't.
"It's wonderful to be here in Paris," Lakshmi said. "This is one for the history books. Rain is part of life and it's certainly part of life here in Paris. So it's almost apropos that we get into it on our first outing here in Paris."
Lakshmi said she and the show do their best to incorporate sponsors' initiatives into their scripts.
"I'm very grateful to our sponsors because they allow us to do the show in such a high-caliber way," Lakshmi said. "For instance, without Delta we wouldn't be here. They enabled us to fly our whole crew to London and onward to Paris."
Lakshmi noted that she'd previously worked with Delta, curating an in-flight entertainment program for Asian-American and Pacific Islander Heritage Month.
Delta fit right in with the show's other sponsors for season 20, which including first-timers Finish Dishwasher Detergent, Ritz Crackers, and Saratoga Spring Water, along with returning sponsors Anolon Cookware, BMW of North America, Mastercard, Morton Salt, Universal Pictures and Vrbo.
"Delta enabled Top Chef to tell the story of taking the contestants to England and, if they were successful, to Paris as well," NBCU's Cutburth said.
Cameras were rolling not just in the kitchens, but at the airport, Cuthburth noted.
"Our team was at Charles de Gaulle picking up Olympians," he said. "We did the B-roll footage; we tell the whole story. We've learned that audiences love the cooking, but they also love the people and we want to help tell that story. So you see the athletes are arriving and getting excited. You know, that's all real. They're fun, behind-the-scenes stories for the audience.
"The storytelling in Top Chef provides plenty of space for brand stories, too," Cutburth said.
"We try to create a very natural script and we [ want to tell a very natural story," he continued. "Without Delta, we wouldn't be in Paris bringing the Olympians togetherI think we are also working hard to make sure that our partners' brands are elevated in the most organic way possible. We don't want to be beating people over the head with a brand point. I think everyone in our industry agrees we're beyond that."
Brands can afford the softer sell, he said, because it works.
"We work directly with our research team and understand the lifts in brand favorability and brand awareness," Cutburth said. "Top Chef is always stellar as an environment when it comes to increasing brand awareness and favorability, mostly because we do it in such a creative and unique way. We don't do the same integration twice, so every integration that we create is bespoke."
Going to Paris was a chef's-kiss moment for the Top Chef, added Ryan Flynn, senior VP, recurring production for Bravo.
"We endeavor to introduce our viewers to a location," Flynn said. "What better way to say you're in Paris than the base of the Eiffel Tower."
The rain didn't put a damper on the scene, Flynn said. "Not at all. For us, rain or shine, we press on, and we're always ready for anything."
While the show is obviously open to branded integrations, a balance needs to be struck. "I always think about the viewers at home and what feels appropriate," Flynn said, "We have very savvy, very smart viewers."
That's particularly true with a first-time sponsor like Delta. "If it's too much like an obvious commercial, it's our job to say to them, it's in your best interest for us to find that right balance, so that when people watch they're excited."
And of course, there's a financial incentive to integrate sponsors into the show.
"It really allows us to continue to make the show we want," Flynn said. "What's great about this is so many parts of our company come together to support, what we think is — obviously, I'm going to be biased — one of the best shows on TV and hopefully the best cooking competition show on TV,"
The Top Chef cast said going to Paris was the piece de resistance for the show.
"It took 20 seasons to get here. It really means a lot and I think the fans are going to love it," Tom Colicchio, Top Chef's head judge, said. "Chefs of my generation, and maybe even slightly older, at some point we all came to France to work. It was like a rite of passage."
He noted that the competing chefs were psyched to get to Paris. "Some have never been here, and so as a working chef, I think it's really exciting for them," he said. "For us, we get to eat a lot of great meals, when we're not actually working."
Added Top Chef judge Gail Simmons: "For so long, France was the only place that mattered in food. It was the center of Western culinary history and that is still true to some degree."
"I think our producers do a great job of working those products into the challenges," Simmons added. "Partners allow us to create the best possible challenge around them so that our chefs don't mind the sum is bigger than its parts."
Spicy Competition
Before the competition, the athletes eyed one another as rivals while also sharing scouting reports on which chefs would make the best partners.
"I don't know who had experience cooking, or even likes cooking, but I do know that these athletes are of such a high caliber that they're really good at taking directions," Lakshmi said. "They understand what's at stake for the chef they're paired up with and I think they all wanted to do a good job and I think they all did do a good job."
Woodhall, the Paralympic track medalist, said he went into the competition with no expectations. "I was just trying to figure it out as I go. [Chef Buddha Lo] was very good at teaching what to do, but I told him I'm not good at cooking, so let's do this together."
Woodhall has done some work with sponsors before. "We try to work with companies that align with what they want to do."
Weggemann, who won the Quickfire challenge, said she thought the values it takes to compete cross over from athletics to business. "You look at the resilience it takes to be an Olympic and Paralympic athlete, and the drive and dedication and community," she said. "There's so many parallels between that and Delta. And I think that that's such a really powerful synergy that we share."
While she's looking ahead to her fourth Paralympics, she's also looking forward to life outside the pool.
"At this stage of my career, what makes me a fierce competitor is knowing, there's more to Mallory Weggemann than being a swimmer," she said.
"I love what I got to do with NBC for the 2022 Beijing games," Weggemann said. "I thought it was such a remarkable chance to kind of pull out of my athletic world. It's not about you. It's about connecting with the viewer so you can articulate the stories of the individuals who we are highlighting and share that with people."
Delta's sponsorship will continue to gain altitude as the games get nearer.
Earlier this year, the airline opened a Delta Sky Club at the airport in Minneapolis where Top Chef inspired dishes were served. A Delta Sky Club in Boston similarly featured recipes from Top Chef alum Karen Akunowicz.
"The next big thing for all of our partners will be the one-year-out announcement," Lovinger said. "There's still a year to go. They've got other cool stuff cooking."
Broadcasting & Cable Newsletter
The smarter way to stay on top of broadcasting and cable industry. Sign up below
Jon has been business editor of Broadcasting+Cable since 2010. He focuses on revenue-generating activities, including advertising and distribution, as well as executive intrigue and merger and acquisition activity. Just about any story is fair game, if a dollar sign can make its way into the article. Before B+C, Jon covered the industry for TVWeek, Cable World, Electronic Media, Advertising Age and The New York Post. A native New Yorker, Jon is hiding in plain sight in the suburbs of Chicago.