TV By the Numbers: MLB Playoffs a Home Run for TBS; CBS Rides Football Doubleheaders to TV Ad Impressions Win
With insights from Vizio's Inscape and iSpot.tv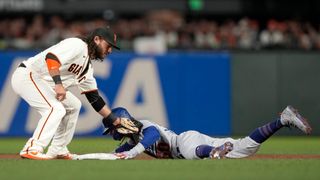 (Image credit: Thearon W. Henderson/Getty Images)
Below is a snapshot of TV by the numbers for the week of Oct. 11-17, shining a spotlight on the most-watched shows and networks using glass-level data from Vizio's Inscape, and top shows and networks by TV ad impressions with insights via iSpot.tv.
Most-Watched Shows and Networks
Via Inscape, Vizio's TV data product with glass-level insights from a panel of more than 17 million active and opted-in smart TVs. Data is linear, live TV only and includes all episode types (new and reruns). Rankings are by percent share duration (i.e., time spent watching).
The NFL once again reigns supreme. During the week of Oct. 11-17, NFL games piled up 6.55% of minutes watched, taking the No. 1 spot in our ranking.
Some additional insights about the top programming on TV:
The Major League Baseball playoffs are in full swing, as MLB finishes second for the week, with 3.63% of watch time courtesy of Division Series games wrapping up and the start of league championship series.
Another big weekend of ranked matchups helped keep college football among the top programming by minutes watched, moving from No. 2 to No. 3 week-over-week.
There are two week-over-week newcomers among the top 25 programs by minutes watched: The First 48 (up from No. 27 to No. 17) and 60 Minutes (not in the top 50 the previous week)
Fox News Channel has three different shows among the top 25 by watch-time: Fox & Friends (No. 11), America's Newsroom (No. 14) and America Reports (No. 21).
Also Read: Fall 2021 TV Premiere Dates
CBS tops the network rankings by minutes watched, scoring 9.33% of watch-time with big boosts from an NFL doubleheader on Sunday, an SEC college football doubleheader on Saturday and 60 Minutes.
More insights around the most-watched networks from Oct. 11-17:
Top Shows and Networks by TV Ad Impressions
Via iSpot.tv, the always-on TV ad measurement and attribution company. Rankings are by TV ad impressions, for new episodes only.
Live NFL games keep serving up the most TV ad impressions, with over 7.8 billion delivered from Oct. 11-17 (up about 8% from the previous week).
More data about the top programs by TV ad impressions during the week:
The Major League Baseball playoffs rise to No. 2 by impressions for the week, with nearly 4.3 billion delivered on the strength of divisional series wrapping up and league championship series getting started.
Broadcast network reality TV shows continue to deliver, with The Voice and Dancing With the Stars each topping 500 million ad impressions for the week.
College football served up nearly 4.1 billion TV ad impressions from Oct. 11-17, as live games got started on Tuesday and ran through late Saturday night, headlined by No. 11 Kentucky at No. 1 Georgia on CBS.
News is a major source of impressions yet again, as 12 of the top 25 programs are in the news category (talk or studio shows).
Saturday and Sunday football doubleheaders for CBS powered the network to the top spot in this week's ad-impressions-by-network ranking once more. After Saturday SEC matchups — Arkansas vs. Auburn and Kentucky vs. Georgia — CBS had a full afternoon of NFL action as well on Sunday.
Additional insights around the top networks by impressions from Oct. 11-17:
NBC finishes second for the week by TV ad impressions, with over 20% coming from Sunday night's Seattle Seahawks-Pittsburgh Steelers game.
TBS and Fox Sports 1 together served up more than 4 billion impressions (2.9 billion and 1.4 billion, respectively) while airing the Major League Baseball playoffs, with TBS finishing seventh and Fox Sports 1 sitting 12th for the week.
Combined cable news (Fox News, MSNBC, CNN) impressions rose 6% week-over-week from Oct. 4-10 to Oct. 11-17.
Broadcasting & Cable Newsletter
The smarter way to stay on top of broadcasting and cable industry. Sign up below.
John Cassillo is an analyst and contributor with TV[R]EV.