Programmers Band Together in Joint Industry Committee To Battle Nielsen Dominance
JIC's goal is to create multiple currencies for premium video, using first-party viewing data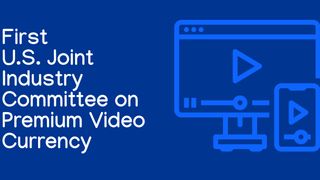 (Image credit: Joint Industry Committee)
Most of the biggest television programmers have banded together in a new attempt to fix what they see as an audience measurement problem and promote competition to Nielsen, ending its stranglehold on the industry.
Comcast NBCUniversal, Paramount Global, Fox, Warner Bros. Discovery, TelevisaUnivision and the VAB said Monday they formed a Joint Industry Committee so they can work together to set standards for measuring what they call premium video, which generates $70 billion in advertising revenue.
Also Read: Premium Predicament: What's Being Measured Is As Important Than Who Measures It
The JIC will certify multiple currencies from multiple providers and promote the use of the programmers' first-party viewer data as a foundation for measuring streaming as part of multi-screen campaigns.,
"We do believe this is a major milestone. It is the culmination of a lot of industry progress that has already been made and will kick this into overdrive and actually move it into execution mode," Krishan Bhatia, president and chief business officer for advertising sales at NBCUniversal told Broadcasting+Cable.
The programmers say they expect more of their colleagues to join the JIC. At this point The Walt Disney Co. is not on the roster. Nor are ad-supported streamers like YouTube or Netflix.
"We will consider all players that have a shared objective, adhere to these standards, have premium video content and also are willing to make their data, interoperable," Bhatia said.
The JIC will use facilities created by Open AP -- the advanced advertising company owned by several of the programmers -- to handle data. They said it will look to have media buying agencies and trade groups including the VAB, the Association of National Advertisers, the American Association of Advertising Agencies, the Internet Advertising Bureau and the Advertising Research Foundation collaborate with the JIC to accelerate the process of getting to a multi-currency future.
Standards will be announced on March 1 and measurement companies will be invited to submit products for certification.
The move comes at a time when most programmers have tested alternatives to Nielsen and to some degree have begun using them to sell commercials. But the programmers also have contracts with Nielsen and the majority of advertising transactions are still done with Nielsen as the currency and standard for guaranteeing performance.
Nielsen has been unsuccessfully challenged many times in the past. To show that this time, the industry has the high-level will to financial resolve this time, the CEOs of the founding companies -- NBCU's Jeff Shell, Bob Bakish of Paramount, Wade Davis of TelevisaUnivision and WBD's David Zaslav -- are quoted saying: "The sustainability of the premium video advertising model depends on an ecosystem for measurement that is transparent, independent, inclusive, and accurately reflects the way all people consume premium video content today – across multiple screens, connections, and devices. By coming together to establish this JIC, we can collaborate and accelerate the efforts to implement a new multi-currency future that fosters more competition, inclusivity and innovation and will ultimately better serve advertisers, agencies and consumers."
Nielsen, in a statement, said: "We appreciate working with all the industry bodies vested in the best way to measure the changing audience and providing fidelity and trust between advertisers, agencies, publishers and platforms. We continue to believe it is critical to have measurement that is transparent, consistent, auditable and independent."
The timing also comes as Nielsen is rolling out its new measurement system, Nielsen One. The first phase of Nielsen One for measuring ads is launching January 11. Nielsen plans to phase out its current ratings over the next year. At that point, the programmers point out, there will be no legacy currency, only new ones.
Nielsen's legacy system -- based on a panel of about 40,000 households, was found to have undercounted TV viewership during the pandemic by the Media Rating Council, which suspended its accreditation of Nielsen's national television ratings service. At a time when more viewers are turning to streaming, Nielsen One is designed to incorporate big data from set-top boxes and smart TVs, but Nielsen's formula for combining big data with its traditional data has not yet passed muster with the MRC and Nielsen is publishing those viewer numbers for information purposes only, not for making transactions.
"It's a work in progress," Bhatia said of Nielsen One. "It is a very phased rollout so it's very hard to evaluate."
As the industry and Nielsen make this transition, "this is really the first time in this country that the majority of the premium video providers are setting up a formal vehicle to agree on measurement and quality standards certification requirements, Bhatia said.
"If we don't do this you're going to see kind of a lot of noise and chaos and lack of focus for the business. That's what we risk in not having a seamless transition to that future," added John Halley, president of advertising sales at Paramount Global. "If we don't do something like this, the risk of chaos increases dramatically."
JIC's are used in many countries to organize audience measurement services. They are legal in the U.S. and Bhatia said that each company's legal team has been involved to avoid any charges that they're violating antitrust law.
The collective approach is also needed to oversee that the viewing data supplied by the programmers is handled and applied properly.
"Big data doesn't doesn't mean first-party data," said Bhatia. The big data Nielsen said it plans to use comes from set-top boxes and smart TVs. Bhatia said that's still proxy data.
"We believe that the first-party data sets that the programmers have access to, particularly from their streaming products, are an essential part of ensuring the accuracy of cross-platform measurement. We have the best possible data available on how consumers are engaging with our respective streaming properties," he said.
The JIC is starting out working with OpenAP because the industry has developed a level of trust in OpenAP's ability to work with all parties impartially and handle data securely.
"We're looking to do that in short order, as well, leveraging what's already in place in terms of the infrastructure we've created with Open AP in partnership with [clean room technology company] Snowflake," he said.
The programmers want their first-party data used by third-party measurement companies, Bhatia said. "That has not happened in any of the existing efforts, quite frankly that are underway across the industry. Nielsen has so far opted not to use the programmers' first party data as part of Nielsen One, he said.
As it develops, the JIC will operate in parallel and increasingly independent from OpenAP. A management structure and executive leadership for the JIC will be determined shortly, Bhatia said.
"This will be a separate and new entity that we're going to be inviting additional members into within the premium video ecosystem," he said. Adding that the JIC will be "working very collaboratively with all the existing trade bodies and obviously the buy side of agencies and clients that ultimately are necessary to create a true industry solution."
Bhatia said the JIC would hire an auditor to ensure that viewing data is not being manipulated before being included in the measurement products produced by third-party measurement companies.
Media Rating Council's Role
The Media Rating Council, the current ratings business watchdog, would retain its role in making sure the third-party measurement companies' methodology and systems do what they say they're supposed to do.
The JIC will look at how measurement products are designed to make sure they're useful to the industry. The JIC would set standards, such as measurement should be based on big data, be interoperable, transparent, auditable and support clean rooms.
"In terms of how those individual products work, that's the work of the MRC," said Halley. "The business will continue to be dependent on the MRC to certify those products."
The JIC will not prevent buyers and programmers from choosing what measurement systems they use, Halley said.
"At NBCU, we will continue to make progress driving the adoption of new currencies in the next cycle," Bhatia said.
"We're going to continue to work with the providers we work with and we will continue to light them up," added Halley, speaking for Paramount. "We have one that you know is going to be coming online very, very soon."
Paramount will continue to evaluate the measurement companies and currencies it uses. "Because we're using them now doesn't mean we're necessarily going to be using them in the future," Halley said. "It is going to be subject to the certification requirements, their capabilities and our vision of the future measurement."
Halley noted that the measurement world will be transformed between now, with the formations of the JIC and the launch of Nielsen One and September 2024, which Nielsen said its panel-based measurement and the C3 and C7 commercial ratings will be retired.
"What this does is it creates a formalized framework for evaluation of the currencies of what will be in play as part of that future state. It allows acceleration for the operationalization of those currencies, so we can work towards that future where all currencies are going to be new currencies," he said.
"Remember Nielsen One is a new currency, just as VideoAmp is a new currency, just as iSpot is a new currency," he said. "They don't have any, built-in advantage necessarily just because they're called Nielsen. It's an entirely different viewing data set. It's an entirely different set of capabilities and protocols and those need to be evaluated put under a microscope for us to look at." ■
Broadcasting & Cable Newsletter
The smarter way to stay on top of broadcasting and cable industry. Sign up below.
Jon has been business editor of Broadcasting+Cable since 2010. He focuses on revenue-generating activities, including advertising and distribution, as well as executive intrigue and merger and acquisition activity. Just about any story is fair game, if a dollar sign can make its way into the article. Before B+C, Jon covered the industry for TVWeek, Cable World, Electronic Media, Advertising Age and The New York Post. A native New Yorker, Jon is hiding in plain sight in the suburbs of Chicago.
Broadcasting & Cable Newsletter
Thank you for signing up to Broadcasting & Cable. You will receive a verification email shortly.
There was a problem. Please refresh the page and try again.