Nielsen Streaming Ratings: Netflix's 'Clickbait' Steals Audience Traffic From 'Manifest'
Hulu buzz comedy 'Only Murders in the Building' opens to 444 million viewing minutes, misses the top 10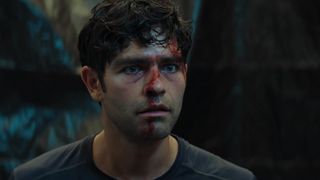 (Image credit: Netflix)
Netflix's eight-part limited series thriller Clickbait was the most watched show on the four biggest U.S. subscription streaming services for the week of Aug. 30 - Sept. 5, attracting 1.460 billion viewing minutes, according to Nielsen.
Debuting on Netflix on Aug. 25, Clickbait follows family man Nick Brewer (played by Entourage's Adrian Grenier), who winds up kidnapped. Soon after, a video is posted online of him holding up two signs, which read "I abuse women" and "At 5 million views, I die." Brewer's wife Sophie (Betty Gabriel) and sister Pia (Zoe Kazan) simultaneously work to find the kidnappers and figure out why Brewer was taken.
Last week's Nielsen streaming ratings champion, Netflix off-net supernatural drama Manifest, dropped to the No. 2 spot, but still managed to draw more than a billion viewing minutes for the eighth week since the first two seasons of the canceled NBC show premiered on Netflix on June 10.
Based on the huge performance of those first two seasons on the platform, Netflix ordered a fourth and final season of the Warner Bros. TV missing airliner drama series, while also acquiring rights to stream the third season of the show. That third season of Manifest was released on the streaming service on Aug. 21.
Maintaining the No. 3 spot week over week, meanwhile, was Disney Plus's Cruella with 757 million viewing minutes.
The live-action origin story to the Disney animated classic 101 Dalmatians stars Emma Stone as the titular Cruella de Vil. After debuting on Disney Plus's $30 premium window, Cruella was released into the free-with-subscription window on Disney Plus on Aug. 27.
Disney recently announced that Stone will star in Cruella 2, with Disney recalibrating the deal to be less reliant on box office receipts and account more for video streaming.
Taking the No. 9 spot was Netflix's acquired series Heartland with 455 million viewing minutes. It's the second week in a row that the Canadian family drama series adapted from Lauren Brooke's eponymous novels made Nielsen's overall top 10 SVOD list. It's a feat given that the 13th season of the series was released on the streaming service back in February. The drama set in Alberta, Canada began airing in 2007 on Canada's CBC network and just wrapped its 14th season in March 2021.
Netflix's exclusive U.S. streaming rights to Heartland appear to be expiring soon.
In June, FilmRise acquired AVOD rights to 214 episodes across Heartland's 13 seasons as well as the TV movie, A Heartland Christmas. Heartland will be streaming on digital platforms including The Roku Channel, IMDb TV, Peacock, Pluto TV, Tubi, and the FilmRise streaming network, among other platforms.
Coming in at No. 10 was Netflix's most popular Spanish language original series, Money Heist (La Casa de Papel), with 452 million viewing minutes for the week ending Sept. 5. The first volume of part five of Money Heist launched worldwide on Netflix on Sept. 3. The second and final volume of the series will debut on the streaming service on Dec. 3. Both volumes of season five consist of five episodes.
The show follows a group of misfit con artists and robbers who convene under the guidance of criminal mastermind "The Professor" to rob banks in Spain. The series premiered on Spanish network Antena 3 in 2017. Netflix acquired global streaming rights to the series at the end of 2017. In 2019, Money Heist Part 3, according to Netflix, was the most-watched content on the streaming service across major European markets, including France, Spain and Italy.
Meanwhile. the first three episodes of Hulu's Only Murders in the Building, which dropped on Aug. 31, garnered 444 million viewing minutes through Sept. 5.
Hulu finished the second quarter with nearly 43 million subscribers, which is far fewer than Netflix, but a few million more than Disney Plus. The fact that Hulu's buzziest show can't crack Nielsen's top 10 on its premiere week is perhaps telling. Still, the comedy starring Martin Short, Steve Martin and Selena Gomez as aspiring true crime podcasters did capture the No. 4 spot on Nielsen's original series sub rankings.
The 10th and final episode of season one of Only Murders in the Building streams on Oct. 19. Hulu has already renewed Murders for a second season.
Previous Weekly Rankings:
August 23-29: Netflix's 'Manifest' Soars Back to No. 1 with the Debut of Season 3
August 16-22: Netflix's 'Outer Banks' Loses 37% of Its Audience, Still Finishes No. 1
August 9-15: Netflix's Scrappy 'Outer Banks' Maintains the No. 1 Spot
August 2-8: Netflix's 'Outer Banks' Surpasses 2.1 Billion Viewing Minutes
July 26 - August 1: Netflix's 'All American' Edges 'Outer Banks' for No. 1
Advertisement
July 19-25: Netflix's 'Virgin River' Maintains the No. 1 Spot
July 12-18: Netflix's 'Virgin River' Ends Five-Week 'Manifest' Winning Streak
July 5-11: #SaveManifest Movement Picks Up Steam as Netflix Series Becomes the Most Watched SVOD Show for 5th Straight Week
Advertisement
June 28-July 4: Amazon's $200 Million Bet on Paramount's 'The Tomorrow War' Pays Off
June 21-27: 'Manifest' Continues Series Saving Flight Plan on Netflix
June 14-20: Netflix's 'Manifest' Scores the Year's Biggest SVOD Audience So Far
June 7-13: Netflix's 'Sweet Tooth' Shows Bite for the Week of June 7-13
May 31-June 6: Netflix's 'Lucifer' Bedevils SVOD's Biggest Audience Since Season 3 of 'Cobra Kai' Debuted in January
Advertisement
May 24-30: Netflix's 'Lucifer' Has SVOD's Biggest Week* Since 'Coming 2 America' Debuted in Early-March
May 17-23: Zack Snyder's 'Army of the Dead' on Netflix Leads a Rather Lifeless Week for the U.S. Streaming Biz
May 10-16: 'Jupiter's Legacy' Not Good Enough For Netflix to Renew, But Strong Enough to Lead the Week of May 10-16
May 3-9: Netflix's $100 Million Bet on Sony's 'The Mitchells vs. The Machines' Pays Off
Advertisement
April 26 - May 2: Netflix's 'Shadow and Bone' Edges Hulu's 'Handmade's Tale' in Rebound Week for the Streaming Biz
Advertisement
April 19-25: Netflix's 'NCIS' Off-net Run Wins Another 'Easttown and Down' Week for the U.S. SVOD Biz
Advertisement
April 12-18: Disney Plus' 'The Falcon and the Winter Soldier' Builds to 855 Million Streaming Minutes and a No. 1 Finish
April 5-11: Give Netflix's 'Thunder Force' Five for Winning the Week of April 5-11
Advertisement
March 29 - April 4: Netflix's 'The Irregulars' Tops the Easter Week Charts
March 22-28: - 'Falcon and Winter Soldier' Tops SVOD Originals
Advertisement
March 15-21: - 'Grey's Anatomy' Re-Runs Top SVOD Ranker
March 8-14: - 'The Crown' Got Royal Gains from Meghan's Big Oprah Interview
March 1-7: - Amazon Tops the Charts for the First Time with 'Coming 2 America'
Feb 22-28: - Netflix's 'Ginny & Georgia' Leads the SVOD Biz
The smarter way to stay on top of the streaming and OTT industry. Sign up below.
Thank you for signing up to Next TV. You will receive a verification email shortly.
There was a problem. Please refresh the page and try again.