Discovery Plus: Everything You Need to Know From Pricing to Programming
Discovery Inc.'s entry into the streaming sphere launched Jan. 4, 2021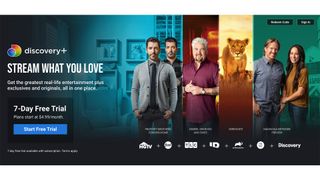 (Image credit: Discovery Inc.)
Discovery Plus (stylized by the company as discovery+) launched Jan. 4 in the U.S. with hundreds of hours of original and library content from Discovery Inc.'s portfolio of networks, including Food Network, TLC, ID, OWN, Travel Channel, Discovery Channel, Animal Planet, and most recently Magnolia Network.
The streaming offering faces stiff competition from behemoths Disney Plus, Netflix, Hulu, among others. But Discovery hopes that its nonfiction content will set it apart.
"Our ambition is simple: bring consumers the definitive and most complete destination for real life entertainment at a price point that makes this the perfect companion for every household's streaming and TV portfolio," said Discovery president and CEO David Zaslav in a statement. "There is nothing like it in the market today. We launch with significant advantages, including the world's greatest collection of non-fiction brands and content, built over more than 30 years across popular and enduring verticals, as well as powerful partnerships with leading distributors and platforms."
Zaslav's bullishness might be well-founded as Discovery reported 18 million streaming subs as of July, a boost from 15 million in April. While the reported numbers were for all of the company's direct-to-consumer offerings, Zaslav said, during the company's earnings call in Feb. 22, the "vast majority" of added subs were for Discovery Plus.
Also Read: Discovery Enters the 'Plus' Wars with Jan . 4 U.S. Streaming Launch
Discovery Plus is available in the U.S. for $4.99 a month. Subs can shell out $6.99 a month for an ad-free version. Not sure if you want to pay for another service? Discovery is offering a free 7-day trial.
Accounts include up to five user profiles and up to four concurrent streams.
Where can I stream Discovery Plus?
Unlike some of the other streamers (it took HBO Max more than six months to ink a deal with Roku), Discovery Plus launched with support from all major OTT platforms and devices.
Supported platforms include Amazon Fire TV, Android TV, Apple TV, Microsoft Xbox One, Roku, Samsung Smart TVs, and, most recently, Vizio SmartCast.
Discovery has also partnered with Verizon in the U.S., Sky in the U.K. and Ireland, and Vodafone in Europe. (Vodafone subs in the U.K. who pay monthly get the platform for free for six months.)
New Verizon Fios Home Internet or 5G Home customers will get a year of ad-free Discovery Plus. New and existing customers with Play More or Get More Unlimited plans will also get a year of Discovery Plus while Start or Do More Unlimited plan customers will get six months.
The multi-year Vodafone deal will give Vodafone TV and mobile customers in 12 European markets access to Discovery Plus. The markets include Vodafone subs in the UK, Germany, Turkey, Italy, Spain, Romania, Portugal, Greece, Czech Republic, Hungary, Ireland and Iceland.
Discovery also plans to launch the service in 2021 in the U.K. and Ireland, India, Italy, the Netherlands, the Nordics, Latin America, and in parts of Asia.
What content will I be able to watch?
Discovery Plus boasts a bevy of original content at launch (more than 150 hours to be exact).
Subs can watch more than 50 exclusive series, including 90 Day Bares All, American Detective with Lt. Joe Kenda, Amityville Horror House, Amy Schumer Learns to Cook: Uncensored, BattleBots: Bounty Hunters, Bobby and Giada in Italy, Dr. Pimple Popper: This is Zit, Frozen in Time, HGTV's House Party, Magnolia Table with Joanna Gaines, Mysterious Planet, and Super Dad. New episodes of Jesse James's Monster Garage will also stream on the service.
In its first year, the company said it will have 1,000 hours of original content.
Magnolia Network has also launched on Discovery Plus — and the Magnolia app — as of July 15, adding more than 150 hours of content to the platform. The linear version of Magnolia will take over DIY Network in January 2022. Magnolia Network shows officially premiering on Discovery Plus July 15 include Fixer Upper: Welcome Home, Magnolia Table with Joanna Gaines, Homegrown, Family Dinner and First Time Fixer, said network officials.
"From the beginning, our aim for Magnolia Network has been to tell good stories," said Chip and Joanna Gaines in a statement. "And while our plan has evolved along the way, our original vision for this network has remained the same: to create a space where people leave feeling like it was time well spent."
What will does the merger of parent Discovery with WarnerMedia mean?
In May, AT&T and Discovery Inc. announced plans to merge AT&T's WarnerMedia assets with Discovery. The new company, which was touted as a "TV and streaming giant," will be called Warner Bros. Discovery.
"Warner Bros. Discovery will aspire to be the most innovative, exciting and fun place to tell stories in the world--that is what the company will be about," said David Zaslav, president and CEO of the combined company, in a statement.
WarnerMedia's assets include HBO and streaming service HBO Max. Those assets along with Discovery's portfolio of networks and Discovery Plus, put the new company in a better position to compete with streaming juggernauts Netflix and Disney Plus.
But the new company will have a long way to go to reach the 200 million DTC subs chief Zaslav said the company is aiming for.
"For me, after we close this deal, it is going to be two absolute missions," said Zaslav in July. "Mission number one is drive direct-to-consumer to 200 million subscribers in every language in the world. And with a product that's easy to navigate and use."
AT&T projected in April that HBO and HBO Max will have 70 to 73 million subs by the end of the year. Combined with 18-plus million from Discovery's DTC subscribers, that puts the new company well below its goal.
Zaslav pointed to the new company's focus as a path to success.
"We're not in the phone business when this deal closes," he said. "We're not in the retail business, we're not in the cloud business. We're not in the cable business. With that singular focus, I think we'll drive a great culture."
Jessika is assistant managing editor of Broadcasting + Cable, Multichannel News and NextTV. She has been with the brands in various roles since 2013.
The smarter way to stay on top of the streaming and OTT industry. Sign up below.
Thank you for signing up to Next TV. You will receive a verification email shortly.
There was a problem. Please refresh the page and try again.