Hopkins Picked for Top ViacomCBS Distribution Post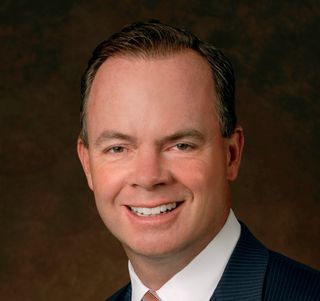 Viacom and CBS, nearing the completion of their merger, said that Ray Hopkins will serve as president, U.S. Network Distribution for ViacomCBS.
Hopkins has been responsible for helping to drive CBS's retransmission consent revenue. When he arrived in 2013, they were about $300 million and next year, they are projected to exceed $2.5 billion. He's also stepped up the amount of CBS collects from its affiliates who air CBS programming.
Tom Gorke, the top distribution at Viacom, is leaving the company.
Using the retransmission leverage CBS has with programming on CBS and its local stations, including sports led by NFL football, is one of the key drivers for combining CBS with Viacom, which has had to cut the subscriber fees it gets from distributors for its cable networks.
In his new role, Hopkins will be overseeing the combined company's broadcast network affiliation distribution agreements, as well as domestic distribution of the company's owned and operated television stations, channels and networks across all platforms. He will also drive ViacomCBS's live linear content and on-demand digital distribution deals with third-party platforms.
He will report to both ViacomCBS CEO Bob Bakish and current CBS acting CEO Joe Ianniello, who will be overseeing the company's CBS-branded assets.
Hopkins said the assets of CBS and Viacom were complimentary and will give him a stronger hand in negotiating with distributors than either company had previously. "In this case, one plus one equals three in the end," he said.
Over time, he expects to sync up CBS's and Viacom's distribution deals, which will be coming up over the next couple of years. But for now they're close enough together for him to talk about both company's assets in most of his negotiations.
"I think it's safe to say that when we have conversations with the distributors that we're going to have conversations from day one regarding the entire portfolio," Hopkins said.
Viacom and CBS combined have about a 20% share of total day viewing and 22% in prime time. "That's gold because there's no question this is viewed content. The question becomes where we are going to settle on the value of that content," Hopkins said.
The two companies now get about a 10% share of distribution revenue. "There's clearly some upside based on the eyeballs we're bringing to the distributors' platform," he said.
Now there are a few small distributors that don't carry Viacom's networks, including some virtual MVPs that carry CBS's programming. That will be addressed in upcoming talks with those distributors, Hopkins said.
In his first couple of years at CBS, he was able to make key deals that set the market for CBS in terms of retransmission consent and reverse comp with affiliates.
CBS had a negotiation with Time Warner Cable in 2013 that resulted in a month-long blackout. At that point, CBS did a deal with FiOs that set the market for CBS's retrans and Time Warner Cable fell in line. "It really set the marketplace in motion," Hopkins said.
The following year, CBS had unproductive negotiations with LIN Broadcasting, which owned the CBS affiliate in Indianapolis. CBS moved the affiliation in that market to Tribune Broadcasting. "It established that CBS intended to realize the value we're delivering on the affiliate side," Hopkins said.
More recently, CBS this year won a new deal with AT&T after a long blackout.
Related: Sinclair Reaches Agreement on Retransmission With AT&T
Hopkins joined CBS as president of Television Networks Distribution. He had previously been chief operating officer of YES Network. Before that he held posts at Gemstar-TV Guide and Fox.
Gorke had been with Viacom for for 15 years.
In an internal memo, Viacom CEO Bob Bakish said that "as the Head of Distribution and Business Development, he has been a tireless champion of our efforts to strengthen and expand our distributor relationships beyond traditional carriage agreements – an approach that has enabled us to renew and extend the vast majority of our subscriber base in three years."
"Tom has also played an instrumental role in evolving our distribution strategy beyond our core linear business, super-serving consumers through new and innovative partnerships with next-generation platforms, from vMVPDs and skinny packs to SVOD and mobile services – transforming and growing our affiliate business in the process," Bakish added.
Viacom and CBS also announced that Jo Ann Ross, will become president and chief advertising revenue officer, ViacomCBS Domestic Advertising Sales after the merger is complete. Ross had been president and chief advertising revenue officer at CBS.
Sean Moran, who oversaw a turnaround of Viacom's ad sales after 20 quarter of falling revenue, will be leaving the company.
John Halley, executive VP and chief operating officer, ad solutions, Viacom, will serve as chief operating officer, advertising revenue, and executive vice president, advanced marketing solutions, reporting to Ross.
Armando Nuñez, president and CEO, CBS Global Distribution Group, and chief content licensing officer, CBS, will serve as chairman, global distribution and chief content licensing officer, ViacomCBS, overseeing all content licensing, including worldwide distribution and domestic syndication, for ViacomCBS-owned programming to third-party platforms.
Broadcasting & Cable Newsletter
The smarter way to stay on top of broadcasting and cable industry. Sign up below.
Thank you for signing up to Broadcasting & Cable. You will receive a verification email shortly.
There was a problem. Please refresh the page and try again.