B+C Hall of Fame 2023: George Beasley
Founder, Beasley Media Group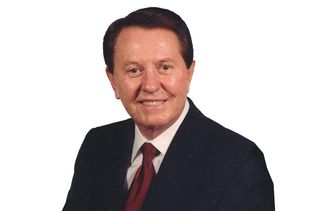 (Image credit: Beasley Media Group)
When George Beasley died in 2021, he left behind a broadcasting legacy that few could match.
For 60 years, he ran an eponymous radio company. Today, his children have high-profile positions at Beasley Media Group, led by fellow B+C Hall of Famer Caroline, the company CEO, along with Bruce, Beasley Broadcast Group's president, and Brian, Beasley Broadcast Group's executive VP and chief operating officer.
For George, the family business literally grew out of the soil. Growing up in Virginia, farming was the hand-me-down occupation. His grandfather let him try his hand at raising tobacco.
Read More: Here's to the 2023 'B+C' Hall of Fame Inductees
Finding that farming was not for him, George headed off to the Army and saved money for college. Education became a vocation for Beasley, first as a teacher and later as a principal. But, as he told the Naples Daily News, making $12,000 a year forced him to find extra income to support his wife and five children. It was radio that filled the void.
Beasley worked at a station in Mount Airy, North Carolina. An uncle owned the station, helping George and his cousin Stu Epperson, the future Salem Media chairman, learn the building blocks of making radio a viable business.
"He worked at the station at night and weekends, while being a principal for a local school," Caroline said.
George later started assembling his group. He founded his first station, WPYB, in Benson, North Carolina, in 1961.
"He had a tremendous will and desire to build something big and succeed," Beasley board vice chair Allen Shaw said.
Master Delegator
One of George Beasley's management skills was knowing how to effectively delegate, placing trust in his employees. "He put out a memo to the staff," Shaw recalled about his joining the company, where he was executive VP and chief operating officer in the '80s. In the memo, Beasley told workers to report to Shaw if they had an issue. "He is fully in charge of the operations of the company," it read.
"And he kept that word," Shaw said.
Since Beasley started in humble beginnings, he was careful when it came to the bottom line. "He didn't spend money on buildings and plush offices," Shaw said. "It was just, 'Don't spend money you don't have to spend.'  "
Shaw got to see the thriftiness firsthand when he subscribed to the Associated Press and Beasley called to complain. "You get a TV set, you put it in the newsroom and tune it to CNN," Shaw remembered Beasley saying. "That's where you get your news. It's free."
Shaw, who never heard George yell, said his boss wasn't a fan of mornings.
"But when it came to nighttime, he could stay awake longer than anybody else," Shaw joked.
After learning the ropes at his uncle's station, Beasley's confidence grew, and he turned the sideline job into his sole career choice as he began to grow his burgeoning company.
"Everything was pretty much traveling by car to different markets," Caroline said. "He tried to purchase stations that were fairly nearby where we were living."
Shaw was introduced to George Beasley in the mid-1980s on a flight to North Carolina. "I'm a dealmaker," Shaw recalled Beasley telling him, so he wanted Shaw to master the day-to-day Beasley business. George said handling that was "not really my cup of tea," Shaw recalled.
Lessons in Entrepreneurship
Shaw would spend the remainder of the decade as chief operating officer. The big win from signing on the dotted line: He learned how to do entrepreneurial radio from the master.
"He would teach me everything that he knew about ownership," Shaw said.
Caroline was in a unique spot as she grew with the company into chief financial officer before becoming CEO. "I worked day to day alongside him," she said. "He was my mentor."
Beasley gave sage advice to his daughter, including how to handle working for a family business.
Beasley merged his two passions, education and radio, with the creation of The George G. Beasley Media Complex on the campus of Appalachian State University, his alma mater.
"He could not have been prouder to be able to pay it forward," Caroline said, "and provide students with the opportunity to pursue their dreams of getting into broadcasting."
Broadcasting & Cable Newsletter
The smarter way to stay on top of broadcasting and cable industry. Sign up below
Along with his freelance work for B+C Multichannel News, Jerry has been writing about the media for more than a decade. His articles have been featured in the New York Daily News, WatercoolerHQ and Barrett News Media. Jerry spent many years on the other side of broadcasting with various on-air gigs in New York and nationally. He is a full-time editor for Patch.com.