Advertiser and Viewership Insights for the Fourth Democratic Debate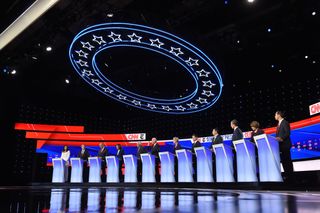 Last night, 12 Democratic presidential candidates took the stage in Ohio for the fourth debate, hosted by CNN and the New York Times: Joe Biden, Elizabeth Warren, Bernie Sanders, Pete Buttigieg, Kamala Harris, Andrew Yang, Cory Booker, Beto O'Rourke, Amy Klobuchar, Julián Castro, Tulsi Gabbard, and Tom Steyer.
First, a look at advertising insights from iSpot.tv, the always-on TV ad measurement and attribution company. In total, there were 81.4 million TV ad impressions over the three-hour debate.
Five brands accounted for nearly half of all spend over the course of the evening: Freedom from Religion Foundation, NumbersUSA, The Washington Post, Twentieth Century Fox and Warner Bros.
Not counting CNN promos, Warner Bros. was the only brand to run two separate spots: one for Motherless Brooklyn and the other for The Good Liar. Freedom from Religion Foundation, NumbersUSA and The Washington Post each aired one ad twice. Here are the three most-seen ads from last night:
1. NumbersUSA TV Spot, 'E-Verify Works' - 2 airings, 9.37 million impressions
2. Freedom from Religion Foundation TV Spot, 'Church and State' Featuring Ron Reagan - 2 airings, 9.29 million impressions
3. Amazon Prime Video TV Spot, 'Tom Clancy's Jack Ryan: Season One' - 1 airing, 6.03 million impressions
We can also see viewership trends from Inscape, the TV data company with glass-level insights from a panel of more than 11 million smart TVs. Here's a look at where viewers were tuning in from across U.S. DMAs:
In general, the East and West Coasts had slightly higher tune-in than middle America. Other hot spots included Cedar Rapids-Waterloo-Iowa City-Dubuque, IA; Columbus, OH; Topeka, KS; Flint-Saginaw-Day City, MI; and West Palm Beach-Ft. Pierce, FL DMAs.
Inscape also tracked minute-by-minute viewership for the three-hour debate:
Tune-in rose steadily in the first hour, plateaued a bit, then started a slow decline as the night wore on. There were two main peaks in viewership: First, around 9:25 p.m. ET, when candidates were discussing checking Trump and Russia/Putin, and election security/hacking threats. Then a little later viewership peaked around 9:57 p.m. ET, when Bernie Sanders discussed his health and candidates talked about whether age is an issue.
Broadcasting & Cable Newsletter
The smarter way to stay on top of broadcasting and cable industry. Sign up below.
Thank you for signing up to Broadcasting & Cable. You will receive a verification email shortly.
There was a problem. Please refresh the page and try again.