B+C Hall of Fame 2023: Jim Thompson
Past President, Broadcasters Foundation of America (Chairman's Award winner)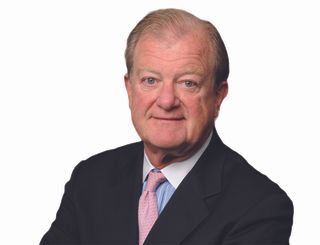 (Image credit: Broadcasters Foundation)
When Jim Thompson became president of the Broadcasters Foundation of America in 2008, the group, like the radio and television professionals it supports, had fallen on hard times.
"Jim brought vision and energy and cast a wider net in reaching more people," recalled BFOA VP Peter Doyle, who noted that the organization had lacked leadership and the Great Recession was wreaking havoc with fundraising.
"When Jim came in, the foundation really wasn't raising enough money or helping enough people," BFOA chair Scott Herman added. "But he took it to the next level, raising more money from individuals and companies and holding more events. He had a giving spirit and was unwavering about helping people — he did more than just give grants, he would then check up on people afterward."
Read More: Here's to the 2023 'B+C' Hall of Fame Inductees
Under Thompson, who died at 75 last year, the charitable organization more than quadrupled the amount of financial aid it distributes to broadcasting professionals, from $400,000 to nearly $2 million.
"He was a unique man and I miss him desperately," Doyle said, adding that Thompson's time in the U.S. Army during the Vietnam War gave him the discipline that made him an excellent leader. He also noted that Thompson almost went into the seminary and always retained that genuine sense of caring for others.
A People Person
But Thompson was also a whole lot of fun. "He enjoyed a cocktail and a cigar, could tell a joke with the best of them and also sing Irish ballads," Doyle said. "He was an all-around great guy."
Earlier in his career that gregarious side made Thompson into the man to see in Philadelphia, said Herman, who was one of the many people Thompson mentored after they met in 1985. "He knew everybody and helped me understand the market," Herman recalled. "He made everybody smile and commanded every room he walked into."
Starting in sales at KYW Philadelphia in 1971, Thompson worked his way up to become VP and general manager, overseeing original programming and local news that boosted ratings and advertising revenue. "It was a second- or third-tier station when he took over, but he took it to new heights," Herman said.
In 1989, when Thompson ascended to become president and CEO of Group W Radio — the nation's second-largest radio company — he told Herman, then a program director, that he thought program directors shouldn't be paid less than general sales managers. So he extended raises to every program director. (That same year, Thompson who had attended St. Joseph's University and Temple University, graduated from the Harvard Business School's Advanced Management Program.)
With Mike Craven, Thompson then owned 19 stations under Liberty Broadcasting. "We had a lot of fun there and later in other businesses, and we never once had an argument," Craven said. "We would always find a compromise point."
Thompson also created the Radio-Mercury Awards to recognize creative work in radio advertising. "He felt the radio industry needed to be taken more seriously," Herman said. "TV [advertising] had the Clios and people at ad agencies didn't want to do radio ads. So he wanted to reward excellence in radio. It really did work."
Committed to Community
Thompson's commitment to the industry led to him sitting on numerous boards, including the Radio Advertising Bureau and The Advertising Council. He was also vice chairman of the Pennsylvania State Broadcasters Association.
And he was involved in the community beyond the workplace. Besides being involved in veterans affairs, he served on the boards of the Police Athletic League of Philadelphia and the Urban League of Philadelphia and other organizations.
"It's a great honor to go into the Hall of Fame with Jim," fellow inductee Ray Cole said. "Nobody was more fun than Jim, but more importantly he was an all-time good guy and incredibly dedicated to the mission of the foundation."
Broadcasting & Cable Newsletter
The smarter way to stay on top of broadcasting and cable industry. Sign up below
Stuart Miller has been writing about television for 30 years since he first joined Variety as a staff writer. He has written about television for The New York Times, The Washington Post, the Los Angeles Times, The Guardian, The Boston Globe, Newsweek, Vulture and numerous other publications.