NAMIC's 2023 Leaders, Luminaries Drive DEI Forward
Meet the winners of this year's annual awards and the 2023 Diversity in Technology honoree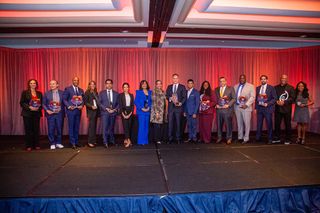 (Image credit: Luis Marin Creative)
The National Association for Multi-Ethnicity in Communications honored its 2023 Annual Awards recipients during the 37th Annual NAMIC Conference in New York on September 20. This year's theme — "Our Legacy, A Mosaic of Possibilites" — honored NAMIC's efforts to empower diversity, equity, access and inclusion in the media, entertainment, and technology industries, as embodied by the recipient of each award.
The event was part of the annual Diversity Week series of events in New York, which also includes the WICT Network Leadership Conference and the Walter Kaitz Foundation Annual Fundraising Dinner.
Among those honored were the Next Generation Awards winners, NAMIC's top honor recognizing the best of the best. These four honorees have distinguished themselves as thought leaders, trendsetters and change agents who embody NAMIC's mission and have actively worked to advance multiethnic diversity by educating, advocating, and empowering people and organizations.
The 2023 Next Generation Leaders are:
Chara-Lynn Aguiar, Senior VP, Strategy & Office of the Chairman, ESPN
Catherine Mitchell, Senior VP, Product Development and Management, Cox Communications
Puru Patnekar, Group VP, Marketing Planning and Operations, Charter Communications
Valerie Spiller, Senior VP, Production Finance, A+E Networks
The Luminary Awards recognize up-and-coming leaders who show the most potential to become tomorrow's movers and shakers. They are rising industry figures who demonstrate strong leadership skills and embrace NAMIC's mission of working to advance multiethnic diversity.
The 2023 Luminaries are:
Heather Anderson, VP, Programs and Acquisitions, ESPN
Marcus Best, Senior VP, Allied Multicultural, Allied Global Marketing
DeAdria Wright Davis, VP, Customer Service, Charter Communications
Mark Leon Guerrero, VP, Inbound Retention and Sales, Charter Communications
Ileana Lagares, VP, Multicultural Marketing, HBO and Max, Warner Bros. Discovery
Kevin Martinez, VP, Corporate Citizenship, ESPN
LaRawn Robinson, VP, Inside Plant Network Operations, Charter Communications
Trent Taylor, VP, Market Analysis, Charter Communications
In addition to the Leaders and Luminaries, the awards luncheon recognized the 2023 Diversity in Technology Award winner, Mark Walker, head of sports business development & innovation at ESPN. The Diversity in Technology Award, presented in partnership with the Society of Cable Telecommunications Engineers and Multichannel News, recognizes a leader of diverse ethnicity or race who has contributed to the advancement of digital innovation, customer experience, connectedness, digital infrastructure, operations, or intelligence in the media, entertainment, and tech industries.
Also recognized at the luncheon was the 2023 Mickey Leland Humanitarian Achievement Award winner, José Díaz-Balart, anchor of Noticias Telemundo, MSNBC's José Díaz Balart Reports and NBC Nightly News Saturday.
For more on this year's Next Generation Leaders, Luminaries and the Diversity in Technology Award winner, please read the following profiles.
Next Generation Leaders
Chara-Lynn Aguiar
Senior VP, Strategy and Office of the Chairman
ESPN
In June 2021, Chara-Lynn Aguiar was promoted to her current role at ESPN, and this year she added research to her purview. She oversees integrated strategy efforts across all aspects of ESPN's business as well as the research department. She serves as an adviser to chairman Jimmy Pitaro and his direct reports to provide insight and manage a wide variety of internal and external relationships. With varied experiences covering measurement, distribution, digital and content strategy, the New York-based Aguiar serves as a key partner across ESPN and The Walt Disney Co. leadership.
Aguiar began her career at ABC in 2009 as a research analyst before transitioning in 2011 to the global distribution strategy group for Disney & ESPN Media Networks. She then moved to YouTube in 2015, working in content partnerships, and to Fox Sports, where she was VP, strategy and content from October 2015 to February 2018 before returning to ESPN that March.
A Daly City, California, native, Aguiar graduated from UCLA with a bachelor's degree in economics and international and area studies.
"I'm truly honored and humbled to have received this award from NAMIC and to be honored with such an esteemed group," Aguiar said. "I'm very thankful for everything this organization does to advance the incredibly important work of diversity, equity and inclusion within our industry."
Catherine Mitchell
Senior VP, Product Development and Management
Cox Communications
Catherine Mitchell has earned a reputation as a difference-maker in the telecommunications industry by taking on some of Cox's toughest challenges and delivering transformation. She leads innovation, development and management across the company's product portfolio.
She joined the cable operator in 2000 as VP and general manager of the Roanoke, Virginia, market and continued to support growth and innovation at Cox through operations and product development roles. The course of her career began at companies such as Scientific Atlanta and IBM.
Mitchell earned an MBA from Harvard Business School and a bachelor's degree in economics from Tufts University. She is a WICT Betsy Magness Leadership Institute fellow. She is also a graduate of the NAMIC Executive Leadership Development Program and a 2010 recipient of the NAMIC Luminary Award. She also serves on The Episcopal School of Jacksonville board.
"Being part of the NAMIC community gives a voice and an empowerment to be unapologetically Black," Mitchell said. "I am privileged to be recognized by this inspiring community of great leaders and friends that have encouraged me throughout the years."
Puru Patnekar
Group VP, Marketing Planning and Operations
Charter Communications
Puru Patnekar leads a team of marketing and analytics professionals with a focus on customer acquisition and retention. Over the past decade at Charter, he has held leadership posts across financial planning, sales and marketing. In each of these roles, he advocated for business needs while building teams with individuals from diverse backgrounds with multiple skill sets and the ability to work together towards a common goal.
Patnekar is a champion of Charter's diversity and inclusion (D&I) strategy. Using a combination of D&I principles and mentorship, many of his team members have seen their aspirations grow and careers develop. He strives to maintain a culture of open communications, rooted in respect and collaboration, that supports the business at the highest level.
As a first-generation immigrant and now a proud U.S. citizen, Patnekar has been educated and has worked both in India and the U.S. These experiences have been formative in his outlook and leadership attributes. He is an alumnus of the NAMIC Executive Leadership Development Program.
"To me, diversity and inclusion means everyone has access to opportunities and can contribute at their highest potential," Patnekar said. "In my association with NAMIC, especially through the Executive Leadership Development Program, I've learned that the organization cultivates ambition and passion toward achieving success. Being named a NAMIC Next Generation leader is a tremendous honor and makes me even more aware of my responsibilities to create opportunities for others."
Valerie Spiller
Senior VP, Production Finance
A+E Networks
Valerie Spiller is responsible for cost management, financial planning, analysis, tax incentives and financial reporting for scripted series and movies of the week for A+E Studios and Lifetime Production. Her responsibilities extend to collaborating with numerous business segments and leaders within A+E Networks, fostering and promoting a culture that includes distinguished brands such as A&E, History Channel, Crime + Investigation, H2, Blaze, Lifetime, LMN, FYI and History.
As a member of the senior management team, Spiller spearheads numerous progressive initiatives, effectively championing A+E's diversity and inclusion directives. These initiatives are consistent with the company's mission to be a pioneer in the human experience. Among these initiatives are Diversity Behind the Camera, the Diverse Supplier Initiative, and the Multicultural Advisory Council (MAC), where she fervently advocates and sponsors diversity across the company.
"NAMIC has been committed for the past 43 years to empowering diversity in the communications industry and to be recognized with their Next Generation Leaders Award is truly an honor," Spiller said. "I am humbled, inspired and remain committed to championing inclusion and positive change in the media landscape. Words can't express my gratitude enough."
Luminaries
Heather Anderson
VP, Original Content and Business Affairs
ESPN
Heather Anderson, an entertainment and technology attorney for 25 years, joined ESPN as VP, programming and acquisitions to assist with its sports betting strategy. She was also an ESPN lead for large, multisport opportunities and audience-expansion initiatives, including alternate presentations and programming for the Black Sports Business Symposium.
Recently, Anderson transitioned to the ESPN content organization to lead business affairs and business operations for the original content team. In her new role, she will assist the creative teams that bring ESPN's engaging content such as the 30 for 30 and In the Arena series, as well as ESPN Films.
Anderson came to ESPN from the Disney legal department, where she served for more than eight years as a digital media, marketing, production, product and technology attorney. She has been very active in diversity, equity and inclusion (DEI) initiatives.
"I am honored and humbled that an organization as influential as NAMIC supports my efforts to bring visibility and opportunity to supporting multiethnicity in our industry," she said. "For 35 years, these efforts have been of utmost importance to me. I try to lead by example and leverage my voice in my sphere of influence — and none of that is possible without the reinforcement of organizations completely committed to the cause like NAMIC."
Marcus Best
Senior VP, Allied Multicultural
Allied Global Marketing
Passionate and persistent are words that describe Marcus Best. Best heads Allied's targeted division focused on publicity, marketing, digital and social media campaigns for major film studios, broadcast and cable networks as well as streaming platforms. Projects include Hulu's Aftershock, Prime Video's Swarm, Peacock's Best Man: The Final Chapters, Focus Features' A Thousand and One, Amazon Studios' Air and Paramount's Transformers: Rise of the Beasts. Before joining Allied, Best worked in the music and cable industry at BET, Warner Records, Interscope, and Fuse TV. Best is actively involved in organizations and contributes annually to youth empowerment in his hometown of Washington D.C.
"I am incredibly honored and grateful to receive this award from NAMIC an organization that I admire so much," Best said. "Being recognized for something that I am passionate about is a privilege. Thank you for championing me and other individuals who are curating and celebrating the brilliance of the multicultural landscape."
DeAdria Wright Davis
VP, Customer Service
Charter Communications
DeAdria Wright-Davis is the dynamic VP of customer service operations for Charter's Charlotte, North Carolina, market. With a rich professional journey spanning more than two decades, she possesses unparalleled expertise in operations, customer service, diversity and inclusion and employee development. Wright-Davis's remarkable leadership extends across diverse sectors, including cable, telecommunications and finance.
An alumna of Columbia Southern University, she holds an MBA in Project Management. Beyond her corporate prowess, Wright-Davis is a trailblazing entrepreneur and a savvy real estate investor. She serves as a board member for a nonprofit youth Track and Field club in Johnston County, North Carolina, highlighting her commitment to community enrichment.
Amid her many roles, Wright-Davis is a devoted mother of three daughters and relishes quality time with her husband of 22 years.
"Gratitude swells within me as I accept this incredible honor from NAMIC," Wright Davis said. "Their unwavering dedication to celebrating diversity and fostering inclusivity mirrors a passion close to my heart. Together, we illuminate the path towards a more equitable industry, empowering voices and transforming lives. Thank you, NAMIC."
Mark Leon Guerrero
VP, Inbound Retention and Sales
Charter Communications
With a career spanning more than 24 years in the telecommunications industry, Mark Leon Guerrero oversees more than 2,000 employees in Charter's revenue-critical customer retention call centers. He possesses extensive experience in sales strategy and training, business development, process improvement and in leading and mentoring high-performing teams.
Guerrero is a strong advocate for creating a diverse and inclusive workplace to help bring together the best talent from among the broadest range of people, backgrounds, and perspectives. He currently serves as co-chair of Charter's Sales, Marketing and Community Solutions D&I Council. Guerrero and his team are committed to driving diversity and inclusion strategy across the organization through inclusive leadership, mentoring, participation in Spectrum's Business Resource Groups, and more.
He enjoys traveling, cooking, spending time with his family and the San Francisco Giants and 49ers.
"Receiving the NAMIC Luminary award is truly an honor," Guerrero said. "It is my goal to leave a legacy that inspires others to continue to advance diversity and inclusion in this industry. Thank you for this recognition of what we can accomplish when we push boundaries — we all have unlimited possibility."
Ileana Lagares
VP, Multicultural Marketing, HBO and Max
Warner Bros. Discovery
Ileana Lagares is responsible for developing the strategy and execution of marketing campaigns across HBO and Max programming that reach multicultural audiences. For more a decade, Lagares has created high-impact, high-visibility campaigns for such programs as Game of Thrones, Watchmen and Winning Time: The Rise of the Lakers Dynasty.
She launched "InsecureFest," a multiseason activation that captured the zeitgeist for the award-winning HBO original series Insecure. For her campaign for The Immortal Life of Henrietta Lacks, she commissioned the creation of the only existing portrait of Henrietta Lacks, by Kadir Nelson, which was acquired by the Smithsonian Institution and now hangs in the National Portrait Gallery.
Lagares also leads evergreen marketing initiatives for Black and Asian-American Pacific Islander (AAPI) audiences such as "Scene in Black," a platform dedicated to authentically engaging Black audiences; and Our "Stories to Tell," a pop-up activation during Sundance Film Festival that celebrates diverse creators and stories.
"It's an honor to be named a NAMIC Luminary and to be recognized as being a leader in our industry," Lagares said. "Advocating for multicultural diversity and its importance is personally gratifying and it's a privilege to create authentic, culture-first work. Congratulations to my fellow Luminaries. I'm grateful for this acknowledgement."
Kevin Martinez
VP, Corporate Citizenship
ESPN
Kevin Martinez oversees ESPN's citizenship initiatives, including corporate giving, volunteerism, cause marketing and sustainability. He is responsible for strategic programs that enable both greater access to sports and leadership through sports.
He leads ESPN's sponsorship of Special Olympics, which has helped more than 1.8 million athletes, teammates and coaches join the Unified Sports movement.
Martinez and his team have received numerous industry awards, including most recently Engage for Good's The Golden Halo Award. He is a two-time winner of The Cause Marketing Forum's highest award, The Halo Award, and has won a Gold CLIO Award, a Telly Award, the U.S. Chamber's Award for Corporate Citizenship, the Association of Cable Communicators Beacon Award and the 2006 Large Corporation of the Year Award from the Corporation for National Community Service and Points of Light Institute.
A native of 'Ewa Beach, Hawaii, Martinez graduated from the University of Washington with a Bachelor of Arts degree in communications and advertising.
"Throughout my career I have taken great pride in using the platforms I serve to advance multiethnic diversity — especially during my time at ESPN in our Access to Sports and Empowerment Through Sports programs as DEI is a company priority," Martinez said. "It is a tremendous honor to have the responsibility to champion strategic CSR and diversity programs, and I am proud to be recognized as a recipient of the Luminary Award as part of the 37th Annual NAMIC Conference."
LaRawn Robinson
VP, Inside Plant Network Operations
Charter Communications
LaRawn Robinson is responsible for the implementation, augmentation and maintenance of all network components and critical infrastructure in Charter's New York City market area. His expertise lies in leading corporate development efforts, operational strategies and improvement initiatives to achieve defined goals.
Robinson demonstrates top-flight leadership and management talents while propelling corporate profitability and productivity through dynamic program management and communication. His team partners with network and field operations teams to deliver a world-class customer experience across all products and services in the market area.
Robinson joined Charter in 2019 with extensive technology and telecommunications experience. For more than 20 years, he worked in network and headend engineering at Altice USA and its predecessor company, Cablevision Systems. He's also active in his community as a volunteer youth coach and mentor.
Robinson has been happily married for 20-plus years to his high school sweetheart and is the father of three children.
"As a proud member of ELDP Cohort XXI, I am truly humbled and honored to count myself among those who have been recognized by NAMIC for this honor," he said. "I am not only honored to continue the mission of NAMIC, I remain motivated to make an impact in our industry that continues to open doors for others. Thank you!"
Trent Taylor
VP, Market Analysis
Charter Communications
Trent Taylor leads Spectrum Enterprise Market Analysis at Charter. His team uses advanced predictive analytics (machine learning) to inform strategic decisions on sales coverage and proactive network expansion, as well as develop targeted marketing lead lists.
Taylor has a track record of monetizing investments in data and analytics by leading programs across boundary partners to optimize sales and operational execution.
Prior to joining Charter's predecessor company, Time Warner Cable, Taylor served as strategic marketing director at XO Communications where he led transformational projects utilizing predictive analytics to reduce churn rates by 1.0 pp. He holds an MBA from The Ohio State University's Fisher College of Business and has completed the Management Development Program and NAMIC Executive Leadership Development Program at Darden College of Business (University of Virginia) and the CTAM Executive Management Program at Harvard Business School.
"I am truly honored to be named a NAMIC Luminary in 2023," Taylor said. "It is humbling to be in the company of current and past recipients of this recognition, given their impressive contributions to the industry and DEI initiatives. This has re-energized me to help others on their journey through mentorship."
Diversity in Technology Award
Mark Walker
Head of Sports Business Development & Innovation
ESPN
Mark L. Walker joined ESPN in 2019 and leads the sports programmer's business development center of excellence, with focus on driving sports media innovation in business, products and experiences.
In his role, Walker is responsible for driving ESPN Edge — a collaboration with other technology leaders to enable new ways for fans to experience sports — while leading ESPN's strategic efforts in the sports betting space.
Walker brings a wealth of experience to the innovation and business development disciplines, having led all of product development, marketing, programming, content and operations for The Walt Disney Co.'s network of digital gateways, social-media presence and content-delivery apps.
Walker earned a JD from Stanford Law School, a masters degree in mechanical engineering from Stanford University and a B.S. in Mechanical Engineering from MIT. Additionally, he served as a member of the Media Arts and Sciences Visiting Committee for the MIT Media Laboratory.
"Winning this award is a testament to ESPN's unwavering commitment to inclusivity. It's not just an accolade; it's a recognition of ESPN's dedication to shaping a tech industry that embraces diversity," Walker said. "This award fuels ESPN's drive to create a world where innovation knows no boundaries."
The smarter way to stay on top of the multichannel video marketplace. Sign up below.