'Mad Men' to Stream On Amazon's IMDb TV
AMC will air the series in the fall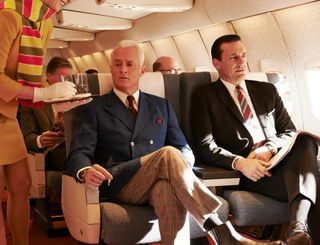 (Image credit: AMC)
Lionsgate said Mad Men will be streaming on Amazon as part of a new global licensing deal for the acclaimed show.
In the U.S., all seven seasons and 92 episodes of Mad Men will launch on Amazon's free-to-consumer, ad-supported streaming platform, IMDb TV starting July 15. Amazon will also have exclusive international streaming of the show via Amazon Prime Video starting July 3.
The show will return to AMC Network in the fall. AMC, which aired the show in the U.S. In addition to its linear networks, AMC's deal includes rights to exhibit all seasons and all episodes on a variety of platforms including subscription video on demand.
AMC Networks is delighted to bring the landmark television series #MadMen back home to AMC this fall. All seven seasons, all episodes. pic.twitter.com/gNtegZLrehJuly 1, 2020
"Mad Men launched on AMC in 2007 and became the definition of 'talked-about-television' – and for our company began a period of distinction and impact that continues to this day," said Ed Carroll, COO at AMC Networks. "We are so pleased to bring Mad Men home to AMC, and again be able to share these unforgettable characters and this nuanced and exceptional storytelling with fans, new and old, on a variety of platforms starting this fall."
Mad Men will also appear on Starzplay in Europe, Latin America and Japan starting Oct. 1. Starzplay is Lionsgate's international premium streaming service, which already has an output deal for many Lionsgate films.
Financial terms were not disclosed.
The early-1960s period drama led by Jon Hamm as a mercurial New York advertising creative, was a stalwart streaming performer for Netflix for nearly a decade. The leading SVOD supplier struck a deal for the show back in 2011 that called for it to pay nearly $1 million per episode. That agreement expired June 9.
The Mad Men deal is the latest notable TV acquisition for IMDb TV, which has recently added Lost and Malcolm in the Middle to its AVOD stable.
"Mad Men is an evergreen property whose appeal has continued to grow over the years, and we're pleased to collaborate with a diverse alliance of exceptional partners to bring it to a global audience," said Jim Packer, Lionsgate's president of Worldwide Television & Digital Distribution.
"This comprehensive and multifaceted agreement brings together partners from every part of the content ecosystem, and it allows a whole new generation of fans to enjoy one of the greatest television series ever made, whether they're reuniting with the show as an old friend or discovering Mad Men for the first time," he said.
In one of the episodes, the character Roger Sterling, played by John Slattery, appears in blackface singing a song. Given the tenor of the times, Lionsgate is putting a warning on the episode.
Here is what viewers will see:
This episode contains disturbing images related to race in America. One of the characters is shown in blackface as part of an episode that shows how commonplace racism was in America in 1963. In its reliance on historical authenticity, the series producers are committed to exposing the injustices and inequities within our society that continue to this day so we can examine even the most painful parts of our history in order to reflect on who we are today and who we want to become. We are therefore presenting the original episode in its entirety.
Broadcasting & Cable Newsletter
The smarter way to stay on top of broadcasting and cable industry. Sign up below.
Thank you for signing up to Broadcasting & Cable. You will receive a verification email shortly.
There was a problem. Please refresh the page and try again.