ESPN Putting More Spots in Two-Box During HR Derby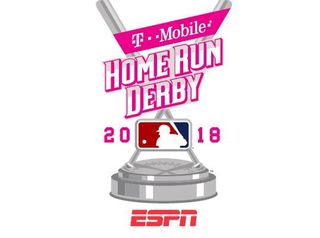 ESPN and Major League Baseball are trying to keep viewers in the game as eight top sluggers try to hit the ball out of the stadium.
During Monday night's Home Run Derby, part of baseball's All-Star festivities, ESPN will use the two-box format—a commercial in one box, what's happening on the field in the other—15 times during the contest. That's up from 8 double-box executions a year ago.
The two-box ad units are on top of six full traditional commercial breaks during the broadcast. ESPN said the amount of ad inventory is unchanged from last year, just reconfigured. ESPN has sold out its Home Run Derby inventory.
Related: Nexcare, SoFi New Official Sponsors for ESPN's X Games
With more viewers tuning into non-commercial platforms like Netflix, TV networks are looking at ways to improve the viewer experience of the telecasts and reduce commercial interruptions.
The advertisers involved in the two-box executions are returning Home Run Derby sponsors, including T-Mobile, Dave & Busters, Mars Inc., MasterCard, PepsiCo, Procter & Gamble, Quicken Loans, Sonic, Taco Bell, Toyota and Warner Bros.
A new advertiser at this year's derby is Hotels.com, whose Captain Obvious spokesman will be integrated into the telecast.
Related: ESPN, Disney XD to Televise eSport Overwatch League
ESPN said the two-box executions are part of its effort to innovate its advertising to improve the experience for viewers and help sponsors.
This year's format will mean fewer full interruptions in the action, which translates into more attention and less channel flipping.
According to ESPN, the two-box is equally effective for advertisers as a full-screen standard ad. The networks' research found that the advertiser is perceived as more relevant in the two-box treatment, as the brand is seen more in context with the surrounding content.
Related: ESPN Signs Conference USA Deal
Spots in the two-box were seen as cutting edge because of the way they were presented, ESPN research found.
Strong creative in particular performs as well as in the two-box format's more distracting environment and some advertisers were able to generate greater visualization for the two-box than standard ads.
ESPN is presenting its cross-platform coverage of the T-Mobile Home Run Derby starting at 8 p.m. ET from Nationals Park in Washington, D.C.
This year's T-Mobile Home Run Derby telecast on ESPN features several new innovative production elements, including:
4D replay technology that will provide viewers with 360-degree replays of the participants and their swings;
New 3D spray charts that will show paths and arcs of home runs;
The on-screen scoreboard will feature a new "pace tracker", which features a sliding scale of projected home run totals for each hitter in the bracket, and whether the hitter's total is ahead or behind his opponent.
The 2018 MLB All-Star Legends & Celebrity Softball Game will air on ESPN immediately following the T-Mobile Home Run Derby.
Broadcasting & Cable Newsletter
The smarter way to stay on top of broadcasting and cable industry. Sign up below.
Thank you for signing up to Broadcasting & Cable. You will receive a verification email shortly.
There was a problem. Please refresh the page and try again.