Channel-Flipping Makes a Comeback
With use of ad-supported streamers rising, guides and surfing are back in vogue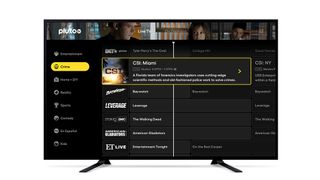 (Image credit: Pluto TV)
TV watching is going back to the future.
Streaming seemed to change everything about television. Netflix popularized binge watching, and other subscription video-on-demand services reinforced the notion that viewers could watch whatever they wanted whenever they wanted.
Partly because of sticker shock, more viewers are watching ad-supported linear streaming services. To find things to watch, they're going old school, flipping channels like their grandparents did with the living room Philco and using 1980s-style scrolling program guides.
"I come home in the evenings, I'm tired from work," Xumo CEO Colin Petrie-Norris said in describing his own viewing habits. "I want to eat my meal. I don't want to hold a remote control and search around for an hour on Netflix trying to pick out a movie."
In 2020, after Comcast bought Xumo and integrated its channels into Flex's live guide, which blends linear streaming channels from several providers, the move led to a 62% lift in time watched, Xumo said.
"It's the old lean-back, lean-forward stuff," Petrie-Norris said. "When we talk about use cases, everybody's like, 'Yeah, that's a lot of how I watch television,' but they forget that kind of TV is available."
He's not the only one whose streaming habits are changing.
According to a recent survey by Horowitz Research, 46% of TV content viewers in the U.S. report using an ad-supported streaming service at least monthly. The survey found 28% use a free ad-supported TV (FAST) service with ad-supported linear channels, in addition to watching subscription on-demand services.
AVOD On the Rise
TVision says the share of app viewers using AVOD has grown to 37.4% in the second quarter from 34.5% in the first quarter and 32% a year ago.
"It's definitely what's old is new," said Steve Meyer, VP of Xfinity Flex at Comcast, who manages the streaming product.
A few years ago, Flex viewing was almost 100% on-demand. Now, one-quarter to one-third of the audience is flipping through channels, Meyer said. The live guide is the third-most-navigated part of Flex's user interface, behind the home page and search.
"With the proliferation of what is going into these main streaming services, it's only a matter of time until these become more established habits," he said.
Smart-TV maker Vizio said the WatchFree collection of linear channels is the second-most watched AVOD app on its SmartCast platform.
"We're seeing lots of engagement via home screen banners, through our search functions and by utilizing the WatchFree button on the remote," Vizio VP of engagement Steve DeMain said. "But there are a lot of people who are new to streaming that prefer leaning back and surfing, like they have for decades now, through a programming guide.
"The EPG is a powerful tool for consumers and an area of innovation for us. Leveraging viewing data, we can use the EPG to drive much better experiences. Look for more on that from us in the coming weeks and months ahead."
Programmers like Jukin Media, which had its origins on YouTube, are creating linear channels for streaming TV platforms. Familiarity with the brand and the content help bring viewers to the channels, Jukin Media CEO Jon Skogmo said.
"We have built a loyal base of 250 million fans socially, and when they flip through the channels, they can stop and see People Are Awesome or Fail Army," Skogmo said.
"Flipping's back," exclaimed Skogmo's brother Michael, Jukin's head of marketing and communications.
Pluto TV has been fighting the gravitational pull of SVOD since it launched as a content website in 2014. "Linear channels might be new to other services, but it's always been the way Pluto TV acted," said Scott Reich, senior VP, programming at Pluto TV, now owned by ViacomCBS.
"To a certain segment of the audience, yes, there's familiarity and there's that nostalgia element to being able to deal with something that looks like cable," Reich said. "However, there's also a whole new segment of the audience that never had cable before, so this is new to them and they're thrilled that it's organized this way versus living in the other way where you've got to choose for yourself."
Reich says about 85% of the viewing on Pluto is on the linear side of the platform. But Reich, like others in the streaming business, carefully guards many of the statistics about viewing behavior that they use to build engagement and maximize time spent viewing.
On Pluto, viewers can find things to watch faster through the way the guide and channels are organized by genres and categories. Pluto offers numerous options when viewers want to switch from, say, checking the weather to watching some reality TV or settling into a crime drama. It's easy to find those things and increase session duration. On average, the typical Pluto viewer will change the channel up to eight times a session after they finish watching a show, looking for the next thing to watch.
"We do see people bounce around the platform, but it's a positive," Reich said.
"If you like reality, we've got a whole category for that," the Pluto executive said. "If you just want to watch movies, we make it easier to get into the genres and formats that might be of interest to someone."
Those channels are put together by a team of about 30 programmers and channel editors Pluto TV calls experts in their categories.
"I would say our advantage is that, where Netflix is all driven by behavior and [artificial intelligence], we are human-curated," Reich said. "We have comedians look to see that the comedy channel is right. We've got a former journalist in there as well. My favorite example is always the guy on my team who is a former MMA champion. He looks after the fight channel. These guys are the audience, so they've got a leg up knowing what might work."
Pluto TV has been tweaking its guide to make it easier for users to find things they want to watch without going to another service. The channels are grouped by genre.
"It's a living, breathing guide," Reich said. "If a channel is not performing, we'll try a different strategy. If it's still not working we might rebrand it completely or drop it. It's something we're constantly tinkering with. We look at the data to listen to the audience to see if we've got the mix correct," Reich said.
Pluto TV judges its channels on a minutes-per-user metric, which tells not only how much time users are spending on a per-session basis, but also how often they come back. "That's the really important piece," Reich said. "As long as their session durations are growing, their frequency is going up, we know we've got the right mix."
Dropping channels can be tricky because some heavy Pluto TV users are vocal on social media. Reich notes that viewers get a warning when, for example, the James Bond Channel has to be taken off the platform because the rights temporarily moved to another distributor.
At Xumo, the channel guide is constantly changing the presentation to users, according to Petrie-Norris.
Typically, the top 10 channels in the guide are based on what's popular with people similar to the viewer and what's trending where the viewer lives.
While Xumo strives to give viewers what they want, it also gives viewers choices they don't know they want. So, instead of the most popular channels — eight news channels and two showing movies — the guide serves up popular channels from more than those two genres, such as three news, two movies, two lifestyle-oriented, two general entertainment and one from sports. That increases engagement by 30% to 40%, Petrie-Norris said.
And instead of giving viewers the three most popular channels in a genre, Xumo offers up two very popular ones plus one the viewer might not have heard of. That technique also can deliver a rise in performance, the CEO said.
Once a viewer has watched for a while, Xumo reconfigures the guide based on what the user has watched in the past. That means different viewers see different channels when they use the remote control to summon the guide
on Xumo.
"Not only is the guide easy to use, but you can make it even more resonant and personalized because of what digital allows you to do," Petrie-Norris said.
Linear Content Gains on Flex
Comcast has also been making moves to surface linear content on the Flex platform for broadband-only customers who, in addition to on-demand content, were looking at live video channels.
"That was one of the things we noticed early on and we started to lean into," Comcast Cable's Meyer said. "So we've consciously, with Flex, built our user experience so there are opportunities to surface live in linear content to meet customers where they are with this kind of behavior, which is a very traditional, classic behavior but is absolutely manifesting itself in the streaming space."
Meyer said that it is becoming increasingly important to help broadband customers find live events as more of them get streamed. Those events range from the Super Bowl and Olympics to the Tour de France and the U.S. Open.
"We put banners on our homepage and we've created a live streaming calendar" that highlights both games and new series, like Disney Plus's Loki, he said. "We've really put a lot of energy into our guide to not just say, 'hey, this is available now,' but to set expectations so customers can plan and prepare to tune in at a certain time to catch these events, which is again very traditional television viewing behavior."
Jon has been business editor of Broadcasting+Cable since 2010. He focuses on revenue-generating activities, including advertising and distribution, as well as executive intrigue and merger and acquisition activity. Just about any story is fair game, if a dollar sign can make its way into the article. Before B+C, Jon covered the industry for TVWeek, Cable World, Electronic Media, Advertising Age and The New York Post. A native New Yorker, Jon is hiding in plain sight in the suburbs of Chicago.
Broadcasting & Cable Newsletter
The smarter way to stay on top of broadcasting and cable industry. Sign up below.
Thank you for signing up to Broadcasting & Cable. You will receive a verification email shortly.
There was a problem. Please refresh the page and try again.