B+C Hall of Fame 2023: Caroline Beasley
Chief Executive Officer, Beasley Media Group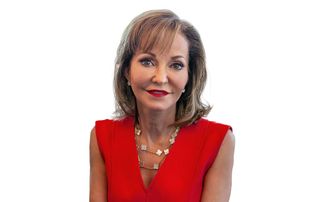 (Image credit: Beasley Media Group)
For Caroline Beasley, radio was a birthright, following in her father George's footsteps to lead Beasley Media Group. But this wasn't just a nepotistic move. Caroline found her way out of the shadows by forging a unique path within the company.
"I made it difficult on myself," she told B+C. "I never wanted anyone to think that I was where I am because of my dad."
Read More: Here's to the 2023 'B+C' Hall of Fame Inductees
Michael Fiorile, a member of the Beasley board of directors, said Caroline Beasley worked hard to earn that spot in the boardroom. "The family is very particular with who works in the business and who gets elevated," Fiorile said. "Obviously, being part of the family helped, but it would not have guaranteed her the position she's in today."
A Bottom-Up Career Path
Caroline fueled her passion and drive to ultimately become CEO in 2017. "I had to work twice as hard and really prove myself," she said.
It was also a glass-ceiling moment for Caroline, joining the testosterone world of broadcasting executives. "There were many times when I was in meetings and I was the only female," she recalled.
Having four older brothers helped Caroline to toughen up.
Her journey at Beasley started 40 years ago, after she graduated from the University of North Carolina. She worked her way through all aspects of the company "basically starting from the ground up," she said.
For Caroline, no task was too small, even answering phones. "He wanted me to learn all aspects of the business side," Beasley said of her father.
In 1994, Caroline was installed as chief financial officer, and she kept learning from the legend, who passed away in 2021. "I feel so lucky and fortunate to have been able to work alongside him," she said. "He was the foundation and the basis of why I am where I am today."
That invaluable knowledge her father passed along went well beyond what she could acquire in business school, such as forging those precious relationships.
Another important lesson for Caroline would be instilled by George — treating all employees with respect and as part of the family. "Because without them, we wouldn't be here," she said.
Her professional family was extended by negotiating the 2016 merger with Greater Media that instantly doubled Beasley's revenue and moved its footprint into four new markets. With her father ill, the "heavy lifting" fell on Caroline's shoulders, she said.
"When she puts her mind to getting something accomplished, it happens," Fiorile, who served on the National Association of Broadcasters board with Caroline, said.
She is committed to making Beasley a major player on the digital front and bringing the best talent to the company. Such was the case last year when former NAB president and CEO Gordon Smith joined the Beasley board.
"That's kind of the sway that Caroline's had over the years," Fiorile said.
Keeping Pace With the Times
Since taking over as the next generation to run Beasley, her leadership skills have stood out.
Caroline has diversified the board to include women and minorities, and deployed cutting-edge tech to make Beasley well-suited for what's next in radio. "I've been able to help evolve our company with new technology to where it is today and with an eye toward the future," she said.
Beasley's portfolio includes 61 stations in 14 markets that spread from Boston to Las Vegas. She is excited to see how broadcasting and online can move forward together. Although not ruling out buying any more radio clusters, she is focused on a successful transition to digital and finding other revenue streams and opportunities to grow.
While Caroline thinks long-term for Beasley, the idea of getting personal accolades was never part of the plan. "I was really shocked. It's very humbling," she said of the Hall of Fame announcement. "To see the other past honorees and to be even in the same paragraph with them is just unbelievable."
It's bittersweet for Caroline, who fittingly gets enshrined with her late father. "I'm proud of my dad; I just wish he were here to be able to accept the award alongside me," she said.
Broadcasting & Cable Newsletter
The smarter way to stay on top of broadcasting and cable industry. Sign up below
Along with his freelance work for B+C Multichannel News, Jerry has been writing about the media for more than a decade. His articles have been featured in the New York Daily News, WatercoolerHQ and Barrett News Media. Jerry spent many years on the other side of broadcasting with various on-air gigs in New York and nationally. He is a full-time editor for Patch.com.