Turner Offers Refund to Viewers Who Paid for Golf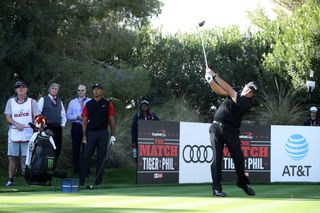 Turner said it would offer a refund to viewers who paid to watch the golf match between Phil Mickelson and Tiger Woods on the Bleacher Report Live streaming service on Friday.
Because of a technical issue, some fans who had paid to watch The Match on Bleacher Report Live had trouble logging in. At the last moment Turner, a division of AT&T, decided to remove the paywall to make sure those paying customers were able to watch the match.
Related: Turner Makes PPV Golf Match Free After Tech Glitch
There were some complaints online from people who paid for the match and found out others were able to watch it for free.
Dish Network said it did not have technical issues during the golf match, but it will give subscribers refunds.
"Dish and Sling TV are issuing proactive credits to customers who paid for The Match through our services. Since Turner streamed the event for free at the last minute due to technical issues, we are happy to do the right thing for our customers," the company said in a statement.
Comcast and Charter also said they were providing refunds to people who paid for The Match.
"Charter will be proactively issuing a credit of $19.99 to any Spectrum customer who purchased 'The Match' pay-per-view event through Spectrum," the cable operator said.
Turner said it will report in a few days how many people watched the event.
"The Match was an historic event, from Tiger's opening tee shot to Phil's final putt. Prior to the start of the event, we experienced a technical issue with the B/R Live paywall page that we tried to quickly resolve. We decided to take down the paywall to ensure that fans who already purchased the event would not miss any action," a Turner spokesperson said in a statement. "This did not impact the live streaming of the competition and fans were treated to an event that was both engaging and memorable. Unfortunately, the pre-match technical issue did occur, and we will offer fans who purchased the event on B/R Live a refund."
Mickelson beat Woods in 22 holes in the contest.
Thomas Umstead contributed to this report.
Broadcasting & Cable Newsletter
The smarter way to stay on top of broadcasting and cable industry. Sign up below.
Thank you for signing up to Broadcasting & Cable. You will receive a verification email shortly.
There was a problem. Please refresh the page and try again.