The Future Of TV Streams Into Sharper View (Bloom)
If you squint, you can sort of see it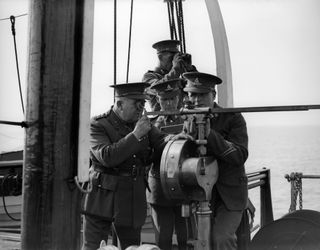 (Image credit: Photo by Fox Photos/Getty Images)
These days, if you squint a tiny bit, you can make out the outlines of the future of television, coming into view like Catalina Island off the coast of Santa Monica Bay, its stony mass looming above the offshore haze.
This past week, those outlines were sharper than usual. Perhaps all the bloviating at last week's Upfronts ad presentations functioned like a stiff ocean breeze, clearing away some of the fog of uncertainty about where TV is heading in a complex moment. Maybe it's just that we're moving into the "post-war era" of the Streaming Wars.
Regardless, as we stumble through a rough patch — right-sizing staffs, structures and programming, stiflingly high interest rates, looming Wall Street profit expectations, a wobbly economy, and a writers strike that may soon add actors to picket lines – we can see what's coming:
* Ads will, again, pay for much of TV. Certainly many made that point at the Upfronts, which were more muted by the lack of famous people onstage (blame no-show strike sympathizers, the recent sudden departures of NBCUniversal executives Linda Yaccarino and Jeff Shell, Netflix's pre-taped presentation, and Paramount Global's party cancellations). For decades, ads paid for a vast portion of the TV business. Then the Streaming Wars broke out and everyone thought premium subscriptions were the way to go. Now, we're returning to the ad-supported mean, as audiences shrink subscription outlays and more good shows are available on ad-supported options. Look at Ilya Pozin's just-announced Telly, which is so sure of its ad-revenue prospects that it's giving away hundreds of thousands of 55-inch dual-screen TVs. Comcast is launching Now TV, a hybrid of its cable, Peacock and FAST channels. With 1,600 FAST channels already launched across all platforms (according to speakers at this week's OTT.X Fronts) and dozens more announced at NewFronts and Upfronts the past few weeks, ads are going to be it for a lot of viewers and view time.
* Disney will buy Hulu, and Disney Plus will subsume Hulu eventually. First came the announcement that more Hulu shows will appear on Disney Plus. Days later, both Disney's Bob Iger and Comcast's Brian Roberts signaled at public events that a deal likely will get done soon, probably for something more than the minimum $9 billion outlined in their 2019 agreement, as they dicker over price and, most likely, tax-efficient ways to do it. As with Discovery Plus and the about-to-launch Max, there's absolutely an audience for Hulu by itself, which will continue. But as more of its best content gets woven into Disney Plus, Hulu, like Discovery Plus, will become increasingly vestigial. At some point, it goes away.
* ESPN will be streaming-first, and likely spun-off or sold, cutting the cable cord for many. The first step was Bob Iger's sweeping Disney reorg, which turned the Worldwide Leader into a stand-alone division. Last week came reports that the company has been working for years on "Flagship," a plan to turn cable's most expensive franchise into a streaming service with all those great sports rights that never manifest on painfully undernourished ESPN Plus. ESPN also locked up a deal with Pat McAfee, the former NFL punter turned online star and Aaron Rodgers muse, though tellingly, he'll keep his YouTube platform even as he joins College GameDay. It's been clear for a long time that ESPN Plus was a placeholder, holding real estate on distribution platforms and delivering some infinitesimal bit of perceived subscriber value and pricing power for the popular Disney Plus/Hulu/ESPN Plus bundle. ESPN is still raking between $9 and $10 a month per cable subscriber, but continued cord-cutting means continued revenue decline. Thus, the many ESPN workers among the 4,000 laid off this month across Disney. At some point, Iger and Jimmy Pitaro will launch the Flagship. That could be the coup de grace for the battered cable bundle, removing one of the last reasons many subscribers still pay. eMarketer already projects that "non-pay-TV" households now outnumber Pay TV households in the United States, though the "non" totals include virtual MVPDs like YouTube TV. Regardless, the shift from legacy to streaming has hit a tipping point with big implications for the sports giant. Some have suggested Disney might swap ESPN for that Hulu stake, though it's not an even transaction (figure ESPN is worth probably five times more). More likely is a spinoff to private equity, presuming that industry moves beyond the really nasty commercial real-estate debacle causing market leaders such as Black Rock and Brookfield to hand back the keys on big downtown office buildings in several cities. But pressure to spin off ESPN will grow as those eye-popping rights deals come due.
* Self bundling will become cross-service bundling. Mashups at the Max, Disney Plus/Hulu, and Paramount/Showtime are all examples of media companies concentrating on their bell cow. That saves marketing and operating dollars, reduces churn, and allows undersized ventures better compete for audience attention. Not incidentally, it gives media companies a backdoor way to mothball under-performing shows or license them to FAST channels. But second-tier streaming services will still be too small to keep subscribers tethered. That's why Warner Bros. Discovery's David Zaslav is so ready to batch his Max with other companies' services. As Zaz said at a MoffettNathanson media conference: "Everyone is Googling 'Where is it?' How do I get it? It's not rational, and it's not really sustainable." More importantly, "If we don't do it (connect bundles of content) to ourselves, it will be done to us." Bundling with your frenemies increases the range of programming and perceived value for subscribers, reducing churn. It likely also sidesteps growing antitrust concerns, a headache for dealmakers in the United States, United Kingdom. and European Union.
* Somebody's buying into the game business. Everyone's waiting on that $69 billion Microsoft purchase of publisher Activision Blizzard, which hit a speed bump with UK regulators, but passed the EU review. At the recent LA Games Conference, investors and analysts predicted Hollywood studios will be among the companies shopping for game deals as a way to lock up more intellectual property rights, while giving their subscribers more reasons to stick around for hours a day. Studios are also looking at the hugely success of crossovers The Last of Us and The Super Mario Bros. Movie only goosed studio interest further. Netflix, of course, is way ahead of many with its experiments and acquisitions in the game sector. Roku is launching a Jimi Hendrix trivia "experience" from Play.Works. Many at the conference expect more dealmaking to come from Hollywood companies, tech giants with existing game-related ventures, and, of course, Netflix.
* Hollywood will matter less in the creation of entertainment for the planet. This one has been coming for a while (see also, that giant Chinese theatrical business built nearly entirely on movies no one watches outside of China). But the decentralization of content is gathering steam fast. Netflix led the way, with 40 production centers worldwide feeding local and sometimes global audiences with hit shows such as Squid Game. The writers strike likely means a sustained interruption in Hollywood production pipelines, which may lead to a long-term reliance on other content sources and types of programming as media companies adapt. Already content from places not covered by WGA deals is surfacing. And the gigantic new bugaboo, artificial intelligence, isn't going away. Though AI tools won't replace big-name writers or actors anytime soon, unions rightly fear its burgeoning impacts on lower-level and beginning jobs, like background actors. AI, cloud, and other technologies allow creators, both established and new, to work anywhere, not only creating interesting stories, but doing many of the other tasks needed to create premium programming.
Right now feels like a moment when a lot of the future became a lot clearer for those in film and TV. They might not all like the look of things, as we have fewer services, fewer jobs, more ads, more bundles, and more focus on finding ways to keep people from churning off to something else. But we can see where it's going, and fast.
The smarter way to stay on top of the streaming and OTT industry. Sign up below.
David Bloom of Words & Deeds Media is a Santa Monica, Calif.-based writer, podcaster, and consultant focused on the transformative collision of technology, media and entertainment. Bloom is a senior contributor to numerous publications, and producer/host of the Bloom in Tech podcast. He has taught digital media at USC School of Cinematic Arts, and guest lectures regularly at numerous other universities. Bloom formerly worked for Variety, Deadline, Red Herring, and the Los Angeles Daily News, among other publications; was VP of corporate communications at MGM; and was associate dean and chief communications officer at the USC Marshall School of Business. Bloom graduated with honors from the University of Missouri School of Journalism.