Vix: Everything You Need to Know About TelevisaUnivision's Streaming Service
Platform launched March 31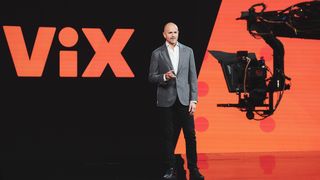 (Image credit: TelevisaUnivision)
¡Hola, Vix!
TelevisaUnivision has officially unleashed Vix, what the company calls "the first global large-scale streaming service created specifically for the Spanish-speaking world."
While a beta version of the app debuted earlier this year, the full-fledged version launched March 31, featuring 50,000 hours of Spanish-language programming, including movies, series, live news and sports. That programming comes from current Univision and Teleivisa series as well as content from Televisa's vault.
The release comes three months after Univision and Televisa completed their merger forming TelevisaUnivision.
"Our new service is not a rescanning of a TV offering," said TelevisaUnivision CEO Wade Davis during a presentation in February. "What we're building is incremental to our TV business, hundreds of originals, thousands of hours of exclusive, live premium soccer, live original news, and an innovative product at an unbeatable price point."
That unbeatable price point Wade refers to is free, at least for the ad-supported Vix version launched at the end of March.
TelevisaUnivision plans to invest billions of dollars in original content, producing 1,000 hours of exclusive original programming this year.
"This audience is still underserved, given that there is not one single global streamer that fully and exclusively targets them with Spanish-language-first content," TelevisaUnivision Chief Transformation Officer Pierluigi Gazzolo said. "Only a fraction of the content (that) the global services offer is originally produced in Spanish. Second, we will be putting Spanish-language content and our culture at the center of everything we do."
How Much Does Vix Cost?
Vix is free.
Vix Plus, a paid version of the service, launched in July and offers 3,000 live soccer games and Vix Plus originals.
Vix Plus will set subs back $0.99 the first month and then $6.99 per month after.
Where Can I Stream Vix?
Vix is available on Android and iOS mobile devices as well as Android TV, Fire TV, Roku, Apple TV, and Samsung TV.
Viewers can also stream Vix via web browsers.
If you've got T-Mobile, you can get a one-year subscription to Vix Plus for free.
"As the top wireless provider for Spanish-speaking customers in the U.S., we understand what they care about, and today we're bringing them a whole new way to enjoy the news, TV shows, movies and live sports that matter the most, and it's all on us," said Mike Sievert, CEO of T-Mobile.
Got Dish? Then you can subscribe to Vix Plus directly through Dish's satellite TV and Sling TV platforms.
What Will Happen to PrendeTV, Blim TV and the Legacy Vix Platform?
TelevisaUnivision will incorporate Univision's PrendeTV (launched in March 2021), Televisa's Blim TV and the legacy Vix platform (Univision bought Vix in February 2021) into the new iteration of Vix.
What Countries Is Vix Available In?
The service is available in the U.S. and Mexico along with 19 other Latin American countries.
The smarter way to stay on top of the streaming and OTT industry. Sign up below.
Jessika is an analyst for TVREV and Fabric Media. She previously served in various roles at Broadcasting + Cable, Multichannel News and NextTV, working with the brands since 2013. A graduate of USC Annenberg, Jessika has edited and reported on a variety of subjects in the media and entertainment space, including profiles on industry leaders and breaking news.