Nearly 40 Million Viewers Watch Joe Biden's Inauguration
CNN tops broadcast, cable news network coverage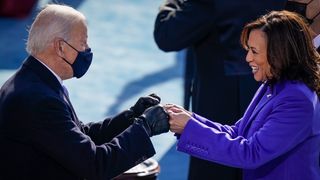 (Image credit: Drew Angerer/Getty Images)
CNN topped television's coverage of Wednesday's Inauguration of President Joe Biden as nearly 40 million viewers across several broadcast and cable networks viewed the festivities.
CNN averaged 9.9 million viewers from 11:45 a.m. to 12:15 p.m., topping ABC's 7.6 million viewers and NBC's 6.8 million watchers, according to Nielsen. MSNBC (6.5 million), CBS (6 million) and Fox News (2.7 million) rounded out the list. 
Overall, 39.5 million viewers tuned in to see Biden's swearing in ceremony, up from the 38 million viewers who tuned into Donald Trump's inauguration in 2017. Barack Obama's 2009 inauguration averaged 50.6 million viewers, according to Nielsen.
Also Read: Communications Industry Extends Congratulations to President Biden
CNN was also the most watched network during the broader 11 a.m. to 4 p.m. period, averaging 7.7 million viewers, topping ABC with 5.3 million viewers and MSNBC with 5.3 million viewers, according to Nielsen. The 29.2 million total viewers for the time period across the six networks was up from the 26.8 million viewers for the 2017 inauguration but down from 2009 (34.3 million).
The smarter way to stay on top of the streaming and OTT industry. Sign up below.
Thank you for signing up to Next TV. You will receive a verification email shortly.
There was a problem. Please refresh the page and try again.