Hub Network Launches App for Tablets, Phone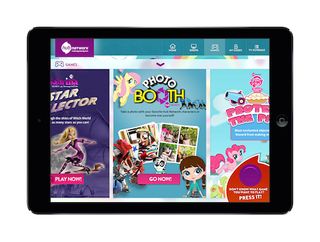 The Hub Network is introducing a new app that will provide video and games for increasingly mobile kids and their families.
The channel, a joint venture of Discovery Communications and Hasbro has also redesigned its website and changed its address to Hubnetwork.com from hubworld.com. The site includes a "Family Hub" that kids can customize with art, photos and video that could appear on TV.
"We want to be where our fans are. That's why we released this app. Hub Network has a lot of amazing content. This is a fun, fresh way to use it," said Dena Kaplan, chief market officer for Hub Network.
Kaplan said a lot of research went into developing the app.
"The kids were pretty clear about what they like and what they don't want," she said. "They said: 'Surprise me, I want to have fun. I want to laugh. I want to watch stuff.' And the other thing they said was make it easy.'"
Among the apps features is a photo booth where kids can share poses with characters from the network. In My Codes consumers can earn stickers and other prizes by watching shows on TV.
The app also has videos, games and a random button for kids who can't decide what they want to do.
Both the site and the app are designed to emphasize families watching and playing together.
"Research continues to show us that we are a really special channel where kids and parents co-view at a higher percentage than other channels," she said.
The channel has been using a new slogan, "Making Family Fun," to put a stake in that ground.
The app is currently available for free at the iTunes App Store and is available for both the iPad and iPhone.
Broadcasting & Cable Newsletter
The smarter way to stay on top of broadcasting and cable industry. Sign up below.
Thank you for signing up to Broadcasting & Cable. You will receive a verification email shortly.
There was a problem. Please refresh the page and try again.