How NBC Found Its 'Good Place'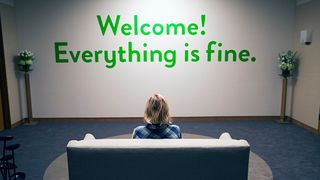 Programming a broadcast network ranks high atop the list of the biggest challenges in all of media, but NBC lately has made a respectable go of it. Along with unscripted flagships including Sunday Night Football and The Voice, the network has launched the season's breakout series, This Is Us.
In the shadow of that overtly sentimental drama, though, is another freshman hopeful whose fortunes are in many ways far more important to the future of the 77-year-old network: The Good Place. For starters, unlike This Is Us, which is produced by 20th Century Fox Television, The Good Place is fully owned by NBC's sister studio, Universal Television.
Beyond vertical control of the show, the obsession of every major TV player, the series' DNA draws on NBC's long-established comedy brand. Its biggest star, Ted Danson, was a pillar of NBC's 1980s "Must-See TV" lineup with Cheers. Danson plays Michael, the "architect" of a heaven-like afterlife village, who in one episode professes a deep love for the foundational NBC sitcom Friends. The show's creator, Mike Schur, made his mark as executive producer of Parks and Recreation, a mainstay of the network's 2000s cerebral-laughs era marked by Parks, 30 Rock and The Office. Schur's laugh-track-free vision shares some traits with his Fox sitcom, Brooklyn Nine-Nine, especially Kristen Bell's dry lead turn as Eleanor Shellstrop, who finds herself in The Good Place when she actually belongs in The Bad Place.
Pedigree aside, The Good Place faces a level of competition previously unknown to broadcast comedies. According to research released last month by FX Networks, the TV-and-digital dial teems with a record 455 scripted shows, up 8% from 2015 and a staggering 71% from 2011. The steady progress of The Good Place, which requires delicate handling and deft marketing, offers a vivid illustration of the broadcast sitcom's existential struggle for relevance. The Big Four networks are still battling for laughs in large part because of the potential payday. Even in a world of diminished off-network syndication revenue, the downstream value of a hit comedy dwarfs those on cable and subscription video-on-demand.
In order to understand The Good Place's journey from the inside, B&C caught up with NBC execs and key members of the cast and crew as the show got set to return Jan. 5 for the last four of its initial 13-episode run. The network has not committed to a renewal, but the ratings thus far point in a positive direction. The series' premiere audience in September topped all other new comedies with 3.8 million viewers ages 18-49 in live-plus-seven-day Nielsen figures, and total viewership built on that of the show's lead-in, Superstore. Its "fall finale" in November tallied 4.4 million live-plus-same day viewers and a 1.2 household rating, consistent with its previous three episodes.
Critics are largely impressed. The show popped up on numerous 2016 Top 10 lists and netted a 78% positive rating on review aggregator Metacritic, a single percentage point behind ABC's Speechless for the best score of any broadcast show this season.
What Makes a Broadcast Show Anyway?
"There is no one way to judge what makes a broadcast network show—you have to look at each series on a case-by-case basis," says Jennifer Salke, president of NBC Entertainment. While she is looking for more sophisticated and less saccharine comedies than the network has relied on in recent years, she adds that broadcast comedies tend to be "positive, not cynical."
"That's a network thing—darkness leads to a smaller tent and brightness to a larger tent," says Drew Goddard, an executive producer on The Good Place. "We are a moral show and an optimistic show that is connecting with people that traditionally watch broadcast network TV."
Netflix content chief Ted Sarandos spoke for many at last summer's TCA press tour when he complained, "There are too many mediocre, safe shows on linear television." Salke has heard that rap plenty. Sarandos & Co. also have $6 billion and creative freedom to throw at writers, producers and talent, but she says she is staying focused on pushing NBC in new directions. (Salke's résumé includes plenty of game-changers, including Modern Family during her tenure at Fox, plus The Unbreakable Kimmy Schmidt and The Mindy Project for Universal Studios and The Carmichael Show for NBC.)
"The broadcast networks are finally saying, given all that technology, 'To get people to watch, we better be different,'" Danson says. But "the neat part is that there's still the larger audience compared to other platforms. The show is gentle but also interesting and different, so people tell us they watch it with their 10-year-old."
Sure, a family dynamic remains a selling point and NBC is still a broadcaster, so "if a show is overly specific then you are not inviting a lot of people in," Salke says. And she acknowledges that comedy ain't easy: "It's harder for me to get a barometer on how to distinguish broadcast comedies than it is with dramas."
But one lesson Salke has learned is that in this universe of nearly infinite entertainment possibilities, "we have to take big swings." That means that while creative writing and big-name actors remain notable ingredients, Salke says broadcast comedies can get both shorter season orders to maintain narrative focus and lure big stars as well as longer leashes to develop ratings. Most importantly, networks are willing to take risks in storytelling that may not have been part of the recipe a decade ago (back when Arrested Development's development was arrested). The Good Place definitely has some vintage sitcom traits, from the creation of a strong ensemble to the guest star arc (e.g., a brilliant Adam Scott as Michael's exceedingly rude counterpart from The Bad Place). But the risks it takes—placing a sitcom in the afterlife, surreal visuals, a serious questioning of society's moral underpinnings and a plot-driven serialization that ends episodes with cliff-hangers—would make it right at home on other platforms.
"I don't even know what counts as broadcast network anymore and what counts as cable or streaming, except for the nudity and swearing," Goddard says. While shows like M*A*S*H and All in the Family seem conventional "in the rear-view mirror" because they became classics, they were groundbreaking in their day, he adds.
"I'm so pleased the network is allowing Mike to do it his way," Bell says.
'A Netflix Show for NBC?'
Schur's goal wasn't rule-breaking, but rather telling his particular story. "I wasn't trying to solve a puzzle or say, 'Watch this, I'm going to make a Netflix show for NBC,'" he says. If you think that way, he says, "you are just dead. The only thing in our control is good writing."
He was encouraged by the success of the offbeat comedy The Last Man on Earth on Fox but says "I knew The Good Place was outside the normal network comfort zone—it didn't remind me of anything on a broadcast network—but I just worried about whether it was going to work, and NBC gave me a lot of leeway on what I wanted to do." Salke admits that the serialization made the network uncomfortable but says it felt organic to the show, and she believed that Schur—like Tina Fey or Amy Poehler before him—had a track record that made it worth NBC taking a chance. Along with Parks and Brooklyn, Schur wrote for The Office and is an executive producer of Netflix's Master of None.
While it would take weeks (or months) for The Good Place to draw as many viewers as Cheers once did, such is life in today's fragmented TV age. Creatively, too, the playing field is also decidedly un-level. The most acclaimed comedies of late have either been personal and idiosyncratic (Louie, Atlanta, Transparent) or dark, cynical and foul-mouthed in a way a broadcast network could never be (Veep)—and even both (Fleabag). The most popular broadcast comedies remain proven wide-reach veterans like Modern Family and The Big Bang Theory.
Schur says the tidy sitcoms of his youth are giving way to shows like his because audiences "are a lot savvier and eager to experience things with more nuance on network as well as cable." The biggest transformation is that viewers are accessing what they want on-demand, either weekly or in binges. Louis C.K. tapped into that shift by offering his acclaimed 2016 show Horace and Pete for sale exclusively through his own website. Years ago, "if you missed an episode it was gone, so a viewer had to be able to jump into the 50th episode and still enjoy it," Schur says. "The technology has ramifications for the way you tell stories—we purposely put cliff-hangers in, and people can catch up in one night."
Even given that context, The Good Place is unusual enough that even Danson, a veteran of CSI and other hits, felt unsure of himself as production began. "It scared the crap out of me," he says. "My character feels like Willy Wonka, and I'm either pretty good or really bad. I'm still slightly cringing."
Salke acknowledged that the elevator pitch for The Good Place makes it sound like a show "that could be amazing or could be ridiculous." NBC has learned, in her words, "that we have to lean into those shows. Big bombs come from something original, but so do great things."
Seducing the Talent
Schur's expansive vision (he plotted out three full seasons and walked Salke through episodes in detail) helped sell both Bell and Danson on the idea, which further encouraged NBC. "If you have those two on your poster, they bring a certain quality you cannot buy and are draws for different segments of the population," Schur says. (He also brought in Goddard, who directed the pilot, because of his experience with sci-fi/supernatural material, from Buffy the Vampire Slayer to Lost to Oscar-nominated film The Martian.)
Bell was sold by Schur's past work but especially by a one-hour pitch meeting. "I don't have a taste for mindless television where you zone out," she says. "This was the most bizarre idea I'd ever heard, but it also meant something to me. I'm always thinking about the consequences to everything I do. This show is unique and fun, but also ethically important." Danson initially met with Schur about another idea that didn't quite grab him. "But I was so fascinated by him. I said, 'Do you have anything else?' and he talked to me for an hour about this, nonstop," Danson recalls. There was no script to read, but he was nonetheless hooked. Both stars say their trust in Schur encouraged them to plunge in to even the weirdest scenes. "He's willing to go out on a limb and commit 100% to something, so I'll make that leap," Danson says.
Bell says she was cast in order to help viewers root for a somewhat unlikeable character "to make them think maybe our system of judgment is broken." Whenever she asked Schur if she had gone too far in a given take, "Mike would always push me to be nastier and more grotesque. I go for it."
Staying Ahead of the Viewer
Schur says broadcast shows, now more than ever, need to be ahead of the viewer. "Surprise is the only weapon we have," he says. One example is having Eleanor confess to being in the wrong place halfway through season 1 "to short-circuit the season and catch people by surprise," Schur says. Specific laughs also rely on surprises, like playing certain scenes a beat or two longer than people expect, relying on the performances of his cast to wring out the potential laughs.
Even if the series had not started strongly in the ratings, Salke says the new network mentality is to give it time. "We all killed our own business by judging comedy by linear ratings before a show got a chance to build an audience," she says. (The list of NBC classics that took time to find their voices or an audience includes Cheers, Seinfeld and Parks and Recreation.) "What has changed is how we define success—the conversation has changed because young people are not consuming shows or generating ratings in the same way. We need to have faith and pour more marketing into these shows."
NBC will continue taking risks, too. Salke says NBC passed on Fey's Kimmy Schmidt (now on Netflix) because the network was doing so badly then that the show would not have found an audience. Today, Salke says, she would pick Kimmy up and pair it with The Good Place.
Another limited-run, serialized comedy with a big star, Trial & Error with John Lithgow, is set to arrive in March. Salke is also developing a series with Broadway Video and Lorne Michaels that was originally for cable and had been full of profanity. (The Good Place features a running gag in both the show and promotions about swearing in the series' fictional village automatically being rendered PG-rated. "What the fork?!" Eleanor exclaims. "That's bullshirt.")
The Good Place's final four episodes have some "major cliffhangers and [shirt] gets weird," Bell promises. The show is also returning to a different universe than the one it debuted in after a presidential election that seemed to reward lying, bullying and other immoral behavior, but Danson says the writers were inadvertently prescient. "These last four episodes fit right into these new times we are living in," he says. "The show has grown on me so much. I'm so proud."
Broadcasting & Cable Newsletter
The smarter way to stay on top of broadcasting and cable industry. Sign up below