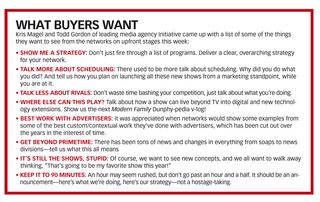 Related:Your Upfront FAQ
Industry Insider: What a Pro Looks for at the Upfronts

As CBS Corp. CEO Leslie Moonves might say, how do you get to Carnegie Hall? Broadcast, broadcast, broadcast. After four months of upfront presentations by cable networks big and small in a year when advertising spending and pricing is expected to show double-digit growth, the broadcast networks this week get to show mediabuyers and advertisers their programming plans for the 2011-2012 season.

The good times are back. There will be (some) parties. There will be (many) stars. And of course: There will be (boatloads of) shrimp.

While pundits and analysts expect to see cable grow faster than old-fashioned broadcast, the broadcasters are champing at the bit. The CEOs of the network owners have been predicting a big upfront. Well, they do every year, but this year everyone believes them.

Their chief sales executives—some of whom are experiencing their first upfront in the top post—will have to deliver in a market that's expected to top $9 billion for broadcast, and, for the first time, a similar amount for cable.

Afraid of cable? No way. Cable may be more efficient than broadcast, which is buyer-speak for cheaper. But not more effective, so broadcast ad sales execs are expecting to have a very good upfront themselves.

"We've spent the last 90 days visiting 150 different clients, their planning agencies, as well as their buying representatives, and we have a very compelling story. It's going to be a good upfront for broadcast," says Geri Wang, who is in her second year as president of sales and marketing for the ABC Television Network. "And I know our clients, the decision-makers, absolutely understand what the network value equation is. They see when they run a network flight it moves their product—more people go into the movie theater, and they sell more cars."

Commercials on broadcast cost more than commercials on cable on a cost-per-thousand viewers (CPM) basis because their bigger audiences translate into the ability to reach more potential customers at one time.

"Broadcast is a destination for big events, and much more than just one daypart," says Marianne Gambelli, the NBC sales veteran who became president of broadcast sales in January when control of NBC was acquired by Comcast. "Look at The Voice, which has really broken through on broadcast." The musical competition show drew 11.8 million viewers in its debut and 12.4 million in its second episode and could become a building block NBC's schedule needs if new management is going to lift the Peacock network out of the ratings basement. "I don't know if you'd see that in other places," Gambelli adds. "[The Voice] has momentum, and the advertisers are feeling it too."

Will We Be Ready For Some Football?

Obviously one of the big question marks this year is the National Football League—a ratings and ad-dollar behemoth for CBS, Fox and NBC on the broadcast side. With its 2011 season up in the air—though few actually expect the league to miss a single game —the focus will definitely not just stick to primetime.

"When you talk about broadcast television, I know you're specifically talking about prime, but we look at the whole picture," Gambelli says. "You need to factor the strength of sports and news and live television."

Toby Byrne, the new president of sales at Fox Broadcasting might have something that his predecessor, the dean of network advertising sales Jon Nesvig, didn't have in recent years: a blockbuster in the first half of the season.

"We have a very exciting and in-demand program with The X Factor. I think it's going to really change the landscape with regard to our ratings in the fall," says Byrne. "With American Idol in midseason, stability of our schedule and success across the week, we are in a strong position."

At the most-watched network, Jo Ann Ross, CBS president of sales, is now the most senior broadcast-network sales chief. Her boss, CEO Les Moonves, already said he expects double-digit increases in the upfront. The Tiffany Network chalked up the biggest gains in sales during last year's upfront, and is poised to do well again.

"We have a schedule that's been consistently successful," says Ross, who will take the stage May 18 at Carnegie Hall. That consistency reassures buyers who complain that they often buy schedules in June that look nothing like what's on the air in January. "You look at CBS and you know what you're buying," Ross says.

While there's stability at CBS, there are big changes at ABC and NBC. This is the first upfront for Paul Lee as programming head for Disney's broadcast network. And lastplace NBC is now controlled by Comcast, which plans to give new entertainment president Bob Greenblatt $200 million more to spend on programming this year. Media buyers will be looking closely to see what the new chiefs do to bolster their networks' schedules.



Priced to Move

Last year's upfront moved early and moved fast. With buyers and most sellers seemingly in agreement that this year's market will be another strong one, the network sales execs have to be prepared.

"We'll be open for business, but we're also going to take our time and make sure we get it right. We do marketing elements, we have extensive digital components. It's not as simple as 'let's agree on a percentage and all walk away happy,'" says Gambelli.

Last year's percentage was a CPM increase of 8.2% for the Big Four, according to Barclays Capital. Some believe it could have been higher, pointing to sky-high rates in the scatter market. Last week, when Walt Disney Co. reported its earnings, it said scatter prices in the second quarter were 41% above upfront prices and 35% above upfront in the third quarter.

"A tick or two higher in last year's upfront, and scatter probably would have been more reasonable this year. It seems like that's the way it's panned out," says Gambelli.

This year analysts are expecting the double-digit increases that are usually only posturing by the nets. Analyst Anthony DiClemente of Barclays expects the Big Four to get CPM increases of 10.3%, with CBS scoring 12% gains, ABC and Fox getting 10% and NBC taking 8%.

DiClemente expects the Big Four to take in $9.23 billion in advertising commitments, up 7.5% from last year's upfront. He sees CBS leading the pack with $3.01 billion, up 15.6%. He expects ABC sales to be up 11.9% to $2.68 billion, Fox to be up 6.4% to $2.11 and NBC to be down 10.7% to $1.43 billion as it sells less inventory now in anticipation of higher pricing if its new shows succeed in generating more viewers.

While most media buyers acknowledge this will be a strong market, it wouldn't be the spring without some posturing. Some say the scatter market is cooling and that the first batch of budgets that are coming in don't indicate that spending will be nearly as high as the broadcasters project.

With prices expected to jump after the upfront presentations are over and buyers and sellers sit down to negotiate deals, there are some strategies for getting a break from the networks.

"When you're having your upfront negotiations, you always want to know what [the networks] need," says Peter Knobloch, CEO of media buyer RJ Palmer. "This market appears to be incredibly strong. In all likelihood, it's in the double-digit area. How do you stem the hurt? And the best way to do that is to try to divert some of your dollars to the places [where] the networks need help."

In recent years, one of those places has been digital. "Management wants them to drive digital revenue because they've invested so much money on the digital side of the business," says Knobloch, who thinks online video is the best digital bet for his clients."When you do that, that's when you generally get a break on pricing."

Another way to catch a break is by buying extra spots in the shows that are the programming chief's pet projects. "There's always one or two new shows that are going to be on the schedule that the head of programming wants support for," Knobloch says. "If you can support that particular show, then generally speaking, there's a way that they can help you with a price or programming mix or something else that will benefit your clients."

E-mail comments to jlafayette@nbmedia.com and follow him on Twitter: @jlafayette
Broadcasting & Cable Newsletter
The television industry's top news stories, analysis and blogs of the day.