BBCA to Air Obama-Attenborough Conversation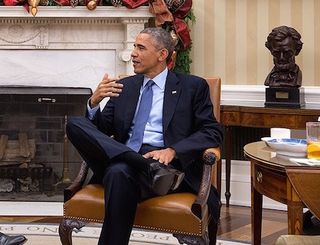 BBC America this Sunday will air a conversation between President Barack Obama and Sir David Attenborough, the beloved natural history producer and iconic voice of Planet Earth, Blue Planet and Frozen Planet. They spoke at the White House in May, on the occasion of Attenborough's 89th birthday, and climate change and protecting the planet were on the president's mind, the network said.
Obama interviews Attenborough in their meeting. The special will broadcast on BBC America at 5:30 p.m. ET – simultaneously with the BBC One broadcast in the UK. BBC America will air an extended version at 8 p.m. ET and make it available on BBCAmerica.com at 9 p.m. ET.
According to the BBC, "the leader of the Western world wanted to meet Attenborough to talk to him about climate change, its effect on the environment, and to ask Attenborough his thoughts on the most critical issues threatening our planet. The President has long been a huge admirer of Attenborough's work. He grew up watching Attenborough's films, and after 60 years exploring the globe Sir David has witnessed the changing natural world first-hand."
For the full story go to Multichannel.com
Kent has been a journalist, writer and editor at Multichannel News since 1994 and with Broadcasting+Cable since 2010. He is a good point of contact for anything editorial at the publications and for Nexttv.com. Before joining Multichannel News he had been a newspaper reporter with publications including The Washington Times, The Poughkeepsie (N.Y.) Journal and North County News.
Broadcasting & Cable Newsletter
The smarter way to stay on top of broadcasting and cable industry. Sign up below.
Thank you for signing up to Broadcasting & Cable. You will receive a verification email shortly.
There was a problem. Please refresh the page and try again.