MLB Commissioner on Fox RSNs: 'We're Interested'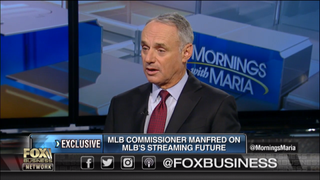 Major League Baseball Commissioner Rob Manfred threw his hat in the ring for the 22 Fox regional sports networks currently on the block, telling Fox Business Network host Maria Bartiromo that the networks are valuable properties.
"Yes, we're interested in the regionals," Manfred told Bartiromo on Fox Business Networks' Mornings with Maria. "You know, in 12 markets baseball on the Regional Sports Network is the number one programming throughout the summer. In 24 of 25 markets that we operate in, we're the number one programming on cable. So these Regional Sport Networks are really valuable, valuable assets and we think that the combination of that traditional mode of delivery and the digital rights that we control is an opportunity for the game."
The 22 RSNs, which some analysts have valued at as much as $20 billion, are on the block as a condition of The Walt Disney Co.'s pending $71.3 billion purchase of certain assets of 21st Century Fox. In issuing its approval of the deal, the U.S. Department of Justice required that Disney divest of the 22 RSNs within 90 days after closing the larger Fox deal. That larger deal is expected to close in the first quarter of 2019.
Related: Books Out on Fox RSNs
The RSNs own rights to 44 professional baseball, basketball and hockey teams and in markets like Atlanta, Detroit, Kansas City, Miami, Phoenix and Indianapolis. The New York Yankees, which own 20% of Fox regional the YES Network, have the right of first refusal to purchase the remaining interest of the network, and are reportedly assembling a group of private equity investors to make a bid.
Related: The Curious Case of the RSNs
MLB was considered to be among the parties expressing interest in the RSNs, a field that has been said to include TV station group Sinclair Broadcast Group, online retailer Amazon, private equity investor The Blackstone Group and rapper and entrepreneur Ice Cube. In his interview with Bartiromo, Manfred added that digital streaming has been an important part of the league's growth.
"Well, I think our fans want to be able to consume the game on the platforms that they're naturally on… that's why we have experimented with things," Manfred told Fox Business. "We had 30 games on Facebook last year. We have a relationship with Twitter. YouTube's been very active with respect to our product. And it's important for us to deliver games in the way that fans want to see them."
The smarter way to stay on top of the multichannel video marketplace. Sign up below.
Thank you for signing up to Multichannel News. You will receive a verification email shortly.
There was a problem. Please refresh the page and try again.