CNBC: Amazon Among Bidders for Fox RSNs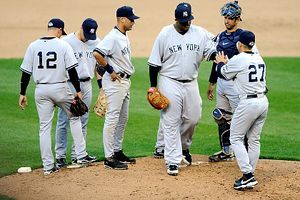 Online retail giant Amazon is among the bidders for 21st Century Fox's 22 regional sports networks, according to CNBC's David Faber, including the jewel in the crown, the New York Yankees' YES Network.
The latter bid is especially interesting given that more observers have expected the Yankees to exercise a right of first refusal in their deal with Fox. According to reports, the Yankees have been talking to private equity firms about financing a deal.
Faber said on his "Squawk on the Street" that in addition to the other RSNs, Amazon and a sovereign wealth fund are part of a group that is joining with the Yankees in a bid.
The RSNs were part of a larger Fox asset sale to the The Walt Disney Co. earlier this year. But Disney agreed to sell the RSNs, which Guggenheim Partners has estimated to be worth more than $20 billion, as part of the conditions of regulatory approval of the larger Fox deal.
According to Faber, Amazon has joined the fray after the first round of bidding concluded on Nov. 8. According to a transcript, Faber reported that in the first round bids, no "club deals" were allowed, meaning that bidders could not partner on a bid, but were encouraged to give JP Morgan and Allen & Co., who are running the auction, a ballpark idea of how much they were willing to spend. Fox, which had been expected to submit a bid for the channels, did not participate in the first round, but could come back in later rounds.
According to Faber, Apollo Global, KKR & Co., The Blackstone Group, Sinclair Broadcast Group and Tegna all made first round bids for all 22 networks.
NBC Sports also did not submit a bid and is not expected to. NBC Sports chief Mark Lazarus said at an industry conference in Connecticut last week that regulatory issues would prevent it from bidding.
Thank you for signing up to Multichannel News. You will receive a verification email shortly.
There was a problem. Please refresh the page and try again.