Greenfield: Murdoch Open to Comcast Bid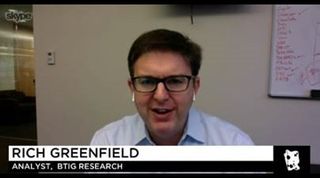 BTIG Media analyst Rich Greenfield said Thursday that 21st Century Fox executive chairman Rupert Murdoch is open to a competing cash bid from Comcast for assets it had previously pledged to the Walt Disney Co., adding that the Fox chief merely wants to maximize the value of his assets.
In December, Fox agreed to sell its cable networks FX, FXX and National Geographic, its 20th Century Fox movie and TV production studio, 21 regional sports networks, its 39% interest in British satellite company Sky and its 30% interest in online video company Hulu to Disney in a deal now valued at about $68 billion. Comcast, which already has made a formal offer for Sky for $31 billion, in May said it was prepared to make an all-cash bid for the Fox assets that would be a significant premium to the Disney offer. 
Related: Comcast Sparks an Old-School Bidding War (subscription required) 
Speaking to Cheddar TV, Greenfield said that Murdoch and his shareholders are aligned in their interests, and that reports that the Fox chairman preferred Disney stock to cash because of the tax implications are "factually incorrect."
Citing several unnamed sources, Greenfield said he believes Murdoch is more open to a Comcast offer now.
Murdoch, he added, simply wants the best deal, meaning the most value, whether that is cash, or cash and stock.
"This is a real opening for Comcast to come in with a very significant premium bid to where Disney is now," Greenfield said.
Related: Comcast-Fox: Go Big or Go Home 
Most analysts, Greenfield included, expect Disney to fight hard for the assets, should Comcast make a formal bid. In an earlier blog post, the BTIG analyst mentioned that losing out on Fox would be almost too much for Disney chairman and CEO Bob Iger to bear. But he added Comcast chairman and CEO Brian Roberts also is likely to dig in his heels.
"[W]e have a really hard time seeing Iger ending his career in defeat to Comcast and then simply retiring after the loss (damages his legacy)," Greenfield wrote in the blog post. "On the other hand, we cannot imagine Brian Roberts as an owner who is looking out 30+ years losing the last major chess piece on the game board that he covets, especially to Disney. That is not the storybook ending Roberts wants either." 
The smarter way to stay on top of the multichannel video marketplace. Sign up below.
Thank you for signing up to Multichannel News. You will receive a verification email shortly.
There was a problem. Please refresh the page and try again.