The Five Biggest Deals of 2017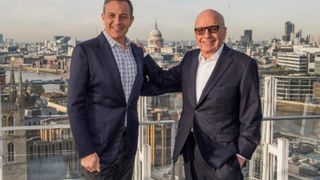 2017 will most likely go down in the record books for a lot of things other than media deals, but it was a year where big content decided it was time to get bigger with big distribution sitting not so idly by.

AT&T – Time Warner:

AT&T's $108.7 billion purchase of Time Warner Inc. was announced in late 2016 but was expected to be completed this year, ushering in a wave of content consolidation. Instead, it is headed for the courts after the U.S. Department of Justice moved to block the deal in November. While DOJ has virulently denied any intervention or influence from President Trump for the decision – despite the Chief Executive's blatant hatred for Time Warner's CNN – the move certainly seemed to send a signal to big media that the government would scrutinize deals that concentrated power in too few hands. That is, until…

Disney – Fox:

Trump's favorite media company – 21st Century Fox, parent of Fox News Channel – announced a $66.1 billion deal to sell its movie studio, cable channels, regional sports networks and other assets, to Walt Disney Co. on Dec. 14. According to the New York Times, Trump personally called Fox executive chairman Rupert Murdoch to ask if the deal would affect Fox News (it won't). Shortly after, through press secretary Sarah Sanders, Trump praised the deal, adding it could create jobs (some analysts think the opposite is true.)

Discovery-Scripps:

Discovery Communications $14.6 billion purchase of Scripps Networks seems perfect on paper – merging similar networks with like balance sheets and opportunities for growth. Discovery has been feverishly adding content and capabilities to its direct-to-consumer offerings and Scripps' content – Food Network, HGTV, Travel Channel and more – more that fits the bill.

Sinclair-Tribune:

Announced in May, the $3.9 billion deal will make a station-group powerhouse even more powerful. Adding Tribune's 42 stations would boost Sinclair's tally to more than 200 stations across the country, or about 70% of the TV homes in America. With that dominance – the combined company will likely have to shed at least some stations – opponents to the deal fear the stranglehold Sinclair-Tribune would have on retransmission consent negotiations and the influence it could have on local news.

TPG Capital - Wave Broadband:

In May, TPG Capital said it would purchase Seattle-based broadband and video service provider Wave Broadband in a deal valued at $2.36 billion. It was the second purchase in less than a year for TPG – it agreed to purchase Grande Communications and RCN in August 2016 for $2.25 billion.

Honorable Mention: T-Mobile-Layer3 TV:

T-Mobile dropped its plans to buy wireless competitor Sprint in November, and a month later pulled the trigger on a deal no one expected. While it hasn't yet announced how much it will pay for Layer3 TV, it may have a harder time convincing investors why it is buying the pay TV upstart in the first place. The deal has at least in the early stages been a head-scratcher for analysts, who wondered why the third largest wireless carrier in the country needed to buy upstart Layer3 TV, which came on the scene a few years ago touting beefy video packages and set-top boxes, or roughly the opposite of what other OTT services were providing. Whether T-Mobile has some secret sauce cooking that counts Layer3 TV as the key ingredient, or if the upstart is just filler for its planned OTT video offering, remains to be seen.
Broadcasting & Cable Newsletter
The smarter way to stay on top of broadcasting and cable industry. Sign up below.
Thank you for signing up to Broadcasting & Cable. You will receive a verification email shortly.
There was a problem. Please refresh the page and try again.