AT&T's Stephens Warns of More DirecTV Sub Losses in Q3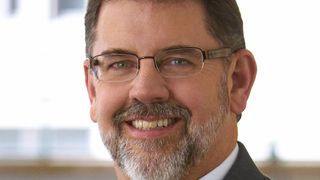 AT&T is bracing for yet another quarter of heavy customer losses at its pay TV operations, with chief financial officer John Stephens telling an industry audience Wednesday that the combination of rising prices and broadcast blackouts could result in as many as 300,000 to 350,000 subscriber losses for its DirecTV, AT&T TV Now and U-verse operations in Q3.
AT&T has weathered a steady stream of blackouts this year, starting with 120 Nexstar Media Group stations that went dark to AT&T customers on July 3. That deal was resolved last month after customers were without that programming for about six weeks, as was the blackout of CBS (three weeks). But there are still retransmission consent and carriage deals yet to be finalized -- 17 smaller TV stations that went dark on May 30 are still unavailable to AT&T pay TV customers, as is regional sports network Altitude Sports and Entertainment, which went dark on Aug. 31. Earlier this week Disney began warning DirecTV customers that they could lose access to ESPN, ABC stations, Freeform and The Disney Channel if a deal isn't reached soon, which most observers take to mean by the end of this month.
AT&T, like its other pay TV distribution peers, has taken a harder line stance against programming costs increases, and has been willing to risk losing customers in order to keep those expenses in line. But Stephens' revelation comes at a curious time for AT&T -- it is set to launch two streaming video services in the fall -- HBO Max and AT&T TV -- and last week one of its biggest investors called for the company to jettison the TV business all together.
At the Bank of America Merrill Lynch Media Communications & Entertainment Conference in Los Angeles Wednesday, Stephens said AT&T has had to make " tough decisions" concerning several retransmission deals that came up for renewal earlier this year, adding that it refused to make uneconomical deals, instead choosing to "hold our ground."
Couple that with the earlier decision to raise pricing at its AT&T TV Now (formerly DirecTV Now) streaming service, and Stephens said that while the incremental impact of those decisions isn't fully known, it could be as high as a loss of 300,000 to 350,000 pay TV customers.
DirecTV has already endured heavy losses as customers have defected to streaming pay TV services and other pay TV offerings from competitors. AT&T said it lost nearly 1 million subscribers across all its platforms in Q2 and since Q1 2017 the once No. 1 pay TV company in the country -- it lost that honor to Comcast in July -- has shed more than 3 million customers.
Related: AT&T Needs to Kill DirecTV to Save It
Adding fuel to the fire was a letter that AT&T investor Elliott Management sent to the phone company's board of directors on Monday, criticizing it for purchasing DirecTV in the first place, and claiming that management has made a series of bad decisions taht have hurt the stock. Elliott, which says it owns about $3.2 billion in AT&T stock, called for the telco to get rid of non-accretive assets like DirecTV and focus on execution.
Stephens acknowledged receiving receipt of the letter, reiterating AT&T's statement on the matter, adding that it's already doing much of what Elliott is demanding.
"I feel strongly about the fact that management and the board feel strongly that our current strategies are the best way to create value for our shareholders and to maximize that value," Stephenson said.
He also addressed the impending rollout of HBO Max and AT&T TV, brushing off criticism that the product won't be competitive with new direct-to-consumer streaming video offerings from Apple TV and Disney, as well as SVOD pioneers like Netflix and Hulu.
"Well, I think the first thing I want you to remember is that we also start with something called HBO," Stephens said. "And so we only have a 40-year head start with a quality product that is a premium."
The smarter way to stay on top of the multichannel video marketplace. Sign up below.