Altitude Goes Dark on Comcast, DirecTV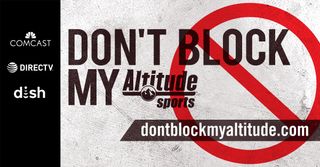 Regional sports network Altitude Sports and Entertainment went dark to Comcast and DirecTV customers Saturday, leaving customers in 10 states without programming as the National Hockey League season opener nears.
Altitude had warned that it would go dark to DirecTV and Comcast customers if a carriage deal was not reached by Aug. 31. The RSN already went dark to Dish Network customers on Aug. 29.
Pricing and Altitude's apparent demand for minimum carriage levels appear to be at the heart of the disagreement. According to sources close to the talks, the parties are "far apart" in the negotiations, but that could change as game-day nears for many of the teams carried by the network.
"Altitude unfortunately forced AT&T to remove its channel from our customers' lineups," DirecTV said in a statement. "AT&T made a fair offer to keep the channel available, but Altitude rejected it. Consumers have made clear they want more choice over the channels they pay to receive in their homes. Our goal is to offer Rapids, Nuggets and Avalanche games to anyone who wants them most at a value that makes sense to our customers overall. We will not agree to bad deals that do a disservice to our customers, even if it means no longer carrying certain content."
According to an article in the Denver Post, Altitude is claiming DirecTV and Comcast have proposed rates that are a 50% cut to the RSN's current deal.
Altitude, owned by Kroenke Sports & Entertainment, is available in 10 states -- Colorado, Kansas, Nebraska, Idaho, Montana, Wyoming, Utah, Northern New Mexico, Northeast Nevada and Southwest South Dakota. The RSN carries games and programming from the NHL Colorado Avalanche, the NBA Denver Nuggets, Major League Soccer's Colorado Rapids, the National Lacrosse League Colorado Mammoth and college sports from the University of Denver. The NHL preseason is scheduled to begin on Sept. 15, with the Avalanche's first game slated for Sept. 17 against the Vegas Golden Knights. The Avalanche regular season begins Oct. 3 at home versus the Calgary Flames.
If the talks drag into October, customers in the area also run the risk of missing pre-season games for the NBA Nuggets, which begin on Oct. 8. The Nuggets' regular season starts Oct. 23 against the Portland Trailblazers.
"We want to reach an agreement with Altitude, but it must be at a reasonable price for our customers," Comcast said in a statement. "Altitude has demanded significant annual price increases for the same content for years, which has driven up costs for all of our customers in Colorado and Utah, even though most of them do not watch the channel. Over the past year, more than 95% of Altitude subscribers watched less than the equivalent of a game per week. The price increase Altitude is again demanding is unacceptable given the network's low viewership. We have submitted a proposal to Altitude that we believe reflects the value of its programming and are hopeful Altitude will accept it so we can continue to carry the network for those customers who want to watch it."
The smarter way to stay on top of the multichannel video marketplace. Sign up below.
Thank you for signing up to Multichannel News. You will receive a verification email shortly.
There was a problem. Please refresh the page and try again.