Altitude TV Warns it May be Dropped by Comcast, Dish and DirecTV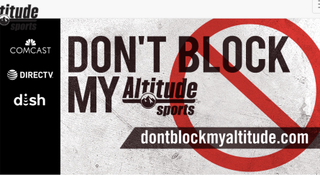 Denver area regional sports network Altitude TV is warning viewers that it may be dropped by Comcast, Dish Network and DirecTV if the channel can't reach a favorable carriage renewal soon.
Altitude is owned by Kroenke Sports & Entertainment and airs games from the NHL Colorado Avalanche, the NBA Denver Nuggets, Major League Soccer's Colorado Rapids, the National Lacrosse League's Colorado Mammoth and college sports from the University of Denver. On its website, the network warned that its deal with Dish Network expires at midnight Wednesday, while its agreements with DirecTV and Comcast end on Saturday.
Dish, the network said, has carried Altitude TV since its inception on Sept. 4, 2004. The other two distributors have carried the channel for 15 consecutive years, Altitude said.
[embed]https://twitter.com/AltitudeTV/status/1166770527249338369[/embed]
"These actions by Dish, Comcast and DirecTV are directly related to contract negotiations with Altitude, and while Altitude has always negotiated with them in good faith and continues to negotiate in good faith, these Big Three media conglomerates want to play by their own rules and are making unrealistic demands on Altitude," the network said on its website. "Their actions will affect hundreds of thousands of regional sports fans and negatively impact hundreds of local businesses that continue to support their home teams."
The blackout threat comes as Dish Network continues to be embroiled in a carriage spat with Sinclair Broadcast Group's Fox RSNs, which went dark to its customers in July.
In a statement, Dish said it hoped it could reach an agreement.
"Dish's goal is to keep Altitude Sports available to our customers at a reasonable cost," the satellite TV service said in a statement. "We are unsure why Altitude has decided to involve customers in the contract negotiation process when there is still time for the two parties to reach a mutually beneficial deal."
At Comcast, the cable operator focused on value.
"We want to reach an agreement with Altitude, but it must be at a reasonable price for our customers," Comcast said in a statement. "Altitude has demanded significant annual price increases for the same content for years, which has driven up costs for all of our customers in Colorado and Utah, even though most of them do not watch the channel. Over the past year, more than 95% of Altitude subscribers watched less than the equivalent of a game per week. The price increase Altitude is again demanding is unacceptable given the network's low viewership. We have submitted a proposal to Altitude that we believe reflects the value of its programming and are hopeful Altitude will accept it so we can continue to carry the network for those customers who want to watch it."
DirecTV is deep in retransmission consent disputes with two separate parties — Nexstar Media Group, and a group of 17 smaller stations. In a statement, the satellite TV provider confirmed that its deal with Altitude expires on Saturday, and hinted that if it can't reach a deal that makes sense for its customers, it may do without the network.
"DirecTV has made a very fair offer to Altitude," DirecTV said in a statement. "We remain on the side of consumer choice and value, and our negotiations reflect that. Consumers have made clear they want more choice over the channels they pay to receive in their homes. Our goal is to offer Rapids, Nuggets and Avalanche games to anyone who wants them most at a value that makes sense to our customers overall. But we will not do bad deals on behalf of our customers, even if it means no longer carrying certain content."
The smarter way to stay on top of the multichannel video marketplace. Sign up below.
Thank you for signing up to Multichannel News. You will receive a verification email shortly.
There was a problem. Please refresh the page and try again.