Amazon Picks Up 'The Expanse' After Syfy Drop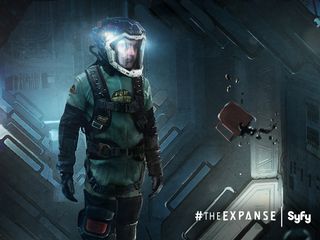 A critically praised but audience challenged space drama The Expanse will have a fourth season -- on Amazon Prime -- after its recent drop by Syfy. Amazon CEO Jeff Bezos broke the news on Friday at an event where he appeared with cast members of the show, which is in the midst of its third season on Syfy.
RELATED: Amazon Sets May Premiere For 'Picnic at Hanging Rock'
"The Expanse is saved," Bezos said to cheers at the International Space Development Conference in Los Angeles, The Verge noted, including one of many cellphone videos of the moment that soon made the rounds on Twitter.
[embed]https://twitter.com/MikeMongo/status/1000227792527671296[/embed]
NBCUniversal-owned Syfy -- which only had rights to the series' first run on the network in the U.S. -- could not pull in enough viewers to keep the show going.
RELATED: Syfy Renews 'Killjoys,' Cancels 'Dark Matter'
But Amazon, which as The Verge noted has been trying to find Game of Thrones type hits, has opted to continue the Expanse voyage, pleasing the fans whose #SaveTheExpanse hashtag can now convert to past tense.
The series, based on novels by James S.A. Corey (a pen name for two writers), is set centuries into the future, when humans have colonized the solar system, per the Syfy description. "The U.N. controls Earth. Mars is an independent military power. The planets rely on the resources of the Asteroid Belt, where air and water are more precious than gold. For decades, tensions have been rising between these three places. Earth, Mars and the Belt are now on the brink of war. And all it will take is a single spark."
RELATED: Syfy Renews 'Krypton'
The current season of The Expanse has aired seven episodes so far (Wednesdays at 9/8c).
The smarter way to stay on top of the multichannel video marketplace. Sign up below.