The TV Everywhere Blame Game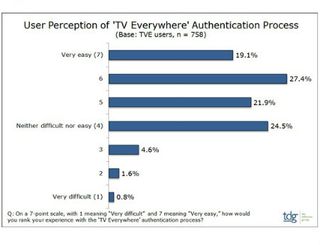 Whenever the topic of TV Everywhere usage comes up, tricky and kluge authentication systems are typically viewed as the biggest barriers to wide-scale consumer adoption.
While authentication systems have been an easy target of disdain and scorn, pay-TV providers and their partners have made some strides with in-home auto-authentication, with improved out-of-home authentication one of the items on TVE's tech roadmap. A recent study from Adobe found that TVE adoption is indeed on the rise, even if it usage represents a smidgen of overall viewing.
A new study from TDG, meanwhile, suggests that authentication is not what's hindering widespread use of TVE services, finding in a survey of 758 people TVE users that just 7% of users found the process something less than easy, while 19.1% found it "very easy" (see chart).
TDG president and director of research Michael Greeson holds that authentication isn't that big of a deal, since logging in is a common, not-so-foreign activity now for most people who do anything on the Web.
"Unfortunately, authentication has been demonized by industry executives as a key reason TVE use is not more widespread. Unfortunately, pointing to authentication as the cause of slow TVE uptake is a red herring, distracting attention from the real culprits: poor marketing and the inconsistent availability of the newest shows," Greeson said in a statement.
I don't know if I'd go as far as saying authentication is a red herring when it comes to TVE adoption. While I agree that the actual act of logging in is easy enough, not everyone knows what their TVE-facing user names and passwords are, and having to track down that information is still a time-consuming, mind-numbing chore. It's too early to take authentication off the hook or to declare that it's now a non-issue.
But he also makes the point that TVE more significant challenges are on the marketing and content fronts.
It's hard not to agree with that, as CTAM tries to tackle TVE's marketing challenges (Sorry, I just can't bring myself to use the suggested lower-case branding treatment of TV Everywhere...old habits die hard, you know?).
From a content perspective, TVE is still frustrating and confusing. The amount and type of content offered via TVE from one MVPD or programmer is different than another. Some offer live linaer feeds, others don't. And some live feeds are supported only when the customer is on the home network, while others can be streamed from outside the home. Some on-demand offerings provide access to a full season of a TV show, while others give you access to a small sampling of the current season. And on and on. The only thing uniform about TVE content today is that none of it is uniform.
And that all comes down to the digital rights and how the players are trying to monetize TVE, which is another important challenge the distributors and programmers are facing.
While all of these challenges and issues are steadily improving, there's still plenty of blame to spread around. And I'm still looking at you, Mr. Authentication.
The smarter way to stay on top of the multichannel video marketplace. Sign up below.