Wimbledon Scores Watch-Time Win, While Baseball Is an Impressions Hit: TV By the Numbers
With insights from iSpot.tv & Vizio's Inscape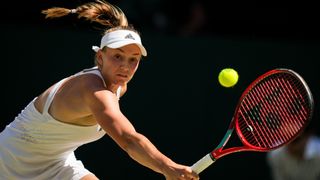 (Image credit: Shi Tang/Getty Images)
Below is a snapshot of TV by the numbers for the week of July 4-10, highlighting the most-watched shows and networks using glass-level data from Vizio's Inscape, and network and show TV ad impressions insights via iSpot.tv.
Most-Watched Shows and Networks
Via Inscape, Vizio's TV data product with glass-level insights from a panel of more than 19 million active and opted-in smart TVs. Data is linear, live TV only and includes all episode types (new and reruns). Rankings are by percent share duration (i.e., time spent watching).
Wimbledon wins watch-time for a second straight week as audiences watched Novak Djokovic collect the men's singles title, while Elena Rybakina took home the women's singles championship. The event accounted for 1.60% of minutes watched from July 4-10, up from 1.30% the previous week.
Some additional insights about the top programming on TV:
Shows in syndication are big movers week-over-week, as Chicago Fire leaps from No. 30 to No. 9, Chicago P.D. hops from No. 24 to No. 12, Diners, Drive-Ins and Dives pulls in at No. 13 (from No. 28), and Seinfeld climbs from No. 32 to No. 14.
AMC's Breaking Bad marathon helped the show break into the top 25 in our ranking with 0.42% of watch-time (after not being listed at all the previous week).
Below Deck Mediterranean sails to an appearance at No. 18 in our ranking – thanks to its season seven premiere -- after not appearing among the top 50 from June 27-July 3.
The Scottish Open pushes the PGA Tour's minutes watched up from 0.52% to 0.74% week-over-week.
CBS is newly atop our list of most-watched networks, with 5.80% of watch-time from July 4-10. The network benefits primarily from the Scottish Open, its usual slate of daytime programming and Big Brother's season 24 premiere.
Additional insights around the most-watched networks from July 4-10:
Top Shows and Networks by TV Ad Impressions
Via iSpot.tv, the always-on TV ad measurement and attribution company. Rankings are by TV ad impressions, for new episodes only.
MLB TV ad impressions are climbing at the season's midway point. For the week of July 4-10, live games accounted for 2.71% of impressions -- up from 2.00% of impressions the previous week.
More data about the top programs by TV ad impressions:
On the week, 15 of the top 25 shows by impressions are news- and talk-focused, led by Good Morning America at No. 2 (2.39% of all impressions).
Big Brother's 24th season premiered to 0.86% of impressions, which was 25th among all programs.
ABC World News Tonight with David Muir moves from No. 6 to No. 4 week-over-week, increasing its share of impressions from 1.68% to 1.96%.
Even with fewer matches week-over-week, Wimbledon didn't lose much by share of impressions -- going from 1.48% during June 27-July 3, to 1.46% from July 4-10.
Fox News is No. 1 again in our ad-impressions-by-network ranking, delivering 12.44% of impressions on the week -- down slightly from 13.0% from June 27-July 3.
Additional insights around the top networks by impressions:
ABC hops from No. 4 to No. 3, with Good Morning America accounting for 22.70% of the network's impressions for the week.
While Univision remains at No. 5 week-over-week, the network increases its share of impressions from 5.97% to 6.52%, fueled in part by primetime programs, which account for nearly 35% of Univision's impressions.
Fox Sports 1 flies from No. 24 to No. 17 in our ranking week-over-week, due in part to its typical slate of sports talk shows, plus MLB action and the NASCAR Camping World Truck Series.
USA Network leans on sports programming like the NASCAR Cup Series and Tour De France for its rise by share of TV ad impressions, from 1.44% to 1.56% week-over-week.
Broadcasting & Cable Newsletter
The smarter way to stay on top of broadcasting and cable industry. Sign up below
John Cassillo is an analyst and contributor with TV[R]EV.