Wheeler: JSA Move Was to Counter K Street Cottage Industry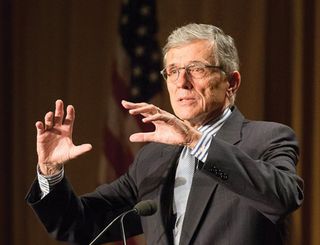 FCC Chairman Tom Wheeler signaled Tuesday the FCC does not plan to score stations giving up spectrum for auction on their "enterprise" value and said he expects the FCC will have border spectrum coordination "understandings" with Canada and Mexico--if not signatures on the bottom line--before the incentive auction.
He also said he is not trying to either encourage or discourage broadcasters from participating in the incentive auction via recent ownership decisions, but to "follow through with our responsibility and to address the 'perversion' of ownership rules by a cottage industry of K Street lawyers."
While Network neutrality was the major topic at Tuesday's House Communications Subcommittee hearing, the legislators minored in peppering the chairman with questions about the incentive auction and recent FCC moves on joint sales agreements, sharing agreement guidance and the overdue quadrennial review(s).
Wheeler's seemingly neutral position on auction participation came in response to pointed questions from Rep. Greg Walden (R-Ore.), chair of the Subcommittee and himself a former broadcaster.
Walden pointed to commission actions that could lead some to believe the FCC might be "bullying" broadcasters into an auction without a "hard date or clear models"--all issues top of mind with broadcasters. As examples, he cited the FCC vote to make some TV station joint sales agreements attributable as ownership interests, the vote to remove the UHF discount, its failure to process VHF to UHF petitions that precede auction legislation, and using a "modified version" of OET-69 station repacking methodology. Walden asked how any of that would encourage broadcasters to participate.
Wheeler did not address any of those specifically in response, but said that the goal in those was not about encouraging or discouraging participation in the auction, but about enforcing and updating the FCC's rules.
He did say that one way the FCC is encouraging broadcasters to participate was by encouraging wireless companies to put up bucks in the auction--he cited AT&T's pledge to bid at least $9 billion and perhaps much more.
Wheeler, citing a Wall Street analyst, said that the risk of broadcasters not showing up had dropped thanks to that AT&T commitment. "We're not trying to take regulatory action in unrelated areas, he reiterated.
Wheeler assured Walden that the FCC will not value TV stations in the auction according to how successful a business they are. The FCC may differentiate station values based on their impact on repacking. Say a station that would be hard to repack may be more valuable that is less difficult.
Rep. Mike Pompeo (R-Kan.) also appeared to be operating out of the National Association of Broadcasters playbook as he pointedly probed on how many TV station transactions involving sharing agreements had been singled out for scrutiny, and how many had been approved.
Wheeler said he did not know the answer to either question, but would get back to the Congressman. Pompeo suggested the FCC had moved the goal post by subjecting transactions to new guidance on vetting sharing arrangements the Media Bureau issued in March.
Wheeler said he was not moving the goal post, but opening the process. He said deals used to go into an FCC "black box" and the point was to make it clear going forward how the FCC will look at those financial structures. Pompeo said that the FCC still seemed to be applying a changed standard to deals undertaken under an old one, a complaint broadcasters have been making publicly and privately.
Rep. John Shimkus (R-Ill.) suggested the FCC had instituted a de facto freeze on sharing agreements. Broadcasters have expressed the same sentiment, at least when it comes time to sell stations with those agreements or strike them as part of deals. Shimkus said sharing arrangements can "provide better service to local folks and asked what his plan was to act on transfers in a fair and timely fashion.
Wheeler said that he looked at the new Media Bureau guidance as a procedural reform to give broadcasters more certainty than the constantly changing decisions coming out of that FCC "black box."
Rep. Adam Kinzinger (R-Ill.) added his voice to those suggesting JSA's were beneficial. He said that the Fox station that had been providing a Hispanic newscast would not no longer be able to do so. He suggested Wheeler had tightened the rules without sufficient analysis. He asked whether there would be clear waiver standards--the JSA item included a path for JSA's in the public interest to be exempt from counting as ownership interest.
Wheeler said the process would be an expedited one, and was meant to address just such an issue as the Fox station in Rockford.
Wheeler has repeatedly said the goal is not to prevent sharing in the public interest, but what he sees as efforts to circumvent the ownership rules. He said the reality with JSA's was that it was becoming a K Street cottage industry of lawyers finding creative ways to get around the FCC's rules and "pervert" the basic concept of ownership.
Kinzinger said he had heard a lot of concerns from stations in his district and said he hoped the FCC would make it clear how to apply for the waivers.
Broadcasting & Cable Newsletter
The smarter way to stay on top of broadcasting and cable industry. Sign up below.
Thank you for signing up to Broadcasting & Cable. You will receive a verification email shortly.
There was a problem. Please refresh the page and try again.