Sinclair CEO Chris Ripley: Despite Diamond Disappointment, Sports Is Still the Broadcaster's Crown Jewel (Bloom)
Ripley told Next TV that Sinclair is looking to move beyond its bankrupt RSN subsidiary and onto new means and ways to distribute live sports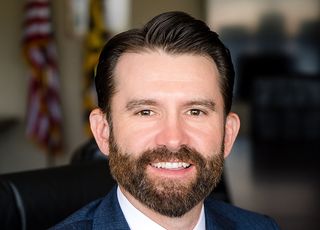 (Image credit: Sinclair Broadcast Group)
The broadcast business may have had a rough go in recent times, but one thing hasn't changed is the importance of live sports, said Christopher Ripley, CEO Sinclair Broadcast Group, the second largest TV station collective in the country.
Sinclair recently reorganized, dropping the words "broadcasting group" from its holding company name and putting its dozens of broadcast stations into one of two divisions. The other division, Ventures, includes such high-growth opportunities as the Tennis Channel and its related media outlets, and the Compulse marketing and advertising platform.
While the company explores more investments on the Ventures side (and stops adding to broadcast holdings under the current regulatory regime), one thing hasn't changed.
"Sports is still at the heart of this company," said Ripley, who has been Maryland-based Sinclair's CEO since 2017. "Take a look at what drives our business on the local media side and the broadcast side, it's sports. And we continue to believe that it should be gamified and more highly integrated with sports betting, but also, not-for-money interactivity for virtual goods, or badging, or recognition."
The Tennis Channel has been the lab for much of the company's sports experimentation, Ripley said, including an immersive online experience tied to the recent Indian Wells Masters, one of the pro circuit's most-popular tennis tournaments.
"You could walk through all of Indian Wells on a virtual basis and play games, while you also watched the tennis matches," Ripley said. The Tennis channel is now far more than a single cable-based premium sports network.
"We're really excited about what we're doing at Tennis because we're not just looking at it domestically, we're looking at internationally," Ripley said. "We're in eight countries now, about to launch a ninth. We have T2, which is just purely ad supported (TV network) and will be available on a direct consumer basis for a premium product. Next year, we're moving into other sports like pickle ball and padel in Europe. We're the home for everything tennis, Tennis Magazine, tennis.com."
On the ad-sales side, Sinclair aggregates its sports content with the many digital channels of Wave Sports and Entertainment (Wave.TV, FTBL, Break Ankles Daily, Benchmob, Dingers), and BlueWire, which distributes podcast series featuring prominent athletes and other sports personalities.
"We're aggregating together more impressions on the sports side and then linking them together with all the all the various sports impressions that we have," Ripley said. "So we think sports is going to be a major component of our linear networks, sports and news for the foreseeable future.
Sports is fast becoming "what's left that works" for U.S. media companies.
Hollywood's actor and writer strikes have shut most scripted productions, delayed the Emmys, and transformed the fall season into a bleak landscape of game shows, reality competitions and reruns.
Sports doesn't face such limitations. NFL and college football broadcasts already comprised three-fourths of the most-watched shows on legacy TV the past few years. That dominance should only increase, especially if the strikes push deep into the fall.
Sinclair's biggest bet on sports so far ended up a loser. It spent more than $10 billion to acquire part or all of two-dozen cable regional sports networks that Disney divested as part of its 2019 acquisition of most of Fox.
Also read: Diamond Does It: Files for Bankruptcy Looking to Shed $8 Billion in Bally Sports Debt
Months after the deal closed, the pandemic shut down virtually all live sports for months, a lethal blow to RSNs that thrive on a steady diet of games to justify their place on the programming guide. With cord-cutting accelerating, dropping the expensive sports nets was often a quick means of savings for MVPD operators.
Since then, Sinclair has steadily distanced itself from the investment and its brutal impact on Sinclair's bottom line. After partnering with casino operator Bally to rename the RSNs, the company wrote off most of its investment, implemented other spending controls and layoffs, and spun off the RSNs into Diamond Sports Group as a separate company.
Diamond, now in bankruptcy, is suing Sinclair over $1.5 billion that Sinclair retained in the spin-out. The NHL just told a bankruptcy judge it may seek to bail on its deals with Diamond RSNs if a restructuring plan isn't sorted out soon.
Ripley said he couldn't speak to the lawsuit allegations or other pending litigation. But he, too, asserted Sinclair's separation from Diamond.
"Diamond is on its way," Ripley said. "It has its own management team, it has an independent board. We provide management services, and you know, it will figure out its own way, Largely Sinclair's passive at this point. We've been in that position for quite some time now. And we just have to support Diamond and whatever its future may be. And you know, that's getting worked out right now. But we're largely bystanders, and outside viewers just like you."
In recent months, Diamond has essentially handed back the keys on some rights deals with more than 40 professional franchises, including the Arizona Diamondbacks and San Diego Padres, but had kept up payments to other teams. The Phoenix Suns also departed from a Diamond/Bally Sports RSN, then cut a distribution deal with broadcast operator Gray TV.
Separately, Sinclair actually benefitted from the shutdown of an RSN, when Warner Bros. Discovery walked away from five "AT&T SportsNet-branded" channels. The NBA's Utah Jazz then turned to Sinclair's Salt Lake City station, which had a particularly apt call sign.
The Jazz "recognize that they really needed to get maximum reach," Ripley said of the deal. "And it really was the best place to do that. We had a very unique station, K-Jazz (KJZZ-TV) in Salt Lake, and they wanted to be on it. And we were able to come to, I think, a very sensible arrangement to make that happen."
Similar deals with other sports franchises, especially as Sinclair's stations finish converting to Next-Gen TV (ATSC 3.0) capabilities, could be a part of the company's future too, Ripley said. Sinclair and station-group competitors Nexstar, Gray and Scripps have all been in talks with the NBA and NHL to step in on abandoned RSN deals. Disney, Apple, Amazon and Google also have reportedly kicked the tires.
"It remains to be seen. I guess it's too early to say," Ripley said. "But I think it's an interesting development. And to me, it points back to the heavy sports portfolio that we already have on our core broadcast stations. And it points to this truism about sports and over-the-air broadcasts and how well they fit together."
The bigger question for sports leagues, and their advertisers, is how do they grow their fan base and viewership in the future?
Dedicated sports networks can deliver, for a stout price, the ardent fans who want deep access to their favorite sports and teams. But when those dedicated services are separated from a broader bundle of entertainment programming, as is increasingly the case, the casual fan seldom gets a chance to see even some big games.
And the casual fan is important when it comes to building a sport's long-term health and fan base. For all the limitations of the cable bundle and traditional broadcast programming, they gave casual fans ready access to at least the big games. That's in danger in an a la carte era.
"I think any sport should be looking at their strategy and including over-the-air broadcast as a significant component," Ripley said. "It doesn't have to be everything, but having a component of your sport on the most broadly available and most broadly watched platform will continue to make your sport healthy, and that will only be accelerated by Next-Gen TV."
Next-Gen TV broadcast signals can provide Ultra High-Def resolution, HDR color gamuts, and more immersive audio, Ripley pointed out. They also provide interactivity in both game-related data and advertising. And of course, gambling information and even betting can be enabled.
"I talked about this gamification and interactivity that can all exist natively on Next-Gen TV," Ripley said. "And so it'll really take it to the next level, as it relates to what the (audience) engagement level and the service can be."
Across the industry, media and tech companies are making expensive bets that sports will continue to keep viewers around.
Warner Bros. Discovery ditched five RSNs in Utah and elsewhere, but reportedly will add a sports tab to its Max streaming app this fall. The company has broadcast rights with the NBA, NHL, Major League Baseball, and some college sports, plus Discovery's Eurosport division provides European channels with Olympic and other sports rights on the Continent.
Disney last week announced a $2 billion deal between ESPN and sports-gambling operation Penn Entertainment, a notable reversal in CEO Bob Iger's long-stated concerns about sullying Disney's family-friendly brand.
Apple, meanwhile, appears to have unearthed a windfall from its $2.5 billion, 10-year deal with Major League Soccer, whose visibility skyrocketed when superstar Lionel Messi joined the Miami franchise several weeks ago.
And make no mistake. Figuring out a competitive TV rights deal will be vital for sports leagues and franchises. Just look at the collapse this month of the Pac-12. The century-old college athletic conference known for its many championships just imploded with the departure of most members to conferences with far better TV deals.
Sports and TV -- whether broadcast, Next-Gen TV, cable, or streaming -- need each other, badly. As Sinclair is exploring, they just have to figure out how to make all the pieces come together in a sustainable way.
The smarter way to stay on top of the streaming and OTT industry. Sign up below.
David Bloom of Words & Deeds Media is a Santa Monica, Calif.-based writer, podcaster, and consultant focused on the transformative collision of technology, media and entertainment. Bloom is a senior contributor to numerous publications, and producer/host of the Bloom in Tech podcast. He has taught digital media at USC School of Cinematic Arts, and guest lectures regularly at numerous other universities. Bloom formerly worked for Variety, Deadline, Red Herring, and the Los Angeles Daily News, among other publications; was VP of corporate communications at MGM; and was associate dean and chief communications officer at the USC Marshall School of Business. Bloom graduated with honors from the University of Missouri School of Journalism.