Sinclair Among Forward Spectrum Auction Applicants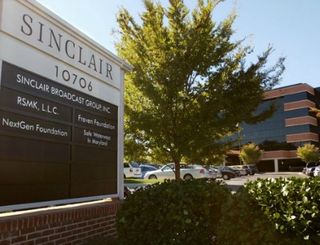 Sinclair Broadcasting has long said it was considering participating in the spectrum auction, and now it looks like it could be in both directions.
Sinclair Broadcasting and its top executive, David Smith, showed up in the list of potential forward auction bidders released by the FCC, under the heading STG Wireless. Among those listed as having ownership interest in STG Wireless were Smith, various other Smiths, Sinclair Broadcast Group and Sinclair Television Group.
Sinclair has long said it could put some of its TV station spectrum in the auction, and perhaps realize a $2 billion payday--if it were the winner.
Related: NAB Says FCC Needs to Start Repack Planning ASAP
But the FCC is not publicizing the broadcast applicants, as it is with the forward auction participants. The incentive auction legislation required keeping the broadcasters names close to the vest until the auction is over.
So, while Sinclair may well be putting spectrum into the auction, it is now definite that it is one of the applicants who could potentially bid for broadcast spectrum on the other side.
Sinclair has long been a proponent of broadcasters holding on to their spectrum to take advantage of new technologies, but said last summer that it could put spectrum in the auction and still participate in that new broadcasting tech via ATSC 3.0.
Broadcasting & Cable Newsletter
The smarter way to stay on top of broadcasting and cable industry. Sign up below.
Thank you for signing up to Broadcasting & Cable. You will receive a verification email shortly.
There was a problem. Please refresh the page and try again.