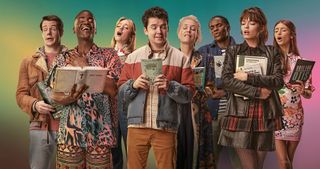 (Image credit: Netflix)
Sex Education: Season 4 premiered last week to 97.6 million hours viewed on Netflix's measured global platform, marking the best season premiere audience performance by a returning Netflix series since Outer Banks: S:3 capture 99 million viewing hours from February 27 - March 5,.
The final season of Sex Education, Laurie Nunn's British teen drama, unseated One Piece, new hit manga adaptation, which had occupied the No. 1 position in Netflix's weekly English-language series rankings for the previous three weeks.
Last week's rankings: German Mystery Mini 'Dear Child' Shines in Week 2-- Netflix Weekly Rankings for September 11-17
We're seeing the development of another downward viewing trend for Netflix.
Earlier in the summer, season debuts of other veteran Netflix series including The Witcher and The Lincoln Lawyer also badly missed the mark set by their previous season's premiere performance.
And the bad news didn't end there for Netflix, with a second stanza of true-crime docuseries Murdaugh Murders: A Southern Scandal debuting to just 13.6 million viewing hours, barely a third of the 40.1 million hours of streaming garnered for the premiere of Murdaugh Murders season 1 back in February.
Meanwhile, in Netflix's non-English-language series rankings, German psychological thriller Dear Child lost nearly a third of its audience in week 3, but it still led the category with 50.2 million viewing hours.
On the film side, Matt Kaplan-produced romantic drama Love at First Sight topped Netflix's English-language movie rankings with a lackluster 23 million hours viewed and 15.2 million total views.
Kaplan has also produced titles such as To All the Boys I've Loved Before, which despite premiering in 2018 before Netflix began publishing their viewing statistics, generated huge audience buzz and even inspired several spin-off films.
The smarter way to stay on top of the streaming and OTT industry. Sign up below.
Jack Reid is a USC Annenberg Journalism major with experience reporting, producing and writing for Annenberg Media. He has also served as a video editor, showrunner and live-anchor during his time in the field.