Rutledge: 'We're in the Right' in PSC Fight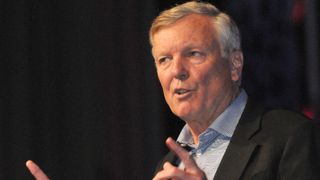 Charter Communications chair and CEO Tom Rutledge said the MSO is prepared to go to court with the New York State Public Service Commission over the agency's recent decision to rescind its approval of the cable company's 2016 merger with Time Warner Cable, adding that the battle could last a while.
The PSC announced on July 27 that it was rescinding its approval of the TWC deal, and gave Charter 60 days to come up with a plan to divest of its New York cable systems, which have about 2 million customers. The state said Charter has repeatedly failed to comply with approval conditions to extend its broadband network to unserved and underserved homes throughout New York.
Charter has maintained that it is in compliance, and Rutledge held his ground in a conference call with analysts to discuss Q2 results. Investors appeared pleased, driving Charter stock up more than 5% ($15.01) to $308.91 per share in early trading Tuesday.
"We believe we're in compliance with the plain reading of the build-out requirements that the state imposed on us in merger conditions and we have a very strong legal case and ability to defend ourselves," Rutledge said on the call. "It could play out over a lengthy period of time.
"To put it in perspective, we're operating in 41 states, we have thousands of franchise agreements, and generally we have good relationship with the communities we serve," Rutledge added. "We live up to our commitments and we have in New York State; in fact we're well ahead of our obligations in terms of speed upgrades and in the build-out itself.
"We do have labor issues in New York City which we believe may have politicized the actions of the PSC and we're concerned about that," he continued. "We have successfully negotiated other agreements with the same union, IBEW, in other parts of the country during this period. We're hopeful that we can work all this out, if necessary we'll litigate and we believe we're in the right."
Members of the International Brotherhood of Electrical Workers went on strike against Charter in March 2017, claiming loss of benefits and shoddy working conditions. New York Gov. Andrew Cuomo and New York City Mayor Bill de Blasio have shown support for the union in the past, and Cuomo is facing a potentially contentious re-election campaign this November.
[embed]https://twitter.com/CentralLaborNYC/status/909863022113509377[/embed]
Rutledge also commented on Liberty Media chair John Malone's decision to step down from Charter's board of directors, adding that the cable legend will remain as director emeritus and will still have a significant say in the company.
"We think that John will continue to be engaged with the company, that he likes the business. I like having him engaged with the company," Rutledge said. "He brings tremendous insight to us. But he wants to reduce his work load, his 'over-boarding' so to speak and he's just reached a point in his life where he feels like he has to. We do board meetings in Denver and we may do them in Florida, so we think he'll be involved with us for years to come."
The smarter way to stay on top of the multichannel video marketplace. Sign up below.