Charter Beats Analysts' Estimates in Q2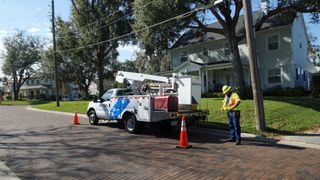 Charter shed 73,000 residential video subscribers in the second quarter, an improvement over the 91,000 it lost in the prior year, while high-speed data additions of 218,000 customers was slightly less than the 230,000 it reported in the same period last year.
Charter's video results weren't quite as dramatic as those of Comcast – which lost 140,000 video customers in Q2, four times its Q2 2017 losses. Charter attributed the results to the continued conversion of legacy Time Warner Cable and Bright House customers to new packaging and pricing plans.
Still, Charter's results beat most analysts' expectations.
In a research note, Evercore ISI media analyst Vijay Jayant said the results were "healthy," and beat his estimates of 110,000 video losses and 180,000 broadband customer gains.
Revenue in the period rose 4.8% to $10.9 billion and cash flow increased 5.3% to $4.1 billion.
Charter said at the end of the quarter, 91% of its footprint was all-digital. As of June 30, about 6% of its legacy Time Warner Cable footprint and 50% of its legacy Bright House Networks footprint were not yet all-digital.
Related: New York: Charter Has to Stop Operating Former TWC Systems in State
Charter also launched its Spectrum Mobile wireless service, part of its MVNO agreement with Verizon Communications, on June 30.
"Over the last two years, we have invested significantly to quickly integrate and unify the operating strategies of three large cable operators. While that process is disruptive, it has allowed us to position our residential and commercial businesses for long term growth and success, which is beginning to show in our operating results," Charter chairman and CEO Tom Rutledge said in a statement. "By the end of this year our integration will be nearly complete, and we will be operating as one company, with a unified product, marketing, and service infrastructure, which will allow us to accelerate growth and innovate faster."
The smarter way to stay on top of the multichannel video marketplace. Sign up below.