President Biden Nominates Anna Gomez for FCC Seat
Packages it with renominations for Geoffrey Starks, Brendan Carr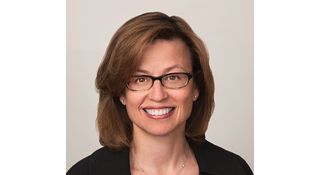 (Image credit: Wiley Rein)
In the try, try again department, President Joe Biden has nominated Anna Gomez to fill the long-unfilled third Democratic seat on the Federal Communications Commission. Gomez is a veteran communications attorney and policy adviser who has been on the corporate and government sides of policy debates.
The nomination comes as a package deal of sorts with the renominations of sitting commissioners Geoffrey Starks, a Democrat, and Brendan Carr, a Republican.
The fact that it is a package deal with a Republican as well as a Democrat, combined with Gomez's combination of government and business experience, is expected to give Biden a good shot at securing the necessary votes for confirmation. Certainly, the industry reaction suggested Gomez had fans on the private side.
Gomez's name has been prominent in conversations about Democratic candidates for the seat even before the president tried to get Gigi Sohn on the commission, an effort thwarted by industry players, Republicans united against her and a Democrat or two.
Gomez is currently a senior adviser on communications policy in the Bureau of Cyberspace and Digital Policy at the State Department and has a wealth of experience in that policy, including serving as deputy administrator (acting chief) of the National Telecommunications and Information Administration, which oversees and advises the president on government spectrum policy, from 2009 to 2013.
She is also a former top FCC official including deputy chief of the International Bureau and senior legal advisor to then-chairman William Kennard.
She was also counsel to the Senate Commerce Committee and a partner at Wiley LLP, which has served as something of a training ground for future FCC commissioners and chairs.
She was also in government affairs with Sprint Nextel and an associate at law firm Arnold & Porter.
Gomez was born in Florida but grew up in Bogota, Colombia, before moving with her family to New Jersey.
The National Association of Broadcasters, which had issues with Sohn, appeared all in for Gomez, for example.
"Ms. Gomez possesses a wealth of experience in media and telecommunications, most notably from her service as acting administrator of the National Telecommunications and Information Administration during the nation's transition to digital television," NAB said. "With Next Gen TV launching in markets around the country, if confirmed, Ms. Gomez can bring her demonstrated ability to work with industry, manufacturers and consumers to help ensure a smooth and expeditious transition for millions of Americans."
Charter Communications, the No. 2 U.S. cable operator, was equally sanguine — cable broadband operators also had issues with Sohn over her support of Title II-based net neutrality rules. "Charter congratulates Anna Gomez on her nomination to serve as Commissioner of the Federal Communications Commission," the company said in a statement. "Ms. Gomez will bring a wealth of experience to the role built over a distinguished career in government and in the private sector and we look forward to working with her."
"Today's announcement nominating Anna Gomez to the FCC and renominating commissioner Starks and Commissioner Carr is welcome news," Chip Pickering, CEO of INCOMPAS, which represents competitive carriers and edge providers. "All three of these individuals will help bring important viewpoints to the Commission and their expertise will advance policies that will meet the moment to bridge the digital divide."
But it was not only corporate types applauding the pick.
"Gomez is a dedicated public servant who is highly qualified to serve on the FCC at this critical time," the Communications Workers of America said.
CWA appeared to be applauding not only the pick but their expectation that this time it should result in the Democratic majority that has been missing for over half of Biden's presidency.
"For too long, we have been without a full roster of FCC commissioners as industry lobbyists and their Republican allies in the Senate delayed and obstructed President Biden's nominee," CWA said. "This must not happen again. The future of our telecommunications and media industries is heavily contested, with policy questions before the FCC that pit corporate profits against the public interest."
CTIA, which represents wireless companies, signaled it thought she would be a uniter rather than a divider.
"CTIA and the wireless industry congratulate Anna Gomez on her nomination as an FCC Commissioner," the trade group said. "In her current role as U.S. Representative to WRC-23, and previous NTIA and FCC experience, she has amassed an impressive track record in public service and brings the knowledge and expertise needed to address the critical challenges we face in closing the digital divide and securing America's 5G leadership. Throughout her career, Ms. Gomez has consistently demonstrated her ability to build consensus and navigate intricate policy landscapes to the benefit of all stakeholders. We look forward to her swift confirmation by the Senate."
"We congratulate Anna Gomez on her nomination to serve as FCC Commissioner and FCC Commissioners Carr and Starks on their renomination," said NCTA-the Internet & Television Association. "If confirmed by the Senate, each of these individuals will play a critical role in designing policies that will promote continued investment and innovation in America's digital future. We look forward to upcoming hearings and consideration of these important nominations in the weeks ahead."
Rep. Doris Matsui (D-Calif.) called Gomez "the right choice" for the job. "Since 2021, I have advocated for her nomination because I firmly believe in her values, experience, and abilities," Matsui said. "Over her nearly 30 years of experience in telecommunications and technology policy, she has been a powerful voice for advancing American innovation and promoting digital equity. Her exceptional track record of public service at the NTIA, FCC, State Department, National Economic Council, and Senate Commerce Committee exemplify her commitment to fighting for every American's ability to succeed in the 21st century economy."
"The President has made an outstanding selection," said Wiley LLP chairman emeritus and former Republican FCC Chairman Dick Wiley. "She will serve with considerable skill, expertise and judgment."
Comcast, which was not waving any flags for Sohn, spoke glowingly of Gomez.
"Anna Gomez's deep knowledge across the breadth of issues before the FCC makes her exceptionally qualified to be a Commissioner," the company said. "In addition to her prior service at the FCC, she also has extensive experience in both the executive and legislative branches of government — from NTIA and the Senate, and most recently leading the U.S. delegation to the ITU World radio conference. From the digital broadcast transition to spectrum issues, Ms. Gomez has expertise across the board.
"I congratulate Anna Gomez on her nomination to serve as FCC Commissioner," FCC chairwoman Jessica Rosenworcel said. "She brings with her a wealth of telecommunications experience, a substantial record of public service, and a history of working to ensure the U.S. stays on the cutting edge of keeping us all connected. I wish her all the best during the confirmation process."
Rosenworcel also gave a shout-out to Carr, saying that "[f]rom improving network resiliency in light of destructive hurricanes to keeping our networks safe in the face of evolving threats, the FCC has benefitted from his public service," and Starks, who she called "a consistent advocate for expanding the reach of communications and the opportunities of the digital age to all."
Broadcasting & Cable Newsletter
The smarter way to stay on top of broadcasting and cable industry. Sign up below
Contributing editor John Eggerton has been an editor and/or writer on media regulation, legislation and policy for over four decades, including covering the FCC, FTC, Congress, the major media trade associations, and the federal courts. In addition to Multichannel News and Broadcasting + Cable, his work has appeared in Radio World, TV Technology, TV Fax, This Week in Consumer Electronics, Variety and the Encyclopedia Britannica.